Highlights

Chimeric is charging ahead with the completion of manufacturing and quality release of CHM 1101 (CLTX CAR T) viral vector.
Viral vector is considered the backbone for the manufacture of a CAR T cell therapy.
The crucial milestone will enable the company to expand its CHM 1101 development program.
Chimeric Therapeutics (ASX:CHM) recently hit a major milestone, advancing its CHM 1101 development program. The oncology firm has completed the manufacturing and quality release for CHM 1101 (CLTX CAR T) viral vector.
The viral vector was developed by leading cancer research & development organisation near Los Angeles, the 'City of Hope'.
CHM 1101 is a novel and promising Chimeric Antigen Receptor (CAR)- T therapy in development for the treatment of solid tumours in patients. It is currently under study in Phase 1 clinical trial in recurrent/progressive glioblastoma.
Do read: Chimeric (ASX:CHM) boosts financial footing, enters $30M placement agreement with L1
Viral vector – Backbone of CAR T cell therapy
The manufacturing and release of viral vector on the right time is one of the most challenging and critical components of cell therapy technical operations. A viral vector is considered as the backbone of CAR T cell therapy production as it holds the instructions of genetic engineering.
Recently, there has been a shortage of vector manufacturing capacity that considerably delayed cell therapy development programs of other companies. It is also challenging for commercial manufacturers.
Given these bottlenecks, Chimeric has achieved a crucial milestone in aiding the broader Phase 1 clinical program expansion of CHM 1101 (CLTX CAR T).
Clinical program expansion
Currently, Chimeric is focused on expanding the CHM 1101 (CLTX CAR T) clinical program. the company is adding new clinical sites for the Phase 1 glioblastoma trial and a new Phase 1 clinical basket trial in solid tumours. The expanded clinical development program requires organised growth of Chimeric's current technical operations.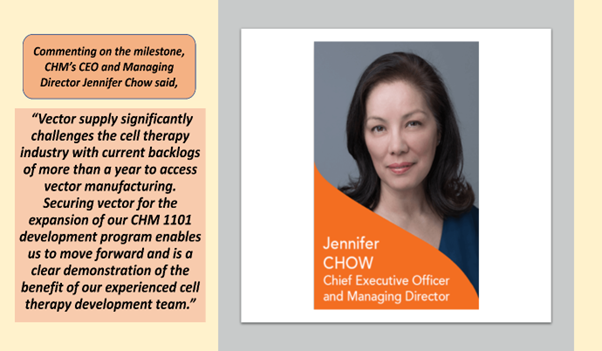 Image source: © 2022 Kalkine Media®
Bringing life to the promise of cell therapy
Chimeric plans to commence a second CLTX CAR T phase 1 clinical trial in metastatic melanoma with future expansion to additional solid tumours.
The company is committed to further advancing its oncology pipeline with new and novel cell therapies that will bring the promise of cell therapy to life for more cancer patients.
CHM shares were trading at AU$0.095 midday on 14 June 2022.
Also read: A snapshot of Chimeric Therapeutics' (ASX:CHM) crucial update on CORE-NK Cell Platform