Highlights

The industry is increasingly moving towards technology-driven solutions.
Saunders acquired PlantWeave Technologies in 2021, diversifying its market service offering with the ability to deliver industrial automation and technology solutions.
Saunders PlantWeave is engaged in providing critical automation solutions for many projects.
The COVID-19 pandemic has wreaked havoc on many businesses and continues to frighten many more. However, as the saying goes, 'every cloud has a silver lining', this pandemic has benefited companies operating in the digital market.
There has been an increase in automation and supporting technologies, owing to various factors such as shifts in working arrangements, increases in cyber-attacks and reliance on centralised reporting facilities to enhance corporate governance.
The energy and resources industries have also been making huge investments in automation for a long time. Though automation in oil & gas fields or at mining sites is majorly aimed at addressing safety and cost-cutting concerns, the change in work dynamics due to the pandemic has made it more vibrant.
Related read: A quick glance at Saunders International's 2021 projects
In this direction, Saunders International Limited (ASX:SND) took a strategic leap in 2021. The multidisciplinary engineering and construction company marked its entry into technology-based infrastructure with the acquisition of PlantWeave Technologies.
PlantWeave is a specialist in industrial process automation, cyber security and electrical systems. The firm has established long-standing relationships with Tier 1 customers through providing complex industrial automation system solutions within the oil & gas, energy, water, building, infrastructure, and resource sectors.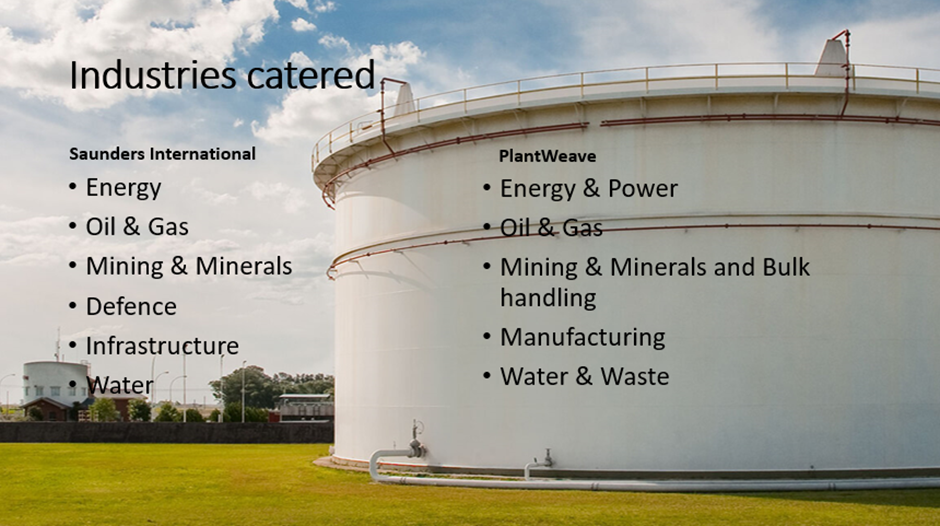 Image Source: SND website
PlantWeave has a complimentary customer base to Saunders, creating the opportunity for the overall business to offer their full range of services across a broader range of industries.
Saunders International can deliver the full suite of plant design and construction services, including civil, structural, mechanical, and piping. Now they can add electrical, instrumentation, control, cyber-security and Industry 4.0, resulting in the ability to deliver turnkey solutions completely inhouse.
Related read: Here's how Saunders International (ASX:SND) is tapping Australian defence space
PlantWeave acquisition expands Saunders' technical service offering
With this acquisition, Saunders has diversified its market service offering with the ability to deliver industrial automation and technology solutions and gaining the benefit of PlantWeave's strong relationships with major technology partners.
The Company can deliver solutions at a reduced energy cost and lesser environmental impacts through energy optimisation solutions. Moreover, the Company can offer complimentary automation solutions to its existing tank and piping services within refineries and terminals.
Saunders recently bagged AU$165-million defence contract for the construction of fuel storage tanks. The amalgamation of Saunders' inherent technology with technological solutions of PlantWeave could do wonders in such projects.
The Company expects increased spending in the defence space over the next 5-10 years, thereby generating more opportunities through Saunders PlantWeave.
Projects Undertaken
Saunders PlantWeave has been engaged in various projects such as
Extending the District Cooling Water Plant to service the new Crown Resort at Barangaroo.
Providing critical control and the monitoring of high-voltage and low-voltage systems within Royal North Shore Hospital.
Implementing demilitarised zones for three critical plants for Veolia's Barangaroo Precinct.
Delivering critical automation solutions for the Larrakeyah Defence project.
Related read: Saunders International (ASX:SND) riding high on $165M defence contract
With the new expanded offering, the Company expects strong relationships with its existing client base in the oil & gas and resources space, resulting in increased revenues in the future. Moreover, the Company anticipates revenue to grow with more opportunities in the defence and utilities sectors.
As the industry is increasingly making the transition into more and more technology-driven solutions, PlantWeave will drive Saunders' market penetration into cyber security, process optimisation and industry 4.0 technologies.
Related read: Saunders International (ASX:SND) set for excellent FY22 with strong order book
SND shares were trading at AU$0.970 midday on 20 January 2022.