Highlights

Australasian Metals has received encouraging gold results from maiden drilling at the Mt Clermont Project.
A recently conducted field survey program mapped an extension of the Retro Extended veining for nearly 400m.
The 2022 drilling program has indicated the potential to further grow the current defined mineralisation of the project.
A8G plans to commence data review and modelling the orebody for grade interpolation.
ASX-listed gold and lithium explorer Australasian Metals Limited (ASX:A8G) has shared the results from its recent drilling operations, which extended gold mineralisation across the Mt Clermont Gold Project. The company highlighted that the results are extremely promising, achieving the program objectives.
A8G drilled 12 holes for a total depth of 1,272m as part of the maiden drilling campaign to test the historical drilling results.
A total of 70 holes were drilled by the previous explorers on the project. After reviewing the historical data, A8G designed a drilling program to test the targets highlighted by the historical drill results and improve the confidence to produce a mineral resource estimate of the project.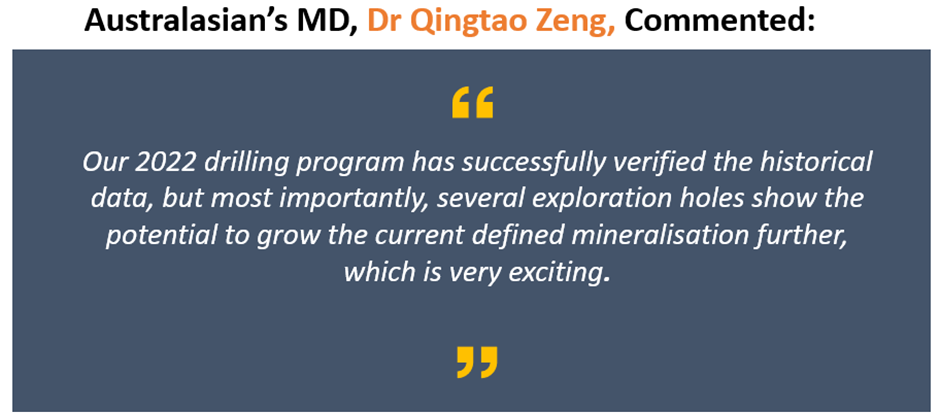 Data source: A8G update, 10 August 2022
To know more about A8G, click here.
A8G has identified three regionally significant prospects- Retro, Retro Extended and Nanya at the Mt Clermont Project. All these prospects lie along the Retro Fault Zone. The historical drilling over the project tenement has highlighted potential for a high-grade polymetallic epithermal system.
Location of prospects on Mt Clermont Project tenement (Image source: A8G update, 10 August 2022)
The maiden drilling program by Australasian was designed to target and extend the mineralisation trend southwards and to test the interpretation that the vein system mapped has not been intersected previously. Some of the drill holes were designed to infill the previous drilling, and significant mineralisation were observed in those holes.
Some significant drill intercepts include:
3m @ 1.12g/t Au from 61m – Hole RERC036
16m @ 1.38g/t Au from 18m, including 2m @ 0.32m from 60m – Hole RERC037
11m @ 1.61g/t Au from 128m, including 5m @ 3.4g/t Au from 128m – Hole RERC044
Mineralisation system with drill results at Retro Extended prospect (Image source: A8G update, 10 August 2022)
A recently conducted field investigation and data re-interpretation by A8G has led to the identification of several targets with potential for further mineralisation. The geological team at A8G has mapped and located the Retro Extended vein for at least 400m south of the most southern drill hole location with mineralisation.
The company feels that the historical drilling did not intersect this vein in the down dip extension, and it may be a parallel structure to the vein that was intersected during the historical drilling campaigns.
Next steps
A8G is set to review the data and modelling of the orebody for grade interpolation. The company is planning more exploration activities to the southwest end of the current known mineralisation.
A8G shares traded at AU$0.285 on 10 August 2022.