Highlights

Alchemy has received encouraging results from multi-element rock chip sampling over the Karonie Project.
The results delivered highly elevated pathfinder element anomalism over the target area.
Highly anomalous trends have been identified from tantalum assay results from the lithium prospects on Karonie.
ALY has completed Heritage Surveys over E28/2575 with Program of Works approved.
Planning for the next drilling phase at the Western Brown and Challenger gold targets is underway.
The lithium exploration prospects of Alchemy Resources Limited (ASX:ALY) have further strengthened at its 100%-owned Karonie Project with encouraging results from a sampling program. The rock chip sampling results have indicated the presence of a very large zone of anomalous pathfinder elements in an area of 7.3X1.5km of mapped pegmatites.
Alchemy began exploration at the Karonie Project initially with a focus on gold. However, field operations suggested that the project also has significant lithium and tantalum prospects. The company has identified four lithium prospects- Cherry, Hickory, Pecan and Mesquite on the project tenure package.
Since then, the company has been focusing its Karonie exploration programs on gold and lithium prospects. ALY is advancing field operations to evaluate lithium mineralisation and drilling programs to test gold targets.
To learn more about the Karonie Project, click here.
Highly elevated pathfinder element anomalism at Karonie
Alchemy undertook detailed mapping and rock-chip sampling over the Cherry, Hickory, Mesquite and Pecan prospects.
The mapping program has delineated several additional pegmatites in an area of 7.3X1.5km. The individual dykes mapped were 5-10m wide. The field team found a limited outcrop in the north end of Hickory and over Mesquite and inferred that the mapped pegmatite extended under cover.
Alchemy's field team collected 68 rock chip samples from the region for multi-element analysis. Nearly 85% of samples had potassium/rubidium (K/Rb) ratio greater than 30. Pegmatites with spodumene-bearing pegmatites have a K/Rb ratio in the range of 5 to 40.
Several other key findings were received from the rock chip sampling analysis that indicate high fractionation and zonation of pathfinder elements. The tantalum grades received at Cherry, Hickory and Pecan indicate highly anomalous trends with grades consistently greater than 118 ppm (114ppm Ta2O5) over a strike length of 1km.
Rock chip assays and pegmatite mapping over Cherry, Hickory and Pecan
(Image source: ALY update, 29 July 2022)
Apart from this, Alchemy also conducted a project-wide 400mX400m spaced soil sampling program to explore for indications of potential LCT pegmatite mineralisation.
Under the regional sampling program, ALY collected a total of 1,471 samples and sent them to the lab for analysis.
Overview of gold exploration at Karonie
Alchemy wrapped up Phase 3 of the drill program over the Karonie Project, targeting the Karonie East, KZ5 and Gilmore prospects. The company drilled 18 RC holes for a total depth of 2,412m to test the key structural and magnetic features that control the gold mineralisation on these prospects.
On KZ5, a single deep RC hole was drilled to test the historically defined electromagnetic (EM) plates located in the north to the existing defined resource. The hole intersected KZ5 style massive sulphide mineralisation at a depth range of 155-161m and returned gold values of 6m @ 0.2g/t Au.
Alchemy drilled 11 RC holes over the Gilmore prospect. The program at Gilmore was EIS co-funded. Some of the significant intercept results from the program included 4m @ 0.35g/t Au from 108m (GMRC001) and 4m @ 0.35g/t Au from 108m (GMRC005).
At Karonie East, ALY drilled four first pass RC holes targeting the magnetic feature that runs along the northern zone over a 2km long strike. The company is currently reviewing all available data for the prospect.
Two RC pre-collars were also drilled on the Challenger prospect to prepare for a diamond drilling program. One of holes intersected gold mineralisation with values 4m @ 0.26g/t from 24m and 4m @ 0.15g/t from 24m in the oxide profile.
A diamond drilling program is planned to test the gold mineralisation controls in the high Fe-quartz dolerite sill host rock.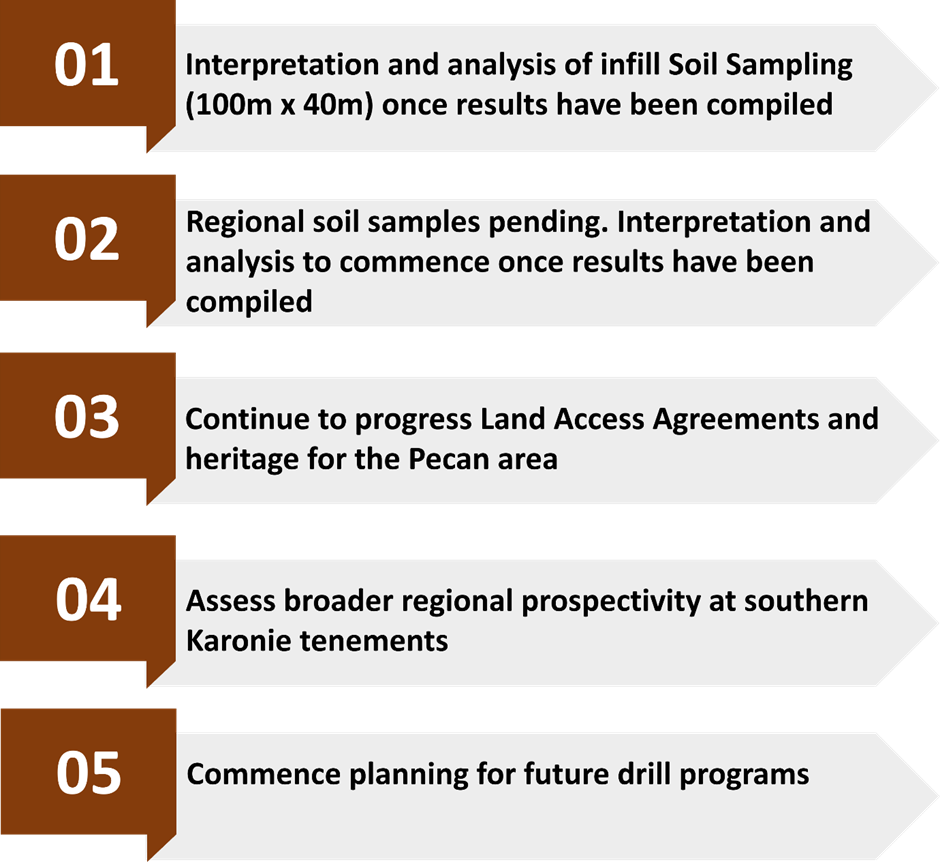 Next steps (source: company reports)
ALY shares were trading at AU$0.014 midday on 1 August 2022, up over 7%