Summary

Prescient obtains two key licenses from world immunotherapy leader, University of Pennsylvania and Oxford University to create a revolutionary cancer therapy platform called "OmniCAR".
OmniCAR platform would allow extraordinary control and flexibility over current generation CAR-T methods.
As a platform, OmniCAR is an enabling technology, compatible with and enhancing third-party CAR-T approaches
OmniCAR will enable in-house development of next generation engineered cell therapies and create opportunities for collaboration and business development in the cell therapy field for PTX.
ASX-listed biotechnology company Prescient Therapeutics Limited (ASX:PTX) is developing personalised medicines approaches for cancer having unmet medical needs. The Company provides targeted therapies and cell therapies for the treatment of a variety of cancers. The targeted therapies of PTX include two compounds PTX-200 and PTX-100.
On 26 May 2020, Prescient disclosed a breakthrough in the cell therapy arena that the Company has obtained two key licenses from the University of Pennsylvania and Oxford University to establish innovative universal CAR Platform called OmniCAR.
OmniCAR is a revolutionary approach to cell therapy – it combines the cancer-killing capabilities of a T-cell with the control and pharmacology of a drug.
Prescient Licenses Technologies from University of Pennsylvania and Oxford University
CAR-T have signaled a genuine paradigm shift in the treatment of cancer, by genetically altering T-cells of a patient to identify and destroy cancer cells which are else concealed from the immune system of a patient.
The OmniCAR platform seeks to significantly improve the safety as well as the efficacy of current generation CAR therapies. This facilitates in-house development of Prescient for next-generation cell therapies as well as establishes opportunities for partnership and business development in the PTX's cell therapy arena.
Prescient disclosed that the terms of the licensing deal are non-dilutive for its shareholders without any instant material financial effect for the Company as an outcome of the signing this agreement.
The licensing payments comprise an upfront cost, and industry standard milestones primarily associated with the achievement of crucial moves in the clinical development and regulatory approval of resultant products as well as royalties on upcoming commercial sales.
Notably, the early pre-clinical development plan for OmniCAR would be performed within the current budget of Prescient.
How OmniCAR platform works?
Presently, several cell therapy approaches confront significant challenges, including manufacturing, safety along with adaptability, that could restrict the wider application. Especially, clinicians do not have control of conventional cell therapies once they are administered to the patient, and this induces a major concern of safety if toxicities are monitored post-infusion.
OmniCAR platform
This platform seeks to wade through several shortcomings that are with existing cell therapies. Modular chimeric immune receptor cells are generated in this platform to decouple recognition of antigen from downstream signalling.
Within this platform, cells expressing a segment of the chimeric immune receptor and the targeting binder could be administered separately. After infusion, these can covalently attach to form a completely armed cell therapy product.
OmniCAR platform utilizes the unique SpyTag/SpyCatcher covalent binding system similar to molecular Velcro which has also been licensed by Prescient from Oxford University for applying in the OmniCAR system.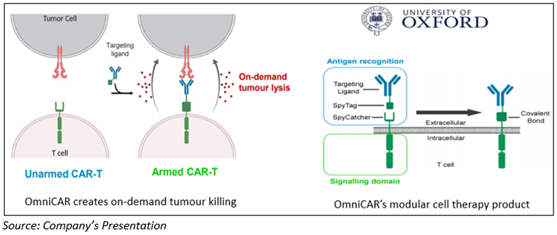 Advantages of OmniCAR
OmniCAR is intended to provide flexibility and control beyond the reach of existing CAR-T cell methods. It is being established to offer clinicians control over cell therapy expression in vivo, by permitting them to adjust (either up or down) cell therapy activity after infusion. With OmniCAR, the clinicians can also turn off cell therapy activity entirely by stopping the binder's administration.
OmniCAR cell therapy products are currently designed to be equipped against several targets simultaneously by merely switching away from the binder, which might be particularly crucial in cell therapies for getting better progression into the challenging area of solid tumours.
OmniCAR platform is potentially well-suited with several cell therapy methodologies such as NK cells, T-cells, stem cells and macrophages.
Comparison Between Conventional CAR-T and OmniCAR

Prescient Therapeutics CEO Steven Yatomi-Clarke stated-
This is a transformative accomplishment for Prescient that gives an opportunity to the Company to step forward quickly with the progress of innovative cell therapy products in the field of developing a treatment for cancer.
He added that there are considerable medical as well as commercial benefits for companies that can build improved cell therapy products. It is exceptionally exhilarating for Prescient to progress this groundbreaking technology for tackling solid tumours, including liquid cancers. OmniCAR technology is distinctively set to support Prescient's advance development of improved cell therapies for a broad range of cancers having unmet medical need.

Bottomline
As Prescient is progressing well by gaining complete IP rights in CAR-T collaboration recently and now by obtaining two major licenses for developing innovative universal CAR Platform. These developments drive Prescient to generate upcoming innovative cell therapies for treating cancers with an unmet medical need. Together these events prove that Prescient is establishing a reputable growth profile in the hottest area of cancer therapy. In particular, OmniCAR has the capability to drive growth for Prescient with its own next-generation therapies, but also providing licensing and revenue potential through third party agreements.
On 26 May 2020, PTX stock was trading at AUD 0.050 up by 11.11% (at AEST 03:18 PM).
To know more about Prescient Therapeutics Limited, click here.
To stay updated with PTX company activities and announcements, please update your details on their investor centre.