Every business involves a combination of people, systems and processes. When staff has access to accurate and relevant information and support of experienced technology and management professionals, the business is enhanced and empowered.
In this regard, we present to you, operational efficiency specialists Orcoda Limited (ASX:ODA), which integrates systems, process and data via its 'Real Time Digital Platform, Management Expertise and Contracting Services'. The Company caters to three key business sectors-
Healthcare Logistics
Transport Logistics
Resource People Logistics
To know about these business sectors, PLEASE READ- Acquaint Yourself with Solutions of Operational Efficiency Specialists- Orcoda Limited
Currently in a growth phase, ODA had a successful FY19, with increased revenues, doubled customer receipts (last FY19 quarter), two capital raisings (each during and post FY19) and profitable debut of its Orcoda Connect business.
Besides these achievements, the Company signed valuable agreements, demonstrating its robust position in the world of logistics excellence. Let's screen through a few of these agreements-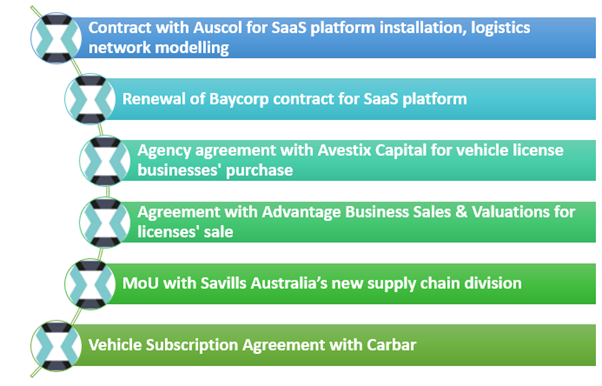 Auscol Contract - Boosting Transport Logistics Division Revenue Base
On 22 October 2019, the Company announced to have signed a contract with Graincorp Limited's (ASX: GNC) division, Auscol. The contract pertains to ODA's SaaS platform installation and logistics network modelling.
Auscol, catering to 97% of the Australian population, is a specialist in the collection and recycling of fats and used cooking oils and related services.
The order is under $10,000 and integrates ODA's technology into a division of another ASX-listed company, signifying another ODA step towards growing its Transport Logistics Division revenue base.
Baycorp Logistics Contract Renewal – A $70K, One-Year Deal
Highlighting the diversity of uses of its SaaS platform and ability to solve complex transport and supply chain issues, ODA also unveiled the renewal of the Baycorp contract (on 22 October 2019) for a further 12 months, amounting close to $70K.
Baycorp has been a regular user of ODA's SaaS platform for a decade (in its WA office which offers Bailiff services for WA's South Zone).
The contract further demonstrates ODA's proficiency in tracking deliveries or pickups and managing assets, people and process within supply chains.
Agency Agreement with Avestix Capital - Each Vehicle License at ~$100K.
On 1 November 2019, ODA intimated that it entered into an agency agreement with Avestix Capital Pty Ltd, a fund manager. Under the agreement and via a newly formed equity fund, Avestix will buy ODA's vehicle license businesses, where each vehicle license is valued at around $100K.
Susan Lindeque, CEO of Avestix believes that Orcoda Connect is amongst the best business prospects available in the market currently. Validating her is Geoffrey Jamieson, Managing Director of Orcoda, who stated that the Company's vehicle license business is ideal for fund managers as it has a known income stream.
Agreement with Advantage Business – An Opportunity for Higher Sales
Continuing its agreement spree, a week after the Avestix agreement, ODA announced to have entered into an agreement with Andrew Morris from Advantage Business Sales & Valuations, a national operation.
The agreement pertains to the sale of ODA's licenses for the IP to operate a vehicle rental business within the framework of the Company's Healthcare Division, via Andrew Morris' Australia wide broker network.

MoU with Savills Australia - OLMS Software Optimising Transport Solutions
As notified on 25 November 2019, ODA entered into an MoU with Savills Australia's new supply chain division, which chose Orcoda's Logistics Management System, capable of optimising and managing complex transport operations, to support its industrial clients.
The OLMS software is a step above the competition catalysed by its ability to meet the Australian requirements of mass management and fatigue under Chain of Responsibility legislation while meeting the constraints of customised supply chains. It provides an ability to compare the costs and KPIs of alternative scenarios as well as the opportunity to create an integrated warehousing and distribution solution.
The MoU signifies ODA's ability to optimise transport and distribution networks for both manufacturers/distributors and third-party logistics organisations.
Savills has been enhancing its services to occupier clients and OLMS will likely optimise transport solutions and enable quantification of potential operational benefits.
Orcoda Healthcare Logistics' Vehicle Subscription Agreement with Carbar
On 17 December 2019, ODA's wholly owned subsidiary, Orcoda Healthcare Logistics signed a Vehicle Subscription Agreement with Carbar, a digital car subscription business majority owned by Australia's largest general insurer IAG.
Under the agreement, Carbar will provide Toyota Prius V Hybrid Wagons on a subscription basis to the Company for fleet expansion, thereby meeting the unprecedented demand from source locations across Australia for the Orcoda Connect scheduled transport service.
ODA's Stock Performance
With a market cap of $21.71 million, the ODA stock was trading at $0.200 on 11 February 2020 (AEDT 03:27 PM). The stock has generated a return of 11.11% in the past six months.
Driven by continuous tie ups and consistent results in the competitive but rewarding field of logistics, ODA has promising sales forecast for all its three divisions in FY20.
To know about ODA's latest quarterly results and FY20 outlook, PLEASE READ- Orcoda's Customer Revenues Up 250% in December Quarter Over Previous Quarter; 2020 Optimism Continues
---
Disclaimer
This website is a service of Kalkine Media Pty. Ltd. A.C.N. 629 651 672. The website has been prepared for informational purposes only and is not intended to be used as a complete source of information on any particular company. The above article is sponsored but NOT a solicitation or recommendation to buy, sell or hold the stock of the company (or companies) under discussion. We are neither licensed nor qualified to provide investment advice through this platform.