Australia's largest manufacturer of bar soaps, liquid bleach and firelighter cubes, Pental Limited (ASX: PTL) is a well-established full-service business. It has been working hard to stay true to its Australian heritage for over 60 years.
With a diverse portfolio of iconic brands found in households across Australia, New Zealand and Asia, the Company manufactures and distributes household, fabric and personal care, and commercial products to service the fast-moving consumer goods markets.
Its manufacturing plant is in Shepparton, Victoria.
Pental's Partnership Excellence
Pental provides products of superior quality which are subject to frequent innovation and improvements. PTL's brands like White King, Janola, Sunlight, Country Life, Velvet, Softly, Huggie, Pears, Duracell, Little Lucifer and Jiffy are a must and common component of Australian and New Zealander homes. Moreover, the Company's dedicated team also manages brands for other companies from manufacturing to distribution, customer relations to sales and marketing success, which it refers to as partnership excellence.
Being a consumer goods powerhouse, PTL makes effective and efficient use of its integrated supply chain and expertise to drive the growth of consumer brands it makes and those that it distributes for others.
In today's article, we would look at PTL's performance through FY19, wherein its brands remained well-placed, enjoying strong market shares and positive customer feedback in a highly competitive market.
Before that, let us look at a few highlights of FY19 ended on 30 June 2019:
Pental Limited's Solid Financial Performance Through 2019
In 2018, PTL flagged the importance of expanding its distribution business, and the results certainly validate that the future growth strategy is heading in the right direction. The lucrative addition of the Duracell distributorship to PTL's brands was instrumental in achieving the 2019 results.
Moving ahead in the year, PTL executed its brand consolidation strategy by co-branding its Lux and Martha's brand names under the Softly umbrella to build a strong laundry care portfolio, a strategy which enabled Pental to protect its shelf space by increasing presence of Softly brand while supporting the brand more economically due to scale.
For the financial year ending 30 June 2019:
PTL's underlying PAT was $3.451 million, up 32.7% and a substantial leap from 2018's $2.602 million;
Reported NPAT was $1.921 million (net loss after tax of $27.839 million in 2018);
Underlying EBIT of $5.014 million was 32.5% up on 2018;
Gross sales were $153.986 million, up 42.0% or $45.559 million on 2018;
Trade spend (rebates and discounts) was $53.540 million, 63.43% higher than 2018 when it was $32.760 million;
The ratio of trade spend to gross sales increased by 4.56% to 34.77% ($32.760 million in 2018);
Net sales revenue grew by 32.7% in total compared to 2018.
Pental's cash position was positive with no debt and net cash of $0.246 million;
The Board recommended payment of a fully franked final year dividend of 1.30 cents per ordinary share (total dividend of 2.0 cents per share in FY19 compared to 1.5 cents per share of FY18)
The pay-out ratio was recorded at 79%.
What Worked in Favour of Pental?
The Company has been actively investing in marketing and price matching initiatives to protect its market share and shelf space in an increasingly aggressive competitive environment in key categories and segments. Consequently, sales grew in branded bleach, cleaners and firelighters.
Pental continued to focus on smart ways to reduce production costs and remain competitive, to better target the increasing share of private label in that fast-moving consumer goods market. Despite tough competition Toilet, Household cleaning and Dish wash were categories where the Company enjoyed strong market shares in New Zealand whereas in Australia White King bleach1 and White King Lemon toilet gel2 retained their #1 position in grocery along with Jiffy1 and Softly1 brands in their segments.
More progress was made with the value generation strategy through a new arrangement to supply Pears and Country Life Tradie Soap to Australia's largest pharmacy retail chain, Chemist Warehouse. The Company marked five years of partnership with Unilever as the exclusive Australian distributor for Pears soaps and body washes, validating its expertise in managing brands.
Besides this, four new innovative Huggie fabric softener choices released through Woolworths and the Company was also instrumental in bringing innovations in the form of Velvet bloom beauty bar, four new toilet cleaning products in Metcash and the new Country Life Tradies Soap Bar (released through Chemist Warehouse and Metcash).
What's in Store for Pental?
Asia remains an important part of PTL's long-term growth vision where margins were improved due to realignment of distribution network, even though sales remained in line with the prior year.
In the days to come, intense competition and price-cutting in the consumer goods market are expected to continue in the medium to long term. The strategic distribution partnership with Duracell and Pears is likely to support PTL's sustainable profitability as it explores additional partnership opportunities.
Strong investment in the field and merchandising support will continue to support trusted brands such as White King, Janola and Huggie. In the future, Product innovation will be a key to long term success as PTL explores opportunities to introduce brand extensions, similar to the successful Huggie variants released through Woolworths in 2019.
The Company is also working with key customers to execute a brand realignment strategy within the household laundry liquid wash segment, focused on creating a power brand and sub-brands. On the export side, PTL is in negotiating terms of trade with a large distributor in China which will provide a large-scale entrance into the market where high-quality Australian brands are well regarded. It is also tapping markets of South Korea, Indonesia, Thailand and Taiwan.
PTL will invest in replacing one of its old liquid lines in 2020, an initiative to support cost control, production efficiency and growth in contract manufacturing opportunities.
Pental's strategy to retain its space amid touch competition is based on five pillars
Driving Sales Growth
New Products and Channels
Value Added Projects
Exports
Continuous Manufacturing Improvement
To know more about Pental's developments, business moves and stock performance, we encourage you to keep watching this space.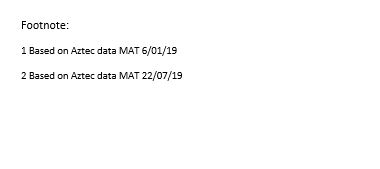 ---
Disclaimer
This website is a service of Kalkine Media Pty. Ltd. A.C.N. 629 651 672. The website has been prepared for informational purposes only and is not intended to be used as a complete source of information on any particular company. The above article is sponsored but NOT a solicitation or recommendation to buy, sell or hold the stock of the company (or companies) under discussion. We are neither licensed nor qualified to provide investment advice through this platform.