Australian-headquartered company, VRX Silica Limited (ASX: VRX) is tapping opportunities in the silica sand market after identifying a robust demand for the high quality silica sand across the world. The activities of the company are directed at meeting the looming shortage of sand in the international market that has resulted in an uptick in its prices worldwide.
The company possesses three significant silica sand projects in Western Australia, including Arrowsmith Project, Muchea Project and Boyatup Project. The company's Arrowsmith and Muchea Project are the most developed ones that are highly prospective for silica sand. Besides these projects, the company also holds interests in Warrawanda HPQ Project and Biranup Project, that are prospective for other minerals.
Opportunities in Silica Sand Market
High-grade silica sands are valued for a combination of their physical as well as chemical properties and are used as a key raw material in the industrial development of the world. Silica sand is used for various purposes in different industries. The following are some of the key uses of silica sand:
Due to its applications across a range of industries, the demand for silica sand is gaining momentum across the world. Amidst the increasing demand of silica sand, the company expects the consumption of industrial silica sand to climb 3.2 per cent per year across the globe and 5-6 per cent per year in the Asia-Pacific region through 2022.
VRX Silica's Operational Strategy
VRX Silica has recognised that the bulk silica sand mining industry is an evolving industry in Western Australia and thus has fewer established practices and less depth of expertise than is typical in other sectors of the mining industry.
Recently, the company has released the outcomes of Bankable Feasibility Study (BFS) for its Arrowsmith North and Central Projects that demonstrated compelling financial attributes supporting the development of both the projects.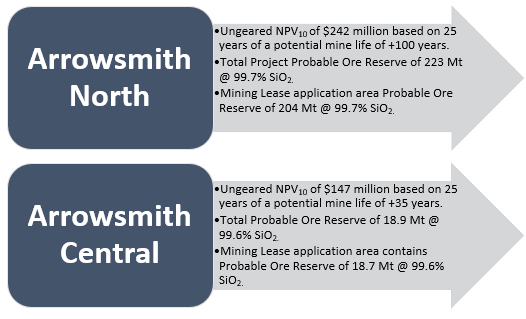 Along with the BFS results, the company informed about its plan to develop a comprehensive risk-based program for its Arrowsmith Project to ensure that it has the required systems and capability to operate its project successfully from day one.
The company's proposed operational strategy includes the following components:
Operation of Mine and Processing Facility
The company notified that the mine and processing facility of its project will be governed by an experienced leadership team and a local workforce. The company intends to create a high level of local community and government support via this approach.
Safety and Reliability of Project
The company plans to develop a robust suite of management systems and operating standards jointly by the Perth head office and an early recruited leadership team to ensure that the project runs safely and reliably generate an on-specification product at nameplate capacity and cost from the first day.
Recruitment of Operational Staff
VRX Silica plans to recruit a capable local operational staff with sufficient lead time to ensure their complete training in the operation of mine and plant.
The company will initially conduct recruitment for key management and technical roles for developing and implementing the management systems, and then train the operating staff in the lead up to operations.
Organisation Structure and Operational System Design
The company informed that the design of the operational systems and organisation structure will be adequate for maintaining the right balance between the required operating efficiency and level of governance, which will ensure the sustained performance of efficient, safe, on-specification operational delivery throughout the life of the project.
Objectives of Operational Readiness Plan
In line with its operational strategy, the company intends to formulate an operational readiness plan with the following objectives:
VRX Silica's Risk-Based Approach
VRX Silica is planning to use a strong risk-based approach to develop its operational readiness plan. The company has learnt lessons from the other projects; where there occurs a failure to prepare and fully understand the operational risks early, projects are exposed to significant value loss arising from out of specification product, production shortfall, and cost increases.
The company's approach involves the following risk mitigation actions:
Designing of reviews to make sure that engineering controls are incorporated in plant design.
Conduct specific studies to ensure full anticipation of reliability, environmental, technical, and quality issues.
Obligations to involve in third-party contracts that will be crucial to production, safety, environment and product quality.
Engagement of specialist consultants to recommend on critical marketing, technical and government and community aspects of the project.
Creation of project control for construction management.
Definition of government co-commitments and infrastructure upgrades.
Planning and target for early recruitment and training.
VRX Silica is likely to observe accelerated progress in the near future, backed by robust market opportunities and its overarching operational strategy.
Take a look at VRX Silica's targeted developments and their projected timeline:
Stock Performance
VRX is currently trading at $0.155 on 25th September 2019 (1:42 PM AEST), with about 404.3 million outstanding shares. The stock has delivered a tremendous return of 72.41 per cent during the last six months.
---
Disclaimer
This website is a service of Kalkine Media Pty. Ltd. A.C.N. 629 651 672. The website has been prepared for informational purposes only and is not intended to be used as a complete source of information on any particular company. The above article is sponsored but NOT a solicitation or recommendation to buy, sell or hold the stock of the company (or companies) under discussion. We are neither licensed nor qualified to provide investment advice through this platform.