On 3 July 2019, the headline index S&P/ASX 200 index was up by 0.55%. Also, S&P/ASX 200 Information Technology (Sector) index was up 0.27%. However, S&P/ASX 200 Health Care (Sector) index was down by 0.23%. Let us discuss two IT stocks and one healthcare stock and see how they performed.
Empired Ltd
About the company:
Empired Ltd (ASX: EPD) is an ASX-listed diversified IT services provider, which helps its clients in using technology so as to enable better, more intelligent business, as a means to a more successful end.
Recent Update/s:
On 2 July 2019, the directors of the company announced their intention to undertake an on-market share buyback of a maximum of 15,269,298 shares over a one-year period starting from 17 July 2019.
The company mulls the on-market share buyback as an effective technique to return the capital to the shareholders where the shares of the company are trading at a substantial discount to its intrinsic value.
EPD made another ASX announcement on the same day, providing its investors with details related to strategic initiatives, FY2020 outlook and FY2019 guidance.
Strategic Initiatives:
The board and management of the company have started a detailed and rigorous process to set FY2020 targets and priorities to deliver improved cash flows as well as net profit after tax in the coming year and beyond that. The process includes the full assessment of the balance sheet, capital management and operating costs, along with investment in sales growth.
FY2020 Outlook:
The company has recently secured various new recurring managed services contracts along with a number of boosts to existing managed services contracts. All these contracts (new and expanded ones) would start generating revenue in Q1 FY2020.
The company is in the advanced stage of finalising new contractual arrangements with recurring managed services customers. The same is expected during the second quarter of FY2020.
The Q4 FY2019 sales orders increased by 10% as compared to the previous corresponding period. A building workbook along with the sales orders growth would provide a strong platform in FY2020.
The New Zealand operations of the company performed strongly in Q4 FY2019, thus entering FY2020 with substantial momentum.
The company is expecting robust growth in the strategic services solution portfolio, particularly in Digital Solutions with Microsoft Dynamics and Data Analytics as key growth drivers.
The company, in FY2020, expects an improved EBITDA along with substantially improved NPAT and cash flow. For this, the company would focus on optimizing existing assets as well as driving free cash flow generation for the entire year. The company has also started with its cost reduction program that will be delivered across FY2020.
FY2019 Guidance:
FY2019 revenue is anticipated to be between $174 million and $177 million.
Underlying EBITDA would be between $15.2 million to $15.8 million.
Net debt by the end of 30 June 2019 is expected to be $14.3 million.
Stock Information:
EPD stock closed the day at A$0.320 on 3 July 2019, up 3.226% as compared to its previous closing price. EPD holds a market capitalisation of A$49.64 million and has approximately 160.13 million outstanding shares. It delivered a one-month return of 14.81%, while EPS stands at A$0.035.
Dotz Nano Limited
About the company:
Dotz Nano Limited (ASX: DTZ) is a technology leader, specializing in the development as well as marketing of new advanced materials that are used in tracing and anti-counterfeiting along with product-liability solutions. The flagship products of the company comprise of ValiDotz™, Fluorensic™, InSpec™ and BioDotz™ and are used in various industry segments as tagging, tracing as well as detection solutions.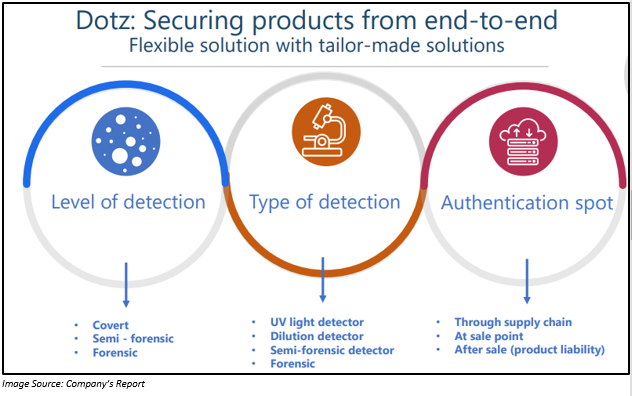 Recent Update/s:
On 2 July 2019, the company announced that it is engaging with the medical industry as well as academic leaders for progressing its products for biomedical purposes.
As per a new study carried out by five university and research facilities and led by the scientific advisor of the company, Prof. James Tour, the Graphene Quantum Dots (GQD) that is manufactured from coal can fight oxidative-stress and help in the treatment of brain injuries, strokes, heart attacks and other serious conditions.
At present, Dotz Nano has the exclusive license to manufacture GQD from coal. Moreover, it has attained a commercial production capacity.
Stock Information:
DTZ stock closed the trading at A$0.083 on 3 July 2019, up 3.75% as compared to its previous closing price. DTZ holds a market capitalisation of A$17.45 million and has approximately 218.17 million outstanding shares. It delivered a three-month return of 3.90%, while its EPS stands at negative A$0.052.
PainChek Ltd
About the company:
PainChek Ltd (ASX: PCK) is in the business of developing as well as commercialising mobile medical applications, providing an assessment of the pain for individuals who cannot communicate through their care takers.
The company, using Artificial Intelligence and smartphone technology, gives a voice to an individual who could not express his/her pain.
Recent Update/s:
On 2 July 2019, the company announced that it would be collaborating with Murdoch Children's Research Institute (MCRI) to test the clinical version of its PainChek® App for babies.
MCRI is the biggest child health research institute in Australia and ranks amongst the top three across the world. Its team comprises of 1,200+ researchers, focusing on making discoveries for preventing and treating childhood conditions.
Professor Franz Babl and Associate Professor Di Crellin, both from the MCRI, will head the PainChek® Infant PainFaces study, which would be performed in the emergency department of Melbourne-based Royal Children's Hospital.
In this study, the pain score obtained through the PainChek® Infant App will be compared to those derived from the use of the Face, Legs, Activity, Cries and Consolability (FLACC) scale by two independent assessors in ~ 100 infants, who are going through the painful procedure.
As per PainChek, the research outcomes would aid applications seeking approval from regulatory authorities for PainChek® Infant's App. The company intends to receive approval from the Therapeutic Goods Administration (TGA) in Australia, the Food and Drug Administration (FDA) in the US and CE Mark, Europe.
Stock Information:
PCK stock closed the trading at A$0.190 on 3 July 2019, down 7.31% as compared to its previous closing price. PCK holds a market capitalisation of A$185.87 million and has approximately 906.66 million outstanding shares. It gave a six-month return of 400%, while its EPS stands at negative A$0.003.
---
Disclaimer
This website is a service of Kalkine Media Pty. Ltd. A.C.N. 629 651 672. The website has been prepared for informational purposes only and is not intended to be used as a complete source of information on any particular company. Kalkine Media does not in any way endorse or recommend individuals, products or services that may be discussed on this site. Our publications are NOT a solicitation or recommendation to buy, sell or hold. We are neither licensed nor qualified to provide investment advice.