Oil & gas (O&G) exploration and development company, Sun Resources NL (ASX: SUR) is based in Perth, Western Australia, with its key asset located in Louisiana, United States.
The Bowsprit Oil Project in Breton Sound Area is on lease areas spread over 1,154 acres and is approximately 70 kilometres southeast of New Orleans. The company in July 2019 had increased its working interest in the project from 50% to 100%. Moreover, Sun Resources is the operator of the leases.
Anglo-Dutch oil and gas company, Royal Dutch Shell had discovered the project in the 1960s, at a depth of 7,400 feet intersecting circa 30 feet of sand and producing 76,000 barrels from vertical wells.
To Know More: Read A Deep Dive into Sun Resources' Ace Project- Bowsprit Oil Project
Final Drilling Permit
In a market update on 28 November 2019, the company announced to have secured the final drilling permit - St. Bernard Parish permit and Port Authority approval - required to commence drilling activities at the Bowsprit-1 Well, inland waters of Louisiana. This is a major achievement for SUR, as the permitting was completed ahead of schedule (before the end of November 2019).
The first state permit was granted by the Department of Natural Resources Office of Coastal Management to the company's US-based subsidiary Sun Louisiana LLC in late October 2019.
The federal permit was awarded by the U.S. Army Corps of Engineers and updated to the market on 1 November 2019.
These permits are valid for one year.
Drilling Plan
The drilling program at the Bowsprit-1 Well would target three zones - T1, T2 and T3. As per the plan, a vertical pilot hole, part of the permitted well, would be drilled to an approximate depth of 8,000 feet, targeted towards evaluating the prospectively of the T2 and T3 reservoirs. Wireline logs would be used to evaluate the zones, after which the well would be plugged back to ~ 6,000 feet and then deviated to horizontal to target the T1 reservoir.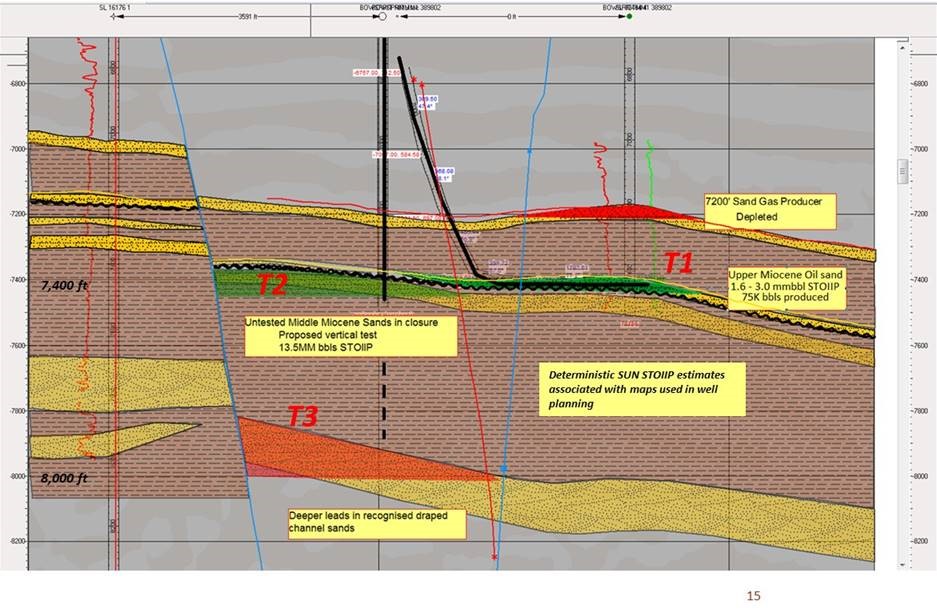 T1 or Horizontal Well Section
A 20-50-feet oil column of light sweet crude oil in the Upper Miocene Sands reservoir was relatively thin and sub-commercial to develop with vertical wells in 1960s.
Sun Resources plans to drill a horizontal well between the former producers, anticipating an initial oil production of ~2,000 barrels per day, rapidly developed and produced through tie back to a nearby production facility.

The well is expected to recover 0.75 million barrels of oil.
T2 (Vertical Pilot Well)
The vertical portion of the well would drill the untested Middle Miocene sand as the first zone, with intersection expected within 7-8 days of drilling commencement.
Sun Resources has already selected the well location, with the intention to target good quality sand lying structurally up dip of the proven oil in the Upper Miocene sand (T1).
According to SUR estimates, un-risk adjusted "best case" volume would reach 13.5 million barrels STOIIP.
T3 (Vertical Pilot Well)
T3 would be the second target reached as a continuation of drilling through T2 and into sands ~500 feet below the main target.
Sun has estimated provisional prospective resource (envisioned to be a sand prospective for gas) of ~21 billion cubic feet of gas initially in place (deterministic, un-risked, best estimate).
T3 is a "wildcat" exploration lead believed to be relatively high risk (5-10 CoS). However, it can be drilled for a minor additional cost, with the potential to provide more upside to the project.
Negotiations for Early Production
Sun Resources is in discussions with two entities engaged in production activities in the area to enable early production through tie back to a nearby production facility. The company has received provisional offers to process the fluids from Bowsprit, with the offers being less than USD 2 per barrel of fluid.
Based on the route shortlisted, SUR can lay a pipeline to either of these facilities, owing to which early production could be implemented for less than USD 1 million. The company plans to select the preferred facility soon, with permitting of the pipeline route expected to start in approximately three months. Once the permitting is secured, SUR could lay the pipeline within approximately 4-6 weeks.
Way Forward
Sun Resources is currently in farm-out discussions with several interested parties with the negotiations progressing well. Subject to securing funding through a combination of farm out and capital raising, the company plans to drill the well into the Bowsprit field in the first quarter of 2020.
The company is unlikely to require further production licences or other approvals in Louisiana; consequently, the well is expected to start oil production within two months of drilling. This early production option not just significantly boosts the field economics, it is quick to implement, low cost, and would provide early cash flow for the company. The Bowsprit-1 well would only require approximately 50,000 barrels of oil production to justify the pipeline laying economically.
If the T2 / T3 reservoir holds hydrocarbons, the aggregate field will be possibly too large to put through 3rd party services.
Sun would implement the early production, while planning and procuring new or second-hand production facilities.
Then drill new dedicated horizontal development well(s) to produce the T2/T3 (Middle Miocene).
The early production pipeline would be utilized for gas export and the oil sent by barge to coastal refineries.
SUR was trading at AUD 0.002 on 28 November 2019 (AEST 01:11 PM), with a market cap of AUD 2.64 million and approx. 1.32 billion outstanding shares.
Read More:
Sun Resources Secures First State Permit to Perform Drilling at Bowsprit Oil Project
Sun Resources Secures Federal Permit to Drill First Well at Bowsprit Oil Project
Sun Resources' Full Year Statutory Accounts Disclosure: Bowsprit Oil Project in Focus
---
Disclaimer
This website is a service of Kalkine Media Pty. Ltd. A.C.N. 629 651 672. The website has been prepared for informational purposes only and is not intended to be used as a complete source of information on any particular company. The above article is sponsored but NOT a solicitation or recommendation to buy, sell or hold the stock of the company (or companies) under discussion. We are neither licensed nor qualified to provide investment advice through this platform.