Source: Olena Yakobchuk ,Shutterstock
Summary

Australian Primary Hemp enters into an agreement with Australia's largest grocery stores for the commercialisation and distribution of its plant-based products.
Elephant 'mylk' products will be distributed by Coles stores from April 2021.
The Company has trialled its products with several Melbourne-based baristas for texture and flavour profile development.
ASX-listed plant-based nutrition product developer Australian Primary Hemp Limited (ASX:APH) announced that it has secured a retail distribution agreement with one of Australia's largest grocery stores, Coles Supermarkets Australia Pty Ltd.
Following the distribution agreement update, APH shares moved up and were trading 6.896% higher at A$0.465 at AEDT 02:12 PM.
Let us dig deeper and discuss the agreement in detail-
About Australian Primary Hemp Limited
ASX-listed vertically integrated business Australian Primary Hemp Limited is a developer and distributor of premium health and wellness products. The Company's plant-based nutrition brands include hemp products under the Mt Elephant and APH brands. APH offers its products to retailers, wholesalers, including white label consumers across Australia.
APH Signs an agreement with Australia's largest grocery
On 3 March 2021, Australian Primary Hemp and Coles Supermarkets Australia entered into a retail distribution agreement. With this agreement, APH's Mt. Elephant 'mylk' hemp as well as oat milk products will be distributed by over 140 Coles stores in the east coast of Australia from April 2021.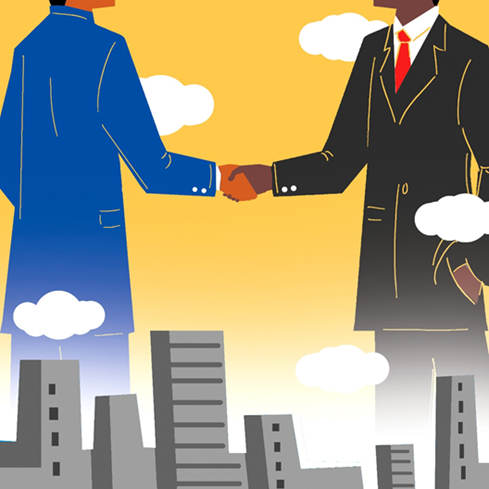 Source: Copyright © 2021 Kalkine Media Pty Ltd
The two Mt. Elephant mylk products to be carried by Coles are:
A barista/original hemp and oat mylk.
A chocolate hemp and oat mylk.
APH has trialled its Mt. Elephant mylk with several Melbourne-based baristas for developing the texture and flavour profile of the product.
ALSO READ: APH and Woolworths' retail distribution agreement
APH's cholesterol-free Mt. Elephant mylk
Elephant mylk is low in saturated fats and is highly digestible plant-based protein.
This product is 100% vegan, cholesterol-free, rich in polyunsaturated fats, and loaded with vitamins and minerals.
Elephant mylk is a perfect blend of essential amino acid profile.
© Harmoony | Megapixl.com
Moreover, the demand for the plant-based milk market is being driven by consumers looking for innovative and nutritious alternatives to dairy milk other than almond or soy milk.
Neale Joseph, Managing Director and CEO of Australian Primary Hemp commented on the agreement-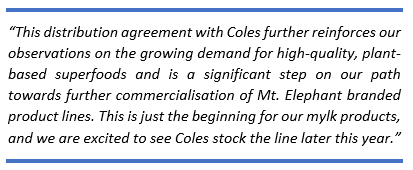 Mr Joseph also added that Mt. Elephant product range of the Company is generating commercial momentum. The agreement with Coles Supermarkets Australia is a significant milestone for Australian Primary Hemp as the Company continues to progress commercialisation as well as the distribution of its Mt. Elephant products.