Summary

GTI Resources released solid quarterly results for June 2020 quarter.
The Company observed several significant developments around its Henry Mountains and Niagara projects during the quarter.
In relation to Henry Mountains Project, GTI reported high-grade assays from sampling program at Rats Nest Project and completed a maiden drilling program at Jeffrey Project.
Over Niagara Project, GTI conducted an airborne magnetic survey that was targeted to follow up anomalous soil sampling results.
GTI entered into a binding agreement to acquire two mineral leases from Anfield, which more than doubles the size of its land position in the area by conjoining two of its most prospective projects at Jeffrey and Rats Nest Projects.
Australian mineral exploration firm focused on vanadium and uranium, GTI Resources Limited (ASX:GTR) has recently released quarterly results for the June 2020 quarter. The Company observed several significant developments at its Henry Mountains Uranium Project and its Niagara Gold Project during the quarter.
Located in Utah, USA, the Henry Mountains Uranium Project is focused primarily on GTI's Jeffrey, Rats Nest and Moki Projects plus two Utah state mineral leases being acquired from Anfield Energy Inc.
The Niagara Gold Project is located in Western Australia, comprising one granted exploration licence and four prospecting licence applications that were recently pegged and applied for.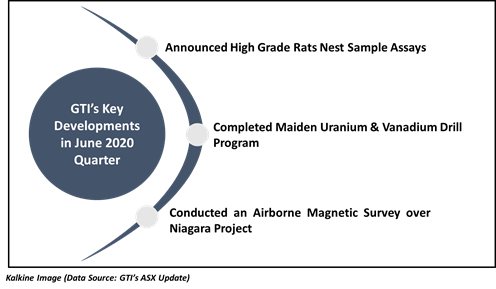 Let us quickly scroll through key developments that defined June quarter 2020 for the Company:
Reported High-Grade Assays from Sampling Program at Rats Nest Project
On 15th June 2020, GTI updated the market on receipt of positive results from its recently completed sampling program undertaken on outcrop and underground workings at its prospective Rats Nest project.
The Rats Nest project is one of the several projects GTI owns in Utah, encompassing ~1,500 hectares of the Henry Mountains region, within Wayne and Garfield Counties, close to Hanksville, Utah. The sampling program returned high-grade assay values ranging up to 0.87% U3O8 and 1.07% V2O5, validating potential of the Rats Nest project.
Completed Maiden Drill Program at Jeffrey Project
During the quarter, GTI also completed its maiden uranium and vanadium drill program at the Jeffrey Project. The program successfully attained drilling and down-hole gamma logging of the 12 targeted diamond core drill holes to test the extent of shallow vanadium and uranium mineralisation across the southern section of the Jeffrey project.
Besides these 12 shallow diamond core drill holes, further 6 historical drill holes were found close to newly drilled holes and then logged with a downhole gamma probe.
Subsequent to the quarter, the Company also declared eU3O8 downhole gamma assay results and vanadium XRF results from the maiden drill program completed at the Jeffrey Project. The downhole gamma assay results returned high in-situ assay values of up to 3,535ppm eU3O8, while field screening of the drill core with a handheld XRF generated a result of up to 26,388 ppm vanadium.
Conducted Aeromagnetic Survey Over Niagara Project
GTI also conducted an airborne magnetic survey over Niagara Project during the quarter that was targeted to follow up anomalous soil sampling results.
While the detailed aeromagnetic survey, encompassing 2,053 line kms at 20m line spacings over E40/342, P40/1517 and P40/1506, was completed in July this year, the final magnetic data is likely to be made available within the next two weeks.
The processing and interpretation of the aeromagnetic data will aid in refining a follow-up field program that is expected to contain additional infill auger soil sampling and ground mapping to assist in drill targeting. As the permitting for a PoW has been approved, GTI is working towards an initial drilling campaign during 2020 September.
Other Developments During June 2020 Quarter
In addition to these developments, the completion of maiden drill program at the Jeffrey Project satisfied one of the Company's performance milestones attached to the performance rights issued. Besides, the capital raising milestone had also been attained with the recent exercise of ~25.7 million options.
Also, the June quarter observed appointment of Mr Matthew Foy as GTI's Company Secretary, who is an active member of the WA State Governance Council of the GIA (Governance Institute Australia). Commensurately, Mr Bruce Lane resigned as co-company secretary to continue the role as Executive Director, and Ms Emma Gilbert resigned as co-company secretary to remain with GTI in her executive capacity.
Moreover, Mr Petar Tomasevic was appointed as Non-Executive Director during the quarter following the resignation of Mr Murray McDonald as a director of the Company.
Must Read! Significant Developments at GTI Resources: Conclusion of Placement & Aeromagnetic Survey
GTR traded at $0.030 on 28 July 2020 (11:40 AM AEST).