Summary

The periodic return on a stock is the major determinator for an investor to make an investment in it, be it in the form of dividends or capital appreciation.
In the last 3 months period, GTG has given a positive return of 100% to the investors, and its share price surge can be observed in both NASDAQ and ASX in the last few days, which further draws the investor attention.
In its recently released quarterly results for the period ended 30 June, GTG mentioned on developing PRS (Polygenic Risk Score) test for coronavirus, which might facilitate an evaluation of risk of a person contracting a critical illness, should they develop coronavirus.
Any alteration in price on an asset or investment over the period of time is termed as return and could be signified through price or percentage change. The return could be negative or positive depending on the fundamental standing of the business and the overall market conditions in the given period of time. The overall return on stock determines the attraction of investors towards it.
The return gained during the regular intermission of a month is termed as monthly return and for one year is known as annual return.
In this article, we would be highlighting a NASDAQ and ASX listed healthcare player, Genetic Technologies Limited (ASX:GTG).
A leader in developing genetic technology, Genetic Technologies' trials projects a person's probability to develop prolonged illness. The Company aim towards improving health results of individuals worldwide by offering them, and the medics with the risk assessment devices to create customised health management proposals so that they can trace a chronic ailment in its nascent stage and treat it accordingly.
The shares of the Company have provided positive return of 100% in the last three-month period and is still garnering investors' attention.
Of late, GTG has been surging on NASDAQ reflected through the multiplication of its prices from earlier US$ 2.26 to reach US$5.67 recorded on 15 July 2020. Speaking of ASX, GTG closed the trading session on 23 March at a price of A$0.004, while on 4 August, it settled the day flat at A$0.010, with a market capitalisation of A$82.62 million.
Let us now acquaint ourselves with latest updates of the Company.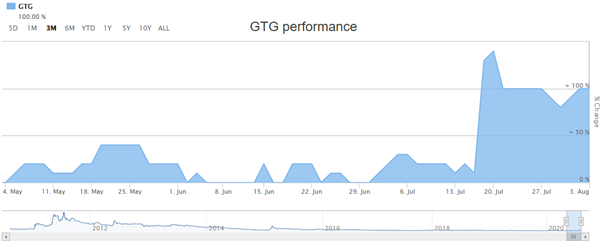 Source: ASX
BNYMC changed interests in GTG
On 30 July, GTG announced that BNYMC Group (The Bank of New York Mellon Corporation) increased its holding in the Company from 70.41% to the current 71.48%, effective 28 July 2020.
Major developments noted in Quarterly Report ended 30 June
On 29 July, GTG released quarterly report for the period ended 30 June 2020. Some of the highlights are as follows:
During the quarter, in spite of financial uncertainty surrounding coronavirus GTG concluded capital raisings of US$16.34 (before costs) via bankers HC Wainwright in the US.
The proceeds from the capital raisings would be utilised to help the Company launch and circulate its new products in the US for fulfilling requirements like- general product research, along with development, and reimbursement studies for polygenic risk tests with TGen in the US, for application of the Company's client started testing platforms and to get ready for COVID-19 Severity Risk Test.
GTG also updated on coronavirus severity test development, stating that GTG was developing PRS (Polygenic Risk Score) test for coronavirus, which might facilitate an evaluation of risk of a person contracting a critical illness, should they develop coronavirus. The test plans to project 'disease severity' utilising a blend of both genetic and clinical data.
In April, GTG had notified that in view of suggestions on social distancing measure, affecting the capacity to 100% connect with doctors, the Company has put ahead their proposal to unveil a CIT (Consumer Initiated Testing) Platform. Also, the sales pipeline differs from conventional sales method focusing on clinicians, but rather enables patients to ask for test directly.
During the month of June, GTG secured US Patent No: US 10,683,549, Methods for evaluating danger of contracting breast cancer. Also, the Company is the first one to commercialise a polygenic risk test for breast cancer disease globally.
Also, during the quarter, GTG conducted talks with CMS and NATA for seeking regulatory consent for COVID-19 Severity Risk Test (Australia and the US).
Further, the Company has created a comprehensive strategy to assist a short-term shift of its genetic testing lab to a high-throughput coronavirus testing lab, in case needed by Government agencies to support with requirement.
The Company also has a 100% NATA and CLIA certified lab, which puts it in a rare spot to serve the US and Australian markets contingent on receiving regulatory approvals.
On the cash flow front for the quarter ended 30 June, GTG's net cash used in operating activities was noted at A$1,762k, while net cash used in investing activities stood at A$8k. The Company's Net cash from financing activities was recorded at A$15,096k. By the end of the period, cash and cash equivalents was recorded at A$14,214k. Additionally, GTG noted cash balance of A$20.23 million, on 28 July 2020.