Summary

Platina Resources is expanding its gold project footprint in Western Australia, with newly acquired Challa Gold Project and application lodged for Mt Narryer Project.
In June quarter, PGM entered a multi-million deal with Major Precious Metals to sell Skaergaard project, which is expected to grow with the help of the latter's substantial financial and technical resources.
An exploration and drilling program began at the Munni Munni Project in June, and recently released results have confirmed the project's vast potential.
Initial VAT leaching trial at the Platina Scandium Project produced encouraging results, with second trial planned.
PGM strengthened its financial position through placement initiatives.
Australia-based company, Platina Resources Limited (ASX: PGM) recently released its quarterly activities report for the three-month period ended 30th June 2020. The report incorporated key details of activities undertaken by the Company concerning its projects and capital raising programs during the period.
PGM Gets Exposure to World-Class Gold Province via Challa Gold Project
In June 2020, Platina announced to have entered a conditional agreement to wholly acquire the Challa Gold Project, located between the Western Australian gold districts of Sandstone and Mt Magnet, 500km north-east of Perth.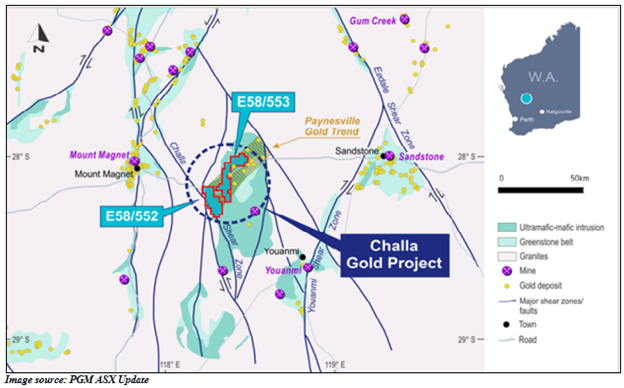 Through the project, the Company will get exposure to a world-class gold region at a little cost. The project seems highly promising, as it lies within an area defined by over 50 gold occurrences, and the Yilgarn Craton of Western Australia had been a massive gold producing region since the 19th century.
PGM, which secured two high quality exploration licences at the project in July 2020, is seeking government permission for the transfer of the exploration licences, so that it can proceed to settlement with the vendors. The Company is also finalising plans to begin field activities at the project, covering a low-cost Rotary Air Blast (RAB) drilling program.
Transaction to Sell Skaergaard Project Progressing towards Completion
The gold & PGM project lies on the east coast of Greenland and is one of the world's most significant undeveloped gold and palladium resources. Skaergaard's exploration licence was recently renewed for an additional three-year period.
PGM signed a conditional sale agreement with Canadian firm Major Precious Metals, which was formerly known as Eastern Zinc Corporation, to sell its 100% owned Skaergaard project.
On the deal completion, PGM will get CAD 0.5 million in cash and 55 million Major shares, as well as become a major shareholder in Major. Major Precious Metals has an exploration and geological team based in the northern hemisphere, in addition to cash resources that would aid in developing the Skaergaard project.
The transaction is getting closer to completion but awaiting the Mines Minister approval, as it is subject to financial and technical conditions.
Exploration and Drilling Program at Munni Munni PGM & Gold Project
The project in the Pilbara region of Western Australia is one of the country's most crucial platinum group metals (PGM) and gold occurrences. PGM has a 30 per cent interest in the project, while Artemis Resources Limited (ASX: ARV) holds the remaining 70 per cent interest and is the project operator.
In June 2020, an exploration and drilling initiative began at the Munni Munni Project, results from which were recently announced, highlighting the project potential to host of one of Australia's largest undeveloped palladium deposits and endowments of platinum and gold.
Subsequent to June quarter end, the Company also updated to have commenced proceedings in the Supreme Court of Western Australia against Artemis Resources Ltd and its subsidiary Munni Munni Pty Ltd, for breaching their Heads of Agreement.
Platina Scandium Project- New Extraction Technology
The New South Wales-based project is believed to be one of the most prominent and top-grade scandium deposits, globally. During the quarter, the VAT leaching test work program at Core Metallurgy in Brisbane was completed. The Company is evaluating the application of a small-scale vat leach technology used for nickel laterite ores to scandium processing in a bid to establish a smaller, lower cost project.
The initial phase of the test work has highlighted the potential of vat leaching as a cheaper alternative to high-pressure acid leaching (HPAL) for scandium extraction. PGM plans the second phase of testwork to confirm the initial results, as well as to obtain leach solutions for further processing.
Moreover, the Company has been assessing the technical and economic viability of developing a processing plant for battery materials.
Blue Moon Zinc-Copper-Gold Project- PGM is earning up to a 70 per cent interest in the project, which is on hold due to the ongoing virus crisis.
Mt Narryer Project: Strengthening PGM's WA Gold Project Footprint
Platina Resources applied for an exploration licence (E 09/2423) at Mt Narryer South, 580km north of Perth and 300km north-west of its recently acquired Challa Gold Project. The region has not undergone intense mineral exploration due to lack of outcropping 'greenstones' that host most of gold and base metal deposits in Western Australia.
PGM Boosts Cash Position through Placement Initiatives
During the quarter, Platina Resources raised capital through placements to boost its cash position, as well as to have flexibility to continue delivering its near-term corporate objectives.
On 16th June, PGM completed a non-brokered private placement of 45.05 million new shares to new and existing shareholders to gain AUD 946,050 (before costs) at 2.1 cents per share (cps).
Subsequent to quarter end, a second non-brokered private placement of 22.36 million shares was undertaken to raise AUD 894,400 (before costs) at 4.0 cps. Additionally, 22.36 million options with a strike price of 10 cents with a three-year term will be granted to the placement participants post approval from shareholders in the September 2020 meeting. The placement is expected to settle by 15th August 2020.
Proceeds through the placement initiatives will be used to advance PGM's portfolio that comprises its projects including Challa Gold Project and Munni Munni PGM Project in Western Australia. PGM is also planning to grow its gold project portfolio and is evaluating various new opportunities in Australia.
Stock Performance - On 04 August 2020, PGM stock closed the day's trade at AUD 0.050, inching upward by 4.167 per cent from its previous close. The Company has a market cap of AUD17.82 million and its stock has delivered a return of 220 per cent in the last three-month period.