Highlights


Sabre Resources is set to commence a diamond drilling campaign on its Sherlock Bay Ni-Cu-Co Project in WA.
The company has secured a grant from the WA Government that will co-fund the drilling program.
The drilling program aims to increase and upgrade JORC resources at the Discovery and Symonds deposits.
Sabre will also undertake a DHEM survey at the project location.
In a recent development, Sabre Resources Limited (ASX:SBR) secured a grant from the Western Australian Government that will co-fund diamond drilling at its 75%-owned Sherlock Bay Nickel-Copper-Cobalt Project.
The government's co-funding grant of up to AU$220,000 is a major testament to the prospectivity of the project, which includes two nickel sulphide deposits – Symonds and Discovery. The project currently holds a Mineral Resource of 24.6Mt @ 0.40% Ni, 0.09% Cu, 0.02% Co, containing 99,200t Ni, 21,700t Cu & 5,400t Co.
The upcoming drilling program aims to boost high-grade nickel sulphide resources and increase the economic viability of the Sherlock Bay Project.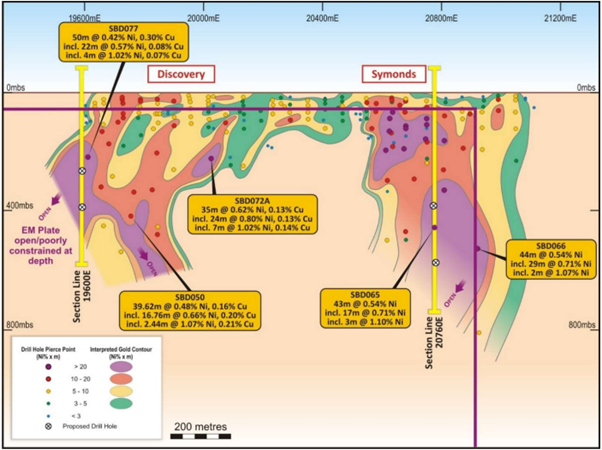 Longitudinal projection of Sherlock Bay with the Discovery and Symonds deposits
(Image source: Company update, 5 May 2022)
Govt co-funding endorses new model for Sherlock Bay
The WA government co-funding will cover up to 50% of direct drilling costs and up to AU$10,000 in mobilisation costs.
The grant is based on the program, which is designed to test the concept that huge sulphide deposits are associated with the intersection of the mineralised horizon at Sherlock Bay and the "neck" of the sulphur-saturated Sherlock Intrusive.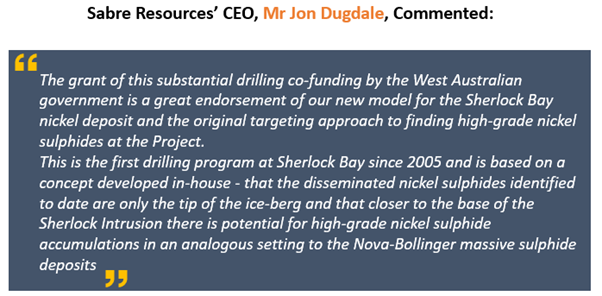 Data source: Company update, 5 May 2022
The company has lined up a diamond drilling rig to carry out the campaign. Program of Work (PoW) for the drilling operation has been submitted to the WA Department of Mines (DIMRS).
Drill rods to start spinning in June
Sabre plans to drill four diamond holes with a combined depth of up to 2,400m. These holes will test the two primary target zones identified to have potential for higher-grade to massive sulphides down plunge of both the Discovery and Symonds resources.
Two of the holes will be drilled to test the Discovery deposit's down-plunge extensions, while the other two will be drilled on the Symonds deposit. On Symonds, the holes will have a depth of ~550m and ~750m to test mineralised zones in deeper sections of the deposit.
The drilling campaign is planned to be coupled with a Downhole Electromagnetic (DHEM) survey. The goal of the survey will be to identify large sulphides associated with either in-hole or off-hole conductors, same as successfully done by Azure Minerals at the Andover nickel sulphide deposit, which sits 60km west of Sherlock Bay.
The diamond drilling program is expected to commence in June.
Share price movement: SBR closed the day's trade at AU$0.004 with a market cap of AU$11.15 million on 18 May 2022.