Summary

Renascor's Purified Spherical Graphite (PSG) processing integration with its Siviour Project remained the anchor of the Company's activities during the June quarter.
Production of battery-grade PSG via the vertical integration appears rightly positioned to tap the growing prospects while reducing the overseas supply dependency for PSG in China.
Ecologically directed purification tests using caustic roast purification method are favourable in meeting the environmental concerns of potential off-takers and financers. At the same time, low cost of PSG significantly enhances the overall lucrativeness.
Cutting the mustard with its top-notch exploration endeavours, Renascor Resources Limited (ASX: RNU) certainly seems to mark an impressive quarter with substantial progress. In a significant update on its quarterly activities report for the period ended 30 June 2020, the Company reported noteworthy developments at its 100% owned flagship Siviour Graphite Project, catalysing the realisation of its growth prospects.
During the recently completed quarter, the Company's work programs were primarily garnered towards advancing the development of its Siviour Graphite Project, more particularly, the production of battery-grade, purified spherical graphite (PSG) for utilisation in lithium-ion battery anodes.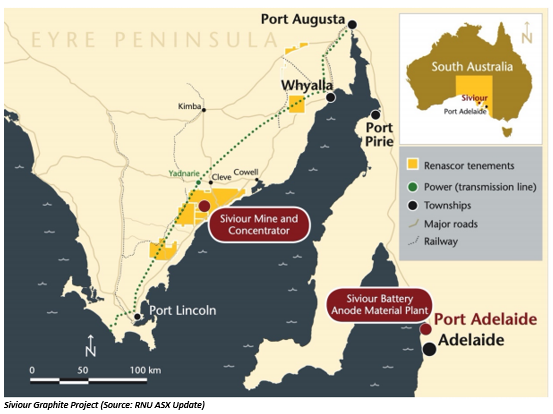 The Company, in the face of COVID-19 restrictions coinciding with the significant portion of the quarter, passed with flying colours, as strategic efforts typically aided in advancing the project in the right direction. Meanwhile, the period was characterised with remarkable developments and forward-moving activities.
With this backdrop, let us explore the key highlights and activities that remained dominant, backing the achievement of Renascor Resources' objectives and critical milestones.
Battery Anode Material Study
Renascor completed the 'Battery Anode Material Study' to evaluate an integrated battery anode material operation in South Australia for PSG production. The study was managed and supervised by Wave International, which is an independent resource development consulting group, specifically holding expertise in the downstream processing of industrial minerals.
Substantial benefits were pinpointed owing to the vertical integration of operations and co-locating PSG production in the country.
Vertical Integration of Operations
The study showed a gross operating cost of PSG of US$1,989 per tonne, which compares favourably with the average operating costs of ~US$2,000 per tonne from existing commercial PSG operations, all of which are present in China.
A relatively low PSG unit operating cost has been achieved in large part by the Company, as the battery anode material operations obtain graphite concentrates, which is the key raw material, from its Siviour Project. The Company leverages off the comparatively low-cost of Siviour Graphite Concentrates as feedstock for PSG production.
Co-locating PSG Production in Australia
Meanwhile, co-locating the graphite concentrate and PSG operations eliminates supply dependency on overseas mines for graphite concentrates.
An integrated Australian operation further limits the supply risk for potential offtake and finance partners, with Australia regarded among the safest investment jurisdictions worldwide. Renascor's PSG production utilising Siviour Graphite Concentrates also evades additional shipping costs, as the battery anode material operation is sited in Port Adelaide, which is situated within the planned transport corridor for Siviour Graphite Concentrates.
Graphite and PSG Supply Gap
The Company's PSG focus is directed towards achieving direct exposure to the lithium-ion battery sector, which remains as the highest growth sector of the graphite market. Recent studies have pinpointed the expected demand growth of lithium-ion batteries with increase in electric vehicles take-up leading to increased graphite concentrates demand. Meanwhile, the increase in demand for PSG is anticipated to be more profound.
For complete study results, please read: Renascor's PSG Processing Operation Provides Path to Capitalise on World-Class Siviour Graphite Project, Study Indicates
Strategic Financial Undertakings
Renascor during the quarter continued its engagement with a leading Nordic investment bank, ABG Sundal Collier for managing the proposed debt financing for the integrated operations.
Meanwhile, the Company continued to pursue its core debt funding strategy, incorporating the support of export credit agency (ECA). In-principle finance support was provided by both the Australian and Dutch ECAs, post-Export Finance Australia (EFA) offered a Letter of Support and Atradius Dutch State Business provided a Letter of Interest.
The Company indicated that any debt financing arranged by ABG Sundal Collier will be designed to work alongside the Export Credit Agency (ECA) funding strategy of Renascor. Meanwhile, continuous discussions are being pursued directed at securing binding offtake commitments for Siviour.
Advancing the Developments Further
The Company on the back of activities undertaken during the June quarter, continued to progress its exploration and development endeavours in July. Some critical success included more environmental-friendly purification tests for graphite processing and upgraded ore reserve estimate for Siviour Project
Purification Tests
Renascor also released results from independent tests for processing Siviour graphite into high-value PSG via an environmentally friendlier caustic roast purification method over purification technique using hydrofluoric acid, generally used in China. Two tests were performed on the samples, with the first test adopting the caustic roast circuit used in the Battery Anode Material Study and the second test performed to assist in optimising the purification circuit by limiting reagent consumption.
The caustic process was successful in producing battery-grade purity graphite samples, achieving 99.97% C in both cases, which is higher than 99.95% C used in the Battery Anode Material Study.
The results besides providing independent validation of the ability for producing battery-grade PSG from Siviour Graphite Concentrates also confirmed the optimisation potential of the caustic roast circuit by lowering reagent consumption for reducing operating costs.
Must Read: Renascor Shining as Purification Tests Confirm Siviour Potential for Eco-Friendly, Low-Cost Battery-Grade PSG
Ore Reserve Estimate Upgrade
The Company in July 2020 announced an upgraded JORC Ore Reserve estimate for Siviour, making the project as non-Africa's largest reported estimate of total graphite ore reserves and the world's second largest reported proven graphite reserve estimate.
Notably, the expanded Ore Reserve estimate stands at 51.5Mt at 7.4% TGC for 3.8Mt of contained graphite, which includes a Proven Reserve of 15.8Mt at 8.4% TGC for 1.3Mt of contained graphite.
To know more, please read Renascor's Impressive Reserve Update: Siviour Hosts Largest Reported Graphite Reserve Outside of Africa
Way Forward
Stock Performance: On 4 August 2020 (AEST 12:46 PM), RNU stock was trading at AU$ 0.016, moving upward by 23.077%. The last three-month return of the stock was noted at more than 85%.
Must Read: Renascor Resources on Right Path to Become the World's First PSG Producer Outside China