Highlights

Nickel Industries Limited (ASX:NIC) has inked a binding term sheet with SESNA, an Indonesian solar development company.
The agreement is regarding the installation and operation of a battery solar project.
NIC doesn't have to pay any funding for the project.
Nickel Industries Limited (ASX:NIC), a producer of nickel pig iron, has provided an upbeat update about signing a binding term sheet with PT Sumber Energi Surya Nusantara (SESNA). It builds on the memorandum of understanding (MoU) signed with SESNA in Jan 2022.
The agreement is regarding a battery solar project which will provide power to SESNA's Ranger Nickel, Hengjaya Nickel, and Oracle Nickel processing operations.
SESNA is one of the top solar development companies in Indonesia. It owns and operates a portfolio of solar feed-in-tariff and microgrid projects. It also provides services and solutions to commercialise solar projects.

Cutting down diesel consumption
NIC will be the long-term offtake partner of SESNA. It doesn't have to pay any funding for the project. The cost of electricity, which is lower than existing power costs at present, is anticipated to remain the same throughout the life of the project.
The 396kWp plus 250kWh battery storage project for integration with the Hengjaya Mine's facilities, which SESNA has completely commissioned, is supplemented by this solar project.
According to the company, the Hengjaya Mine solar project, which replaces diesel-powered generators, is expected to reduce diesel usage by about 31 million liters over the anticipated project life of 25 years.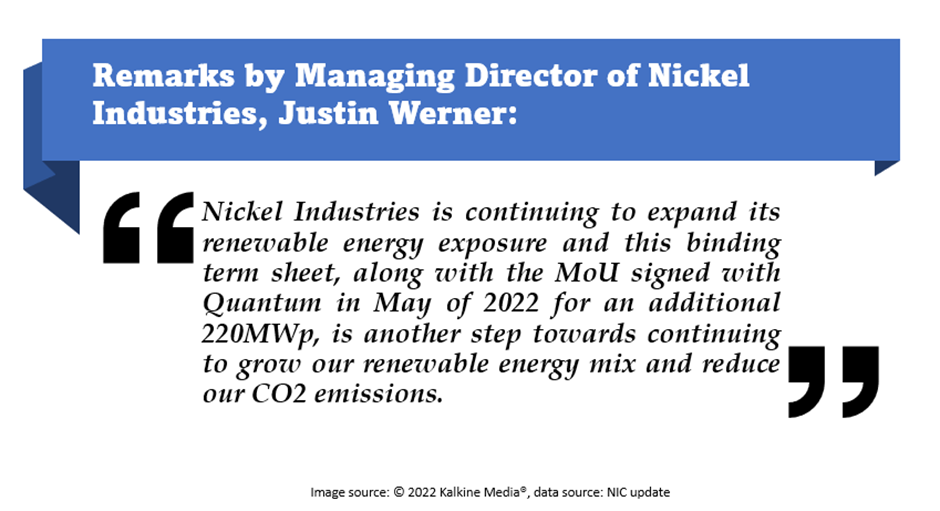 Earlier this month, Nickel Industries raised US$225 million debt capital for the acquisition of the Oracle Nickel Project.
In the 2022 June quarter, the company reported record EBITDA from operations, worth US$103.2 million. The quarter also witnessed record sales of 15,817 metal tonnes of nickel.
Stock information
NIC has a market capitalisation of AU$3.05 billion. As of 14:19 PM AEST on 17 August 2022, shares of the company were trading at AU$ 1.155 with an uptick of 3.124%.