Summary

GTI Resources has acquired a number of highly prospective uranium and vanadium properties in the Henry Mountains Utah, USA.
GTI completed a review of its recently purchased historical data package covering 2 Utah state mineral leases being acquired from Anfield and GTI's existing Jeffrey, Rats Nest and Moki projects.
Notably, the data package significantly enhances the speed and accuracy of exploration planning and targeting work.
GTI also entered into binding agreements to acquire 3 gold prospecting licences in Kookynie region of WA's goldfields.
GTI Resources Limited (ASX:GTR), an Australian mineral exploration company focused on vanadium and uranium, recently released solid quarterly results for June 2020 quarter. It observed significant developments around its Henry Mountains Projects- high-grade assays from sampling program at Rats Nest Project, and completion of maiden drilling program at Jeffrey Project.
Likewise, the Niagara gold project advanced with GTI conducting an airborne magnetic survey targeted to follow up anomalous soil sampling results. In addition, the Company entered into a binding agreement to acquire 2 mineral leases from TSXV listed Anfield Resources, more than doubling the size of its land position in the area by conjoining 2 of its most prospective projects at Jeffrey and Rats Nest Projects.
With the review of the recently acquired data package, covering the leases being acquired from Anfield and the existing Jeffrey, Rats Nest and Moki project areas, GTI believes that the data package significantly enhances exploration planning and targeting work.
Progressing its development curve, GTI has entered into binding agreements to acquire 3 gold prospecting licences in the highly prospective Kookynie region of WA's goldfields.
Completion Of Utah Historical Data Package Review
On 22 July 2020, the Company advised that it has secured a significant data package, identified during its due diligence enquiries into the 2 mineral leases being acquired from Anfield and existing Jeffrey, Rats Nest and Moki project areas in the Henry Mountains Utah. On 6 August 2020, GTI affirmed completion of this data package's desktop review.
Currently, the Company is progressing with preparations of Q3 exploration activity and is completing field checks of data across the Henry Mountains projects.
The acquired data has allowed GTI to quickly advance the evaluation of currently held ground, assess adjacent ground for acquisition as well as facilitate much greater refinement of drill targets. Moreover, the completed data review has reinforced local geologic and mineralised trend interpretations, supporting GTI's decision to acquire Anfield's Utah state mineral leases and significantly enhancing exploration planning and targeting work.
It should be noted that the acquired data package contains valuable information regarding the Jeffrey, Rats Nest and Moki claim groups. It includes drill hole logs and maps, resource maps, assay reports and project level exploration and evaluation reports.
Additionally, the data package provides drill intercept maps and an evaluation report for the Moki project and is of particular interest as significant historical drilling occurred on this property, positioned immediately east of the Tony M Mine owned by Energy Fuels Inc.
ALSO READ: GTI Resources Acquires Extensive Historical Data Package: Head-Start To Next Utah Uranium and Vanadium Exploration Phase
Additional Gold Ground in Kookynie Region
The latest binding agreements for additional ground in the highly prospective Kookynie region of WA Goldfields pertain to the acquisition of-
Prospecting licence applications P40/1513 and P40/1518that adjoin GTI's existing applications at Niagara near Kookynie (New Niagara PLAs) and,
P40/1492 that is a granted prospecting licence, located ~15km northwest of Kookynie (Reach PL)
Acquisition of New Niagara PLAs
According to GTI, the acquisition of 2 additional licence applications at Niagara strengthens the Company's land holding over the mineralised trend near Kookynie. It creates a contiguous package of applications covering ~5km of historical Niagara gold trend, including the Company's existing E40/342 tenement.
The newly consolidated belt hosts numerous historical shafts, workings within the Niagara gold trend. It provides the chance for GTI to focus on exploration within the highly prospective but underexplored mineralised corridor.
The Company has also already received aeromagnetic survey data for the Niagara project area, which comprises the New Niagara PLAs. GTI believes that the processing and interpretation of this data will help in refining a follow up field program, likely to include additional infill auger soil sampling and ground mapping to aid in drill targeting.
ALSO READ: Significant Developments at GTI Resources: Conclusion of Placement & Aeromagnetic Survey
In due course, the Company could provide more information concerning interpretation of the survey data and impending fieldwork program.
Acquisition of Reach PLA
Situated close to Greater Ulysses Project, Reach PL is held by Genesis Minerals Ltd (ASX: GMD) including the Ulysses, Admiral/Clark/Butterfly and Orient Well gold mines. Together, these hold resources of more than 1Moz of gold. Besides, Reach PL includes Reach prospect where previous exploration, including RC drilling, identified anomalous gold associated with historical workings and outcropping quartz veining.
Previous Exploration & RC Drilling Program at Reach Prospect
Between 2011 and 2013, exploration at Reach prospect (within P40/1492) was conducted by Midas Resources Limited, now Hammer Metals Limited (ASX:HMX).
In August 2011, Midas completed RC drilling program at the Prospect wherein anomalous gold assay results were returned from 4 holes, including 2 significant intercepts- 1m @ 2.97 git gold from 25m in RERC00l and 4m @ 0.49 git gold from 32m (including 1m at 0.99 g/t gold from 33m) in RERC003.
Reportedly, the highest gold values coincided with most massive quartz intercepts, closest to historical workings.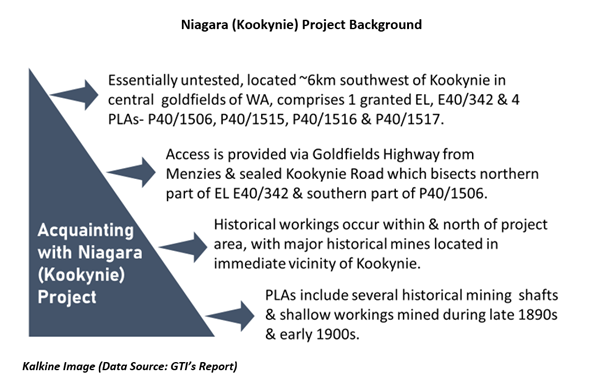 Way Ahead
GTI has satisfactorily concluded technical, legal and commercial due diligence review of the two new Utah state leases being acquired from Anfield and is moving to complete the acquisition within 3 months of the agreement being signed in accordance with the Term Sheet. Meanwhile, it is awaiting drill core assay results from drilling completed at the Jeffrey project in June 2020.
At the Niagara gold Project, where term extension has been granted, future exploration is set to include ground truthing, surface sampling and drill targeting with a program of work (PoW) approved for up to 5,000 metres of drilling. Moreover, further interpretation of magnetic data from the recent aeromagnetic survey is being completed to help understand the mineralising geological system and to target exploration work. Drilling is expected during September.
GTI's stock quoted $ 0.031, up 10.7% on 11 August 2020. Notably, the stock has delivered 250% in the past six months.
GOOD READ: Acquainting with GTI Resources' Attractive Uranium & Gold Project Portfolio & Developments