Summary

Greenland Minerals has been operating in Greenland since 2007, with a focus on the Kvanefjeld RE project which is currently one of the world's most important emerging RE projects.
Experts opine that Kvanefjeld Project leverages from being at an advanced stage, with favourable production profile across key magnet RE's & competitive cost structure.
Through Q220, Greenland Minerals progressed on advancement of Kvanefjeld RE project with more developments in pipeline.
Despite the impact of COVID 19 on demand, particularly for magnet metals, prices for the full suite of rare earth (RE) elements has so far held its own over the course of 2020.
Experts opine that global annual demand for magnet RE oxides (Nd, Pr, Dy, Tb) may increase by 150% through to 2030.
Greenland Government intends to move into mining to drive greater economic independence and prosperity.
Greenland Minerals Limited (ASX:GGG) has been undertaking high-quality work in the development of Kvanefjeld RE project that possibly has far-reaching strategic and commercial significance for Greenland and beyond. Newly appointed Executive General Manager Mr Jørn Skov Nielsen believes that it is a unique industrial project, with the potential to become a global leader in RE metals extraction, thereby contributing to improved energy efficiency, increasing renewable power generation capacity, and reducing greenhouse gas emissions on a world scale.
The Company released its June Quarterly Activities report on 30 July 2020. Impressive progress made through the quarter seemed to have caught investors' attention, with the stock rallying up by 14.7% on 30 July 2020, closing near its 52-week high at $ 0.190. Notably, the stock has generated YTD return of 36%.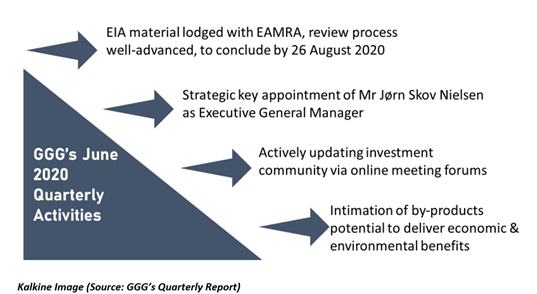 EIA Reviews Near Completion
Post EIA reviews in 2019, Greenland Minerals had commissioned several additional independent technical studies to cater to issues agreed with EAMRA that merited additional analysis. In May 2020, the Company lodged updated EIA and received review feedback across June and July with minor technical recommendations that independent consultants efficiently addressed.
MUST READ- Greenland Minerals Advances Towards Securing Mining License for Kvanefjeld, Updated EIA Lodged
While GGG continues to work closely with EAMRA and their advisors to ensure a high-quality EIA, EAMRA reportedly is on track to complete the review process by 26 August 2020. Once EAMRA is satisfied, the Ministry for Mineral Resources and Labour will take over the remaining licensing process.
Besides, translations of updated EIA are underway and managed from GGG's Nuuk office.
Key Appointment of Executive General Manager
On 2 July 2020, Greenland Minerals announced the appointment of Mr Jørn Skov Nielsen as Executive General Manager. An economist with extensive managerial experience, Mr Nielsen is likely to play a key leadership role, driving in-country activities pertaining to the Project. His focus may remain particularly around licensing and regulation in Greenland and Denmark, along with strategic and commercial developments into Europe.
Mr Nielsen brings experience in international government and commercial negotiations and has in depth understanding of Greenlandic society and business sectors.
To know more about this strategic appointment, READ HERE- Greenland Minerals: New Executive General Manager May Propel Kvanefjeld Project's In-country Activities
By-Products Likely to Deliver Economic & Environmental Benefits
In July, GGG intimated that Kvanefjeld Project will be amongst the world's largest producers of RE, producing over 30,000 tpa of RE oxide (equivalent) in an intermediate product. The intermediate product is likely to comprise extremely significant quantities of critical magnet REs- neodymium, praseodymium, terbium, dysprosium.
Besides, the project may recover a series of by-products during RE intermediate product production and produce commercially significant quantities of zinc concentrate, fluorspar as well as uranium oxide. According to GGG, by-product recovery has the effect of removing environmentally adverse elements from tailings streams and reduce the Project's overall environmental impact.
At current prices, RE may contribute over 90% of Project revenues. Moreover, incremental cost of by-product recovery is low, and revenue generated via by-product may contribute to lower RE production cost. Specially, by products may generate USD 60million in revenue for the Project annually. This reduces cost of producing REs by ~ USD 1.90/kg of RE, or 40% of the cost of producing a RE intermediate product in Greenland, as per GGG.
For insight on by-products, READ HERE- Greenland Minerals Underscores Economic & Environmental Gains of Kvanefjeld By-Products
Progress Toward a Mining License
Advancing the licensing process, Social Impact Assessment (SIA) and Maritime Safety Study have already been accepted, translated to Greenlandic and Danish. Effective documentation of a deposit of exploitable minerals in the license area has also been approved by the Greenland Government, which is integral to granting of a mining license.
The Company is currently awaiting the timing of a public consultation period.
Walk Through RE Sector Outlook & GGG's Role
The longer-term picture for RE seems extremely robust. There was an impact of COVID 19 on the sector with noticeable falls in EV sales in 1H20. However, it was of relatively short duration with experts forecasting strong recovery in 2021 and 2022. It should be noted that EV is an important market for RE magnets and growth in its sales is key to meeting globally mandated vehicle emission targets.
Naturally, the strong RE outlook creates an optimal development window for Kvanefjeld Project that is well positioned to make Greenland a globally significant supplier of materials ,key to an energy efficient, environmentally sustainable future. The Project is ideally placed to be developed to meet growing RE demand and would be Greenland's first world-class mining operation.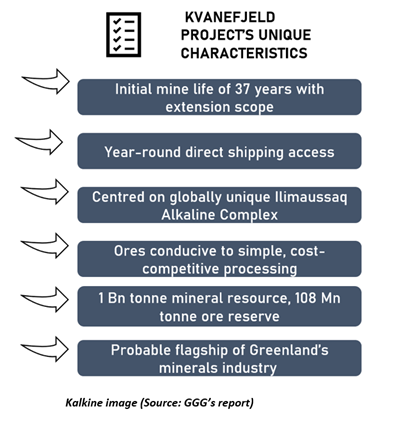 To know more about Kvanefjeld attributes, READ HERE- Greenland Minerals Developing Materials For An Energy Efficient Future