Summary

Platina Resources has shifted its strategy towards building a gold portfolio in proven Australian provinces from overseas territories amid escalating COVID-19 related restrictions worldwide.
"Going for Gold" strategy has been well accepted in the share market, with PGM entering a conditional agreement to wholly acquire Challa Gold Project and applying for another gold exploration licence at Mt Narryer South in WA.
Other Australian assets including Munni Munni PGM Project and Platina Scandium Project remain a priority for PGM, which is financially stable and enjoys continued support from new and existing shareholders.
Platina Resources Limited (ASX: PGM) has released an update, highlighting its renewed focus towards building a gold portfolio in proven Australian provinces. The Company, which has a worldwide portfolio of early stage metal projects, made the decision to redirect its focus towards Australian gold from overseas territories amid the escalated international travel and lockdown restrictions due to the coronavirus pandemic, globally.
Going for Gold in Australia Amid Record High Gold Prices
PGM intends to expand its Australian gold footprint in the country's proven gold provinces, in line with record gold prices this year. The implementation of strategy began in early June when the Company entered into a conditional agreement to acquire a 100 per cent interest in the Challa Gold Project.
The project lies in-between the prolific gold districts of Mt Magnet and Sandstone in Western Australia. The Company, after securing the Challa tenements, is looking forward to commencing a low-cost RAB drilling program at the project site to identify and examine primary targets. PGM expects to add a lot of value quickly with a comparatively small investment.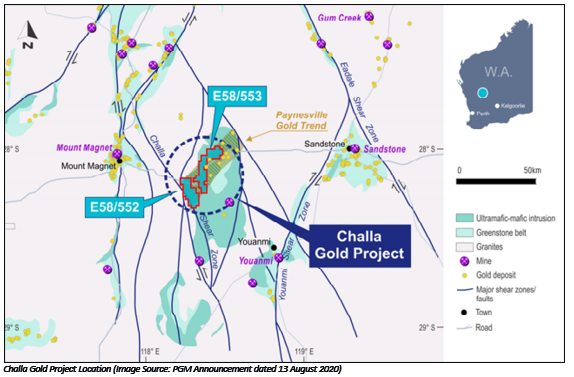 Also read: Platina Resources All Set to Close Challa Gold Project Acquisition, New Exploration to Commence
The "going for gold" strategy has garnered much positive response from the share market and prompted Platina to apply for another gold exploration licence in Western Australia at Mt Narryer South. This project is equally promising like the Challa Gold Project and is located in the Yilgarn Craton region, known for producing massive gold since the 19th century and host to various successful mining operations.
Lens through Other Assets in Australia
PGM continues to focus on other Australian assets as a priority.
Munni Munni PGM Project:Platina controls a 30 per cent interest in the Munni Munni platinum group metals (PGM) Project in Western Australia. Recent drill outcomes at the project have confirmed the potential of the project to host one of the country's most significant undeveloped palladium deposits with credits of gold, platinum, and rhodium.
Similar to gold prices, palladium and rhodium prices have skyrocketed in the current year. Hence, these are among the most sought-after metals right now.
Related: RC Drilling Reinforces Enormous Potential at Platina Resources' Munni Munni PGM Project
Platina Scandium Project: PGM is testing new extraction technologies at the scandium project site in New South Wales. The new technologies will aid in improving the overall economics and support PGM's campaign to secure production offtake deals and facilitate project funding.
What's Happening on the International Front?
The strategy to focus more on the Australian gold market coincides with the sale of PGM's Skaergaard Project in Greenland to Canada's Major Precious Metals Corp (MPMC) (earlier known as Eastern Zinc Corporation). The transaction worth nearly AUD 30 million in shares (55 million shares based on MPMC's share price of CAD 0.50 per share) and cash (CAD 0.5 million) is subject to completion.
Platina Resources has suspended field activities for its Blue Moon Project in the United States, a highly pandemic-impacted country. The Company is also in discussions with its joint venture partner on how to derive value from the project.
PGM Managing Director, Corey Nolan, stated that the current year presented various challenges. However, the Company chose to focus on the opportunities ahead, especially when Platina is looking forward to expanding the gold portfolio in its domestic market amid rallying gold prices.
Strengthened Financial Position
Cash position of the Company remains robust by two private placements on the back of new acquisitions and shifting focus on building a gold portfolio in Australia. Canada-based resource-focused merchant bank, Palisades Goldcorp contributed AUD 894,400 of AUD 1.8 million raised to become a major PGM shareholder.
Good Read: Platina Resources' Working Capital Position Strengthened with Palisades' Investment, Funds to Advance Asset Portfolio
Stock Performance - On 18 August 2020, PGM last traded at AUD 0.047, with a market capitalisation of AUD 19.38 million. The last six-month return of the stock was noted at more than 166 per cent.