Summary

Cobalt Blue has completed a placement and a share purchase plan, cumulatively raising ~$7.33 million, with strong support from shareholders and the broader market.
Shares under SPP raising $3.58 million are expected to commence trading on 10 September after proposed issue on 9 September; Placement had earlier raised over $3.75 million.
Proceeds are planned to be primarily directed towards the development of a pilot plant at the Broken Hill Cobalt Project site.
Pilot plant is designed to produce battery grade cobalt sulphate products, to be used as test samples by global commercial partners. Commencement of the global sample partner program remains on track for Q1 2021.
Australian exploration and development company, Cobalt Blue Holdings Limited (ASX:COB) has announced the successful completion of a capital raising program involving a placement and a Share Purchase Plan (SPP). The Company raised a total of $7,328,672 following the overwhelming response from shareholders and the broader market.
Lens on Share Purchase Plan and Placement
Share Purchase Plan (SPP): Cobalt Blue has advised that the Share Purchase Plan (SPP) closed as per the scheduled timeline on Monday, 31 August 2020. The offer received excellent response from participants, with applications worth $3,577,571 received representing 37,658,772 shares at an offer price of $0.095 a share.
The SPP allowed retail investors to participate at same terms as institutional and sophisticated shareholders in the placement.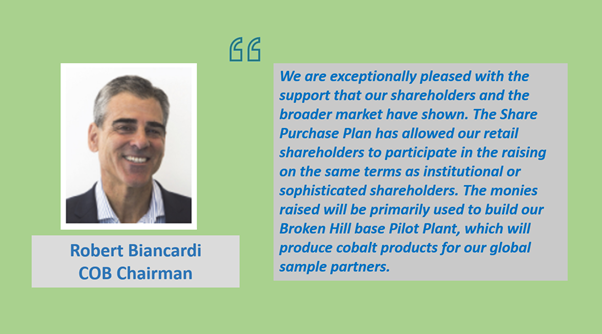 The new shares under SPP are scheduled to be issued on Wednesday, 9 September 2020 with the quotation date and trading expected to commence on Thursday, 10 September 2020. The Board at Cobalt Blue welcomed support of the 299 shareholders for their stalwart participation in the SPP.
Placement: Cobalt Blue had previously updated on receiving strong support from existing and new institutional and professional investors for a placement program on subscription of 39,485,275 fully paid ordinary shares. The Company raised $3,751,101 (before costs) under the placement.
Equity Raising Proceeds to Aid BHCP Development, Pilot Plant Under Focus
Cobalt Blue Holdings is advancing work programs at its flagship Broken Hill Cobalt Project (BHCP) in New South Wales. BHCP is a significant global cobalt resource, expected to emerge as a reliable source of ethical cobalt. The project, aiming to be a top 10 global operation by size of annual cobalt production, holds the potential to be one of the largest suppliers of ethical cobalt ex-Africa.
For Detailed Discussion: Cobalt Blue's BHCP Update Highlights Increased Ore Reserve, Longer Operating Life and Lower Costs
The Company is building a pilot plant at the project site to produce cobalt products for its global sample partners. Currently, Cobalt Blue is procuring equipment for the pilot plant, with construction work expected to begin shortly. The plant will test the leaching of calcined material produced from ~100 tonnes of drilling samples from the previous two drilling programs that were focused to produce 5 tonnes of cobalt rich concentrate.
Related: 2nd Tranche of Pilot Plant Equipment Received, Cobalt Blue's Broken Hill Project Remains on Schedule
Proceeds from the placement and SPP cumulatively stand at $7,328,672 and will be utilised towards-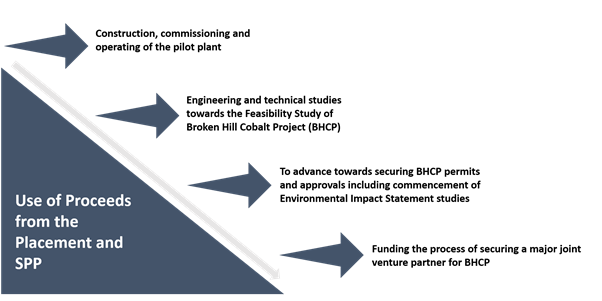 Kalkine Image (Source: COB ASX Update dated 7 September 2020)
The Company plans to produce cobalt products of varying specifications including intermediary mixed hydroxides and final cobalt sulphate products at the pilot plant. This would be a major milestone for COB, which seeks supplying battery ready cobalt sulphate product samples (~10 kilograms) for its sample partner program with global commercial partners. The sample partner program is scheduled to commence in Q1 of 2021.
Later, the pilot plant is planned to be designed into a Demonstration Plant (1:1,000 to full commercial size) by Q3 of 2021.
Good Read: Cobalt Blue Holdings' BHCP Gearing Up to be the Next Major Cobalt Supplier
COB stock traded at $0.096 a share on 7 September 2020 (AEST 11:40 AM), up by 1.053% from its previous close, with a market capitalisation of $18.98 million.
(All currencies in AUD unless or otherwise stated)