Summary

Markets will continue to swing between bull and bear phases like a pendulum, an attribute that cannot be controlled by investors
Novel coronavirus crisis has derailed a historical stock market bull run that lasted over a decade, besides being a deadly health and economic hazard.
Tables seem to slowly be turning as markets have been sporadically bouncing back, owing to economies reopening, business activities restarting, supportive stimulus packages rolled out and ramped up vaccine trials.
The great Charlie Munger believes that many with high IQs are dreadful investors as they demonstrate terrible temperaments. One needs to keep irrational, raw emotion well under control to thrive in a stock market.
The dynamic stock market goes through a number of phases over the course of an economic cycle. While investors pass through various emotional stages during a market cycle, bear market is one of the hardest fates that can strike them. Accompanying generic economic downturns, bear market exposes one to prolonged price declines, dropping securities from recent highs (ideally by ~ 20 % or more), widespread pessimism, and negative investor sentiment.
What's worrisome is- there is no clarity if a bear market will be cyclical or long term. Most recently, the Dow Jones Industrial Average entered into a bear market in March 2020 and the S&P 500 shortly followed suit in the wake of COVID-19 and falling oil prices. Moreover, Dow Jones fell sharply from all-time highs close to 30,000, to under 19,000 in merely weeks. This followed the longest bull market on record for the index, which started in March 2009.
Here is a fact: A Forbes report suggests that the longest bear market rally (a phase that signals recovery and a potential new bull market) was 1,616 days, and the shortest was 133 days.
Bear Market & Investor Sentiment
It is a famous share market conviction and time-proven concept that one cannot time the market. And, what humans cannot time has the power to control their minds and is a constant hang around in their brain.
A bear market sure appears to be traumatic to any investor, no matter where in their investment lives it transpires. Most investors and markets loathe uncertainty, though it is one of the most realist traits prevailing. For instance, in the current COVID-19 driven volatility, there are uncertainties lingering on an investing brain.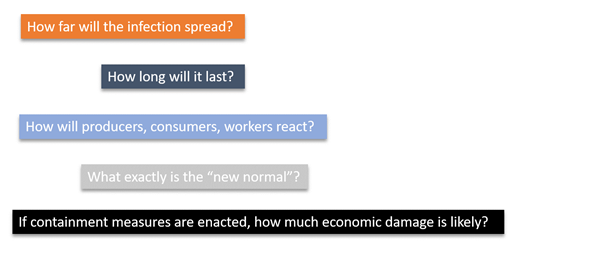 Consequently, all this uncertainty has the potential to unnerve investors.
There is another investor sentiment quite dominant in a bear market- response to conflicting information. Let us understand this through the novel coronavirus market mayhem- there are divided opinions as to implications of COVID-19 for financial markets-
Some experts opine that there would be no significant financial system distress with recoveries in place while others feel that COVID-19 setbacks may last a long time. There is a conflict of opinion with some saying that risks are low while others are warning investors to keep their brain and pockets ready for massive blows.
If we understand this considering ideal human nature and alarmist bias - people often tend to abandon low-risk judgments and place more weight on high-risk assessments. Simply put, investors often tend to gravitate towards the more alarming account.
Having said this, behavioral experts often opine that when one worries about something that triggers strong negative emotions, the rational mind may get gravely swamped by an emotional mind.
GOOD READ- Making Wrong Investment Decision? Blame Your Amygdala!
With fear and panic over huge daily drops compounded by the dread of a global pandemic, investors need to be wary that the stress of crippling financial assets, imploding economies is hazardous to the human brain. Therefore, to keep it from destroying a long-term investing plan, one needs to manage this stress and restore a sense of control.
But how? Read on!
Right Investing Attitude Amid Bearish Sentiment
On being exposed to a bear market, one should remember what the Oracle of Omaha, Warren Buffett states- one should "be fearful when others are greedy and greedy when others are fearful."
Bear markets are brutal when they hit and channelising the cycle of emotional reactions that break free in a bear market seems to be a tricky affair. However, not all is grim.
To start with, bear markets are not unnatural, rather they should be perceived as normal occurrences during low economic times. Secondly, they can prove to be ideal for leveraging from great opportunities that arise out of added volatility and speed. For instance, keeping a look out for stocks that are recovering and treading back on the growth track.
Thirdly- portfolio diversification if often key. If one is well diversified, they often get through without much damage. Moreover, for active investors, this market phase can lay groundwork for more long-term wealth-building.
Further down are more tips of the trade.
(Please regard the below as suggestion, not recommendation)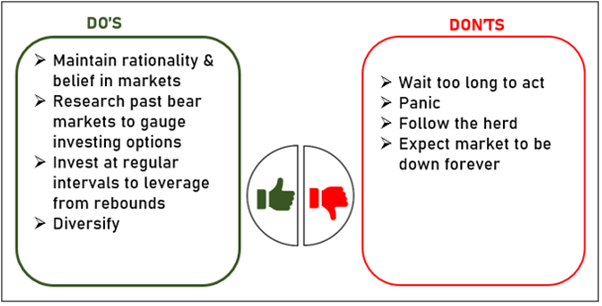 Quoting American investor, business magnate, and philanthropist Jack Bogle in closing-
ALSO READ: Guide to Invest in 2020 Bear Market