Highlights

Australian stocks close Monday's trade a little higher at 7093 points.
Consumer staple stocks also closed in green, though not advancing much.
ASX200- listed dairy stocks are A2 Milk Company, Bega Cheese and Bubs Australia.
ASX200 has closed slightly better, up by 0.25% at 7093 points today (16 May). With most sectors aligning, the least advancing sectors were A-REITs and Consumer Staples. A2 Milk Company Limited, Bega Cheese Limited and Bubs Australia Limited were among the consumer staples stocks that closed in green today.
Note- Share prices quoted here for comparisons are as of market close on 16 May 2022.
A2 Milk Company Limited (ASX:A2M)
New Zealand-based A2 Milk Company Limited owns a milk-based infant formula manufacturing and selling business. The operations of A2 Milk Company are spread across Australia, New Zealand, China, USA and UK.
While the baby food powder seller has not made any new announcements since March, its share price has moved up about 2% today. In the absence of any solid reason, the movement seems reflective of a broader market scenario.
Meanwhile, on ASX, A2M Milk company has a market capitalisation of AU$3.01 billion.
Share price performance as of Monday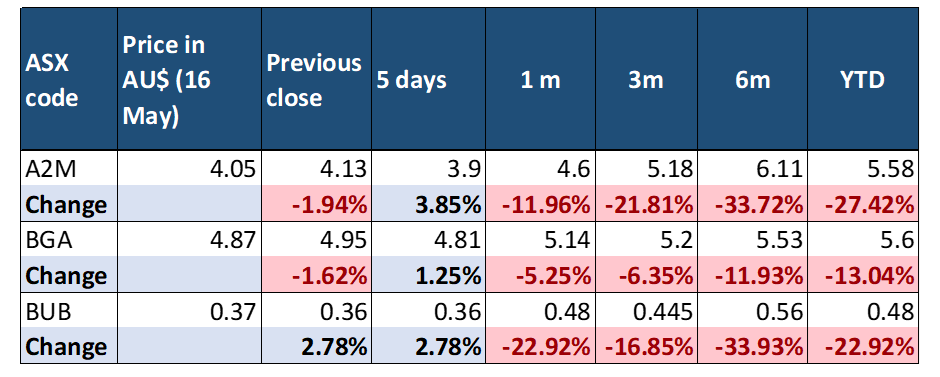 Image Source © 2022 Kalkine Media ®, Data source ASX
Since all the above stocks are of companies from the dairy sector on ASX200, it is possible to make some comparisons. Based on the above table, the biggest gainer today is Bubs Australia, though all the three have been on a losing streak since January. The top loser for the day is A2M Milk company.
Read along for more on Bega Cheese and Bubs Australia.
Bega Cheese Limited (ASX:BGA)
Another baby food seller is Bega Cheese Limited, having a market capitalisation of AU$1.50 billion on ASX. Since its FY22 trading update issued in late April, Bega Cheese has not announced anything on the exchange.
Meanwhile, on ASX, A2M Milk company shares trade in the 52-week price range of AU$4.51 to 6.32 a share.
Besides milk powder, Bega Cheese Limited also supplies cheese, bio nutrient ingredients and others.
It also has a few ongoing large capital projects for yoghurt, nutritional and other in-demand supplies for customers. In future, it seeks to invest in the cold chain network.
More from ASX- COL, MTS, GNC: ASX consumer staples stocks to stabilise your portfolio
Bubs Australia Limited (ASX:BUB)
Bubs Australia Limited also produces organic infant food products. With outlets across Australia and e-commerce platforms, Bubs is well-known for its premium goat milk-based baby formula.
Since April end, Bubs has not released any new business updates or announcements on ASX. Despite this, BUB share price has remained low. However, today as it appears, based on a wider sectoral trend, BUB share price has gained over 2.77%.