Summary

The a2 Milk Company has entered into an exclusive due diligence with Mataura Valley Milk (MVM) and made a non-binding offer to acquire 75.1% interest in MVM for a total value of NZ$270 million.
The Company posted double-digit growth across the top and bottom line with infant nutrition sales in China almost doubling during 2020 to NZ$337.7 million.
Total FY20 revenue stood at NZ$1.73 billion showing a rise of 32.8% with strong sales in Q3, driven by pantry stocking by people.
a2 Milk's operating cash flow soared 48% to NZ$427.4 million due to strong cash conversion rate, bolstering the cash balance to NZ$854.2 million
The Company expects strong revenue growth with continued investment in marketing and organisational capability and EBIDTA margin to be between 30% to 31% in FY21.
Dual listed company (both on ASX and NZX), The a2 Milk Company Limited (NZX:ATM) share price increased by 1.76% to NZ$20.27 on 21 August, at the time of writing. While on 21 August The a2 Milk Company Limited (ASX:A2M) last traded at AU$18.38, up by 1.211% from its previous close.
On 21 August, a2 Milk established that it was involved in talks with MVM (Mataura Valley Milk), an entity domiciled in New Zealand with dairy nutrition business. The talks were held with regards to exploration of options for a2 Milk to take part in production at MVM's facility in Southland, NZ.
As a consequence, a2 Milk has now made a non-binding indicative offer to purchase a 75.15% stake in MVM, for a total value of around NZ$270 million, on the basis of an enterprise value of ~NZ$385 million. Further, MVM has consented to offer a2 Milk a period of exclusivity to hold confirmatory due diligence and discuss definitive transaction documentation.
The a2 Milk Company's performance has been robust throughout FY20 ended 30 June, and the Company showed substantial resilience in the second half of 2020.
On 19 August, through its FY20 report, the Company stated that it delivered Net profit after tax (NPAT) of NZ$385.8 million, up 34.1% on pcp.
Key metrics for the full year ended 30 June 2020 includes of the following:
32.8% jump in the total revenue to NZ$1.73 billion in line with the guidance of revenue between NZ$1.7 billion to NZ$1.75 billion, as its infant nutrition sales, doubled in China to NZ$337.7 million
EBITDA of NZ$549.7 million was recorded, up 32.9% with EBITDA to sales margin of 31.7%
Operating cash flow of NZ$427.4 million and a closing cash balance of NZ$854.2 million was posted at the end of FY20
Marketing investment of NZ$194.3 million aiming at prospects in China and the USA, demonstrated a rise of 45.1%
Basic EPS (earnings per share) stood at 52.39 cents, a growth of 33.5%
Gross margin percentage rose from 54.7% in FY19 to 56% gaining from improved price yield and positive effects of currency movements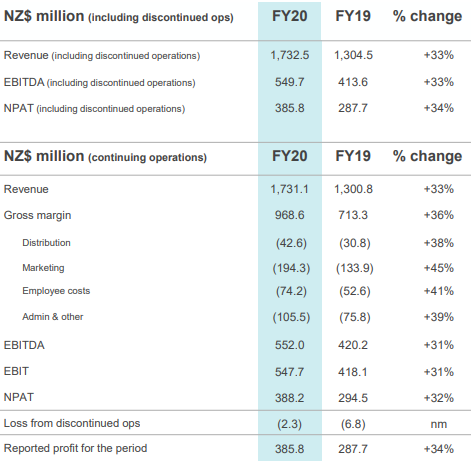 Source: ATM results Presentation, dated 19 August 2020
ATM's business revenue in Q3 was higher than expectations because of the effect of changes in consumer purchase behaviour occurring from the COVID-19 condition, which comprised an increase in pantry stocking, mostly through online and reseller channels.
ALSO READ: a2 Milk Appoints David Bortolussi as New Managing Director and CEO
The Company has robust balance sheet with substantial cash balance. There was an improvement in working capital of $33.6 million due to timing of supplier payments and increased shareholding in dual listed company (both on ASX and NZX) Synlait Milk Limited (NZX:SML) from 17.39% to 19.84%, as announced on 23 March 2020.
The lofty cash position of a2 Milk was essential for both future growth priorities and manufacturing initiatives. The management noted that they were reassessing the Company's capital requirements through a review of a2 Milk's capital allocation framework.

Source: ATM results Presentation, NZX
a2 Milk ended the year with an inventory of NZ$147.3 million, above 35% more than 2019, which represented in part, its growing business, as well as the decision to bear a higher level of inventory as a safety buffer considering COVID-19 uncertainties.
Increased investments in core markets
The Company reported strong success in its liquid milk sector in Australia and the USA, with total group revenue of NZ$222.0 million, growing 29.7% across the group.
Australian liquid milk segment revenue grew 14.1% to NZ$152.5 million, and revenue in the US stood at NZ$66.1 million throughout the year, up 91.2% over FY19 boosted by enhanced selling volume in existing markets, as well as an enlarged retail footprint.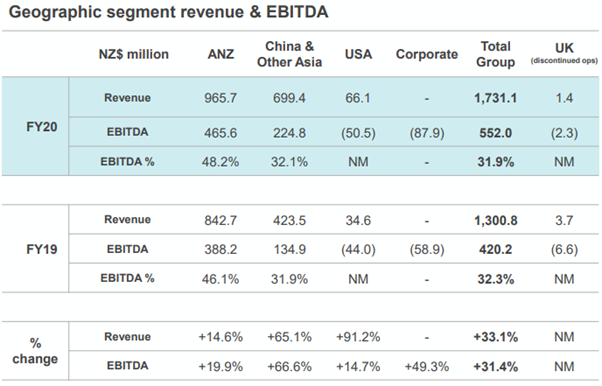 Source: ATM results Presentation, NZX
However, the US business incurred loss, reporting an EBITDA decline of NZ$50.5 million as the firm invests in building brand awareness, as well as distribution growth.
ALSO READ: Milk products and Infant Formula Stocks get a breather amid Global Health Crisis
The overall results of the Company reflected continued growth in the infant nutrition segment with total sales of NZ$1.42 billion, an increase of 33.8% on pcp.
China & other Asia region is quickly catching up to more developed Australian and New Zealand (ANZ) business, with revenue rising by 65.2% to NZ$678.8 million – showing 49% of infant nutrition sales. In contrast, ANZ region noted a boosted shipment of infant nutrition sales across the year by 14.1% to revenue standing at NZ$745.1 million.
a2 Milk has stepped up its endeavour to sell China label infant nutrition items that can be traded in mother and baby stores (MBS), new supermarkets and domestic e-commerce platforms.
The Group achieved sales of NZ$337.7 million for a2 Milk's China label infant nutrition, which was over 100% growth on pcp and 62.7% increase for the most recent half. The MBS market value stood at 2% compared to 1.7% at 1H20, up from 1.3% on pcp.
Cross border e-commerce (CBEC) channels are also escalating sharply, with English label infant nutrition sales rising 40.3% to NZ$341.1 million and reaching CBEC value share of 21.7%, up from 20.6% at HY20 and up from 18.6% at FY19.
FY21 outlook
There is persistent uncertainty worldwide, arising from COVID-19 and the potential for the moderation of economic activity. This could have a bearing on consumer behaviour in a2 Milk's core markets, as well as supply chain members, particularly in China.
For FY21, A2 milk expects continued strong revenue growth backing by its regions buoyed by continued investment in marketing and organisational capability. Capital expenses for the coming year are likely to be NZ$50 million.
GOOD READ: A Look at NZ Dairy Sector and Key Stocks
Further, a2 Milk did not offer detailed earnings guidance for 2020-21, but anticipates "solid revenue growth" and an EBITDA margin of 30 to 31% was projected. The EBIDTA margin target reflected higher raw, and packaging material costs partially offset by price rises, expanded marketing and investment, foreign exchange benefit witnessed in FY20 and COVID-19 related pantry stocking not expected to be replicated next year.