ASX-listed REIT, Rural Funds Group (ASX: RFF) had the really tough time on the stock exchange today!
Its stock price crashed over 42% after the news, accusing Rural Funds Group for overstating the assets by almost 100%, surfaced online. In a detailed article released on Tuesday, short-seller Bonitas Research took a dig at Rural Funds Group stating that its equity is 'ultimately worthless' and the company has been reporting profits since 2017 on the basis of 'dubious fair value changes.'
The news carved out 42.128% from RFF's flesh to let the stock last trade at $1.360 on Monday before it was placed on a voluntary trading halt. The Australian Securities Exchange announced that the trading halt is expected to remain in place until the earlier of 8 August 2019 or when RFM makes an announcement to the market in relation to the article.
Rural Funds Group operates as a listed Real Estate Investment Trust (REIT) that has a diversified portfolio of high quality Australian agricultural assets. The company has a market capitalisation of $787.08 million, with a share outstanding of 334.93 million as at 6 August 2019.
Rural Funds Group is managed by a responsible entity Rural Fund Management Ltd (RFM), which is a fund and farm manager with 22 years' experience in Australian agriculture and operational and development experience across multiple agricultural sectors.
1HFY19 Financial Results
Rural Funds reported a 17% growth in half-year earnings to 7.73 cents per unit (cpu) for the six months ended 31 December 2018. This reflects an improvement of 27% in the company's property revenue and an independent revaluation of the Kerarbury almond orchard, which resulted in an increase of $15.6 million, or 10% to the prior value.
There has been increase in pro forma adjusted total assets of $200 million due to acquisitions, capex and Kerarbury revaluation as at the end of 1HFY19. Adjusted funds from operations (AFFO) increased 7% to 6.4 cpu and Distributions per unit (DPU) stood at 5.22 cpu, up 4% on the previous corresponding period.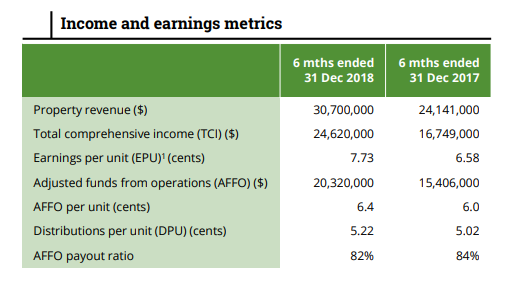 RFF Financial Performance in 1HFY19 (Source: Company Presentation)
In July 2018, RFM conducted an Entitlement Offer to raise $149.5 million at $1.95 per unit to fund two transactions with JBS Australia Pty Ltd and the acquisition of a cattle property. The Entitlement Offer provided up to $100.0 million of balance sheet capacity for further acquisitions, based on a target gearing limit of 35%.
RFF's overall gearing stood at 33%, on pro-forma basis, in 1HFY19, which reflects, a gearing within the target range of 30-35% along with the sufficient capacity for committed capital expenditure.
As at 31 December 2018, RFF's core debt facility increased to $300 million, compared to debt facility of $275 million available in 2018, with a drawn balance of $230.23 million. The facility is split into two tranches with a $200 million three-year facility which expires November 2021 (FY22), and a $100 million five-year facility which expires in November 2023 (FY24).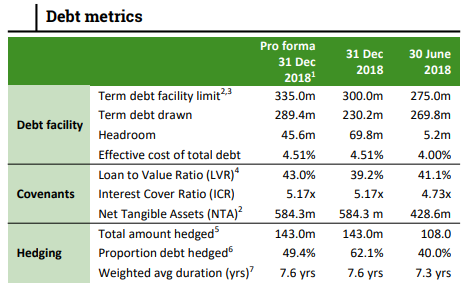 (Source: Company Presentation)
Rural Funds' Portfolio Strategy and Assets
The investment strategy of Rural Funds is driven by its objective to generate a stable income stream through targeted diversification. This strategy helps the company to achieve the capital growth and growing distributions consistently at 4% per annum.
Rural Funds Group held 49 properties in its portfolio across six agricultural sectors and multiple climatic zone as at the end of 1HFY19. It included 16 properties of cattle properties, 7 vineyards, 17 Poultry farms, 2 cotton properties, 3 Macadamias orchards and 4 almond orchards. RFF also confirmed a WALE of 11 years that is expected to provide stability of income and long-term rental growth via a mix of rent reviews and indexation.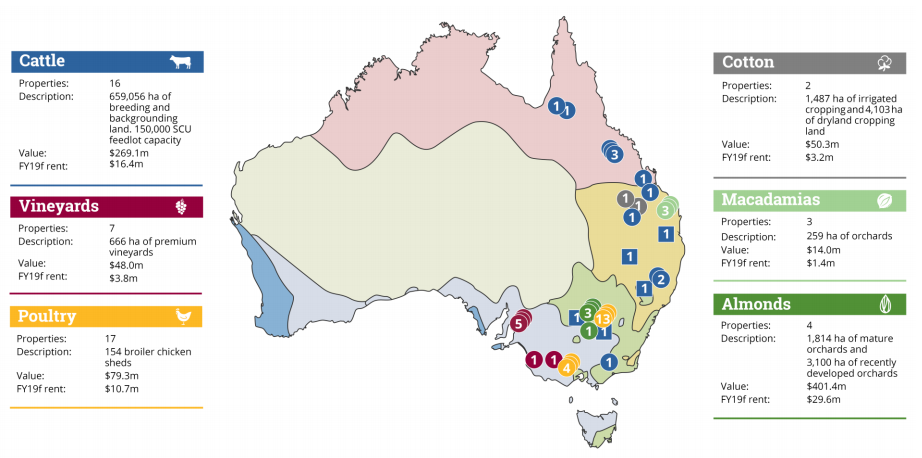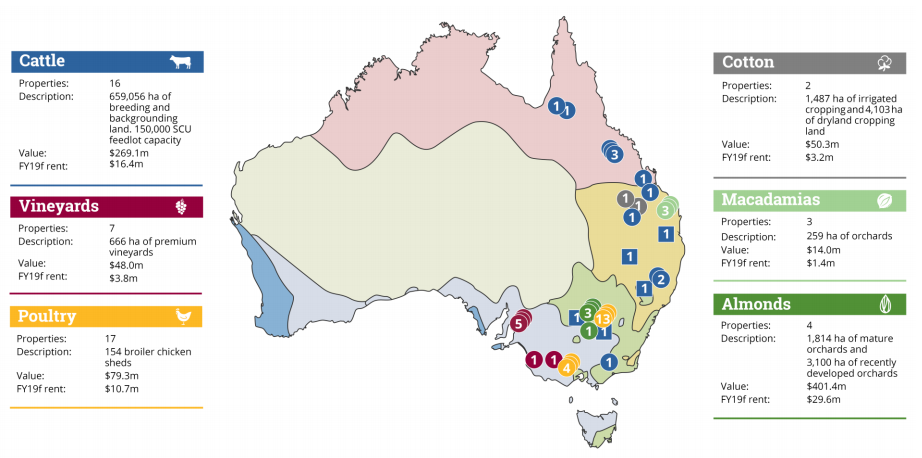 RFF Assets Portfolio (Source: Company Presentation)
Recent Acquisition:
Cerberus- In September 2018, Rural Funds acquired Cerberus, an 8,280-ha cattle property located in central Queensland for $10.8 million; Leased to Katena Pty Ltd for ten years, with a rent review in year five.
Mayneland- Mayneland, a 2,942-ha cotton property located in central Queensland, was acquired by the company in October 2018 for $17.8 million. As per the company's information, Colliers International Agribusiness have been appointed to conduct a competitive selection process for a Mayneland lessee prior to the FY20 cotton season.
Dyamberin- In October 2018, RFF acquired Dyamberin, a 1,728-ha cattle property located in the New England region of New South Wales for $14.1 million; Leased to Stone Axe Pastoral Company (Stone Axe) for ten years, with a rent review in year five.
During the month, the group also purchased three feedlots, Prime City, Caroona and Mungindi as part of the JBS transaction for $28.4 million including transaction costs. The two remaining feedlots, Beef City and Riverina Beef, remain subject to subdivision approvals related to the on-site processing facilities and are expected to settle during the first quarter of 2019.
Woodburn- Woodburn, a 1,062-ha cattle property located in the New England region, was acquired for $7.5 million recently in January 2019; Leased to Stone Axe for ten years, with a rent review in year five.
Cobungra- In February 2019, RFF announced the acquisition of Cobungra, a 6,486-ha cattle property located in Victoria for $36.9 million. Upon settlement, leased to Stone Axe for ten years, with a rent review in year five.
Lease of Rewan to the Australian Agricultural Company
Rural Funds Management as responsible entity for the Rural Funds Group (ASX: RFF) leased a 17,500 hectares land of Rewan Station, a cattle backgrounding and finishing property in central Queensland to Australian Agricultural Company (AACo) for a lease term of 10 years.
Rewan's pasture production from high average annual rainfall is expected to boost AACo's capacity to background its premium Wagyu herd in reliable high performing country. This lease, however, is subject to approval by the Foreign Investment Review Board (FIRB).
Change in Director's Interest
On 1 August 2019, RFF announced that a Director Michael Carroll has acquired 317 in the company on-market at a purchase consideration of $2.27 per unit. This comes after the acquisition of 318 units acquired by Carroll in April this year at $2.24 per unit.
Now, Michael Carroll's total holding stands at 27,940 units.
Fiscal 2019 Guidance
Responsible entity, Rural Fund Management Ltd, confirmed the FY2019 forecast AFFO of 13.2 cpu and distribution of 10.43 cpu, reflecting an increase of 4% compared to FY2018. The company also provided a distribution guidance for Fiscal 2020 that is 10.85 cpu, representing an increase of 4%, in line with RFM's DPU growth target.
RFF Guidance for FY19 and FY20 (Source: Company Presentation)
For the quarter ended 30 June 2019, RFF paid a distribution of 2.607 cents per unit.
The company's full year result for the financial year ended 30 June 2019 is scheduled to be released on 27 August 2019.
---
Disclaimer
This website is a service of Kalkine Media Pty. Ltd. A.C.N. 629 651 672. The website has been prepared for informational purposes only and is not intended to be used as a complete source of information on any particular company. Kalkine Media does not in any way endorse or recommend individuals, products or services that may be discussed on this site. Our publications are NOT a solicitation or recommendation to buy, sell or hold. We are neither licensed nor qualified to provide investment advice.