Clinical-Stage oncology company, Prescient Therapeutics Limited (ASX: PTX) bases the foundation of its business model on the ground-breaking technology that addresses the mutations causing cancer. The company's mainstream operations are focused on the development of novel drugs that have the potential to bring forth new promising therapies in the treatment of a range of challenging cancers with significant unmet need.
Prescient confirms the backing of one of the deepest clinical pipelines with two lead drugs that turn off "master switches" that are known to drive cancer. The drugs include PTX-200 and PTX 100; both focused on inhibiting the survival pathways of growth molecules that have shown resistance to front line chemotherapy and remain the key source in the development and evolution of cancerous cells in the human body.
AKT & Ras are those two major growth switches found in cancer cells, which sends the growth signals when they are turned on. Prescient's drugs block the AKT (PTX-200) & Ras (PTX-100) growth signals which eventually turn off the growth signals and let the cancer cell to die.
Prescient's cancer treatment approach (Source: Company Presentation)
Prescient believes that 'People are not the same and nor are tumours', thereby touching upon the most serious problem of drug offerings based on one-size-fits-all, prevailing in the healthcare industry. The business objective of the group is,therefore, driven by its aim to deliver the precision medicines with targeted personalised therapy that hit the driving source of that specific tumour in the patient.
Prescient eyes significant opportunity in personalised therapies for cancer, which is forecasted to grow to US$93B by 2023. Prescient also receives the backing from life-science focussed funds in the US and Australia and has collaborations with leading clinicians and hospitals.
Among many forms of cancers, Prescient initially aims at the very common breast and ovarian cancer by the formulation of PTX-200. PTX-200 is currently used in three clinical trials that include the treatment of acute myeloid leukemia, HER2 negative breast cancer, and ovarian cancer. PTX 100 has completed Phase 1 study in solid tumors; now pursuing a transformative opportunity in RAS and RHO mutant cancers.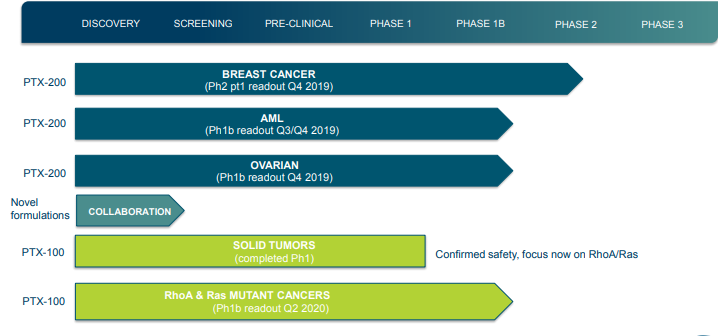 PTX clinical stage product pipeline (Source: Company Presentation)
PTX-200
Prescient's lead drug candidate, PTX-200 is a novel PH domain inhibitor that constrains an important tumor survival pathway known as Akt, that plays a vital role in the development of many cancers, including leukemia, ovarian and breast cancer.
Prescient was recently granted a new patent covering PTX-200 in Canada. This provides intellectual property protection until 2028 to Prescient with respect to the compositions of PTX-200 with taxanes and platinum compounds for cancer treatment.
The biotech player is developing PTX-200 as a treatment for HER2-breast cancer, which accounts for about 80% of breast cancers but still not catered by new drugs. It has a potential of huge industry growth, i.e. ~$10.6 billion by 2025.
The drug development outlines the successful completion of the Phase 1b trial, which has shown encouraging response rate (twice the expected) with safety endpoints being met. It is currently undergoing Phase 2 trial at the prestigious Montefiore Cancer Center in New York and Florida's H. Lee Moffitt Cancer Center.
The success story of the company marks the orphan drug status, that it secured from the US FDA for the use of its proprietary PTX-200 in Acute Myeloid Leukemia (AML), a type of cancer that affects blood and bone marrow. Prescient explained that the occurrence of this cancer has increased to a significant level in the United States alone, yet treatment has rarely changed in 40 years, which makes it an area of high interest for investors and clinicians. The company has completed the Phase 1 trial of PTX-200 in AML and a Phase 1b/2 trial is currently underway.
In ovarian cancer, which is one of the most common cancers in women, the company targets its drug candidate PTX-200 as a treatment for relapsed and chemo-resistant patients; PTX-200 is currently in a Phase 1b/2 trial in ovarian cancer.
PTX-100
PTX' second novel drug candidate PTX-100 addresses solid tumours in which certain mutations lead to growth signals. PTX-100 is a first in class drug candidate that has the potential to block the growth of one of the most damaging cancer enzymes known as geranylgeranyl transferase-1 (GGT-1). This drug candidate prevents the activation of Rac, Rho, and Ral circuits in cancer cells, leading to apoptosis (death) of cancer cells.
Growth Potential of PTX-100 (Source: Company Presentation)
PTX-100 has completed Phase 1 trial in advanced solid tumours, demonstrating safety and disease stabilisation. The company believes in the PTX-100 ability to be the only clinical stage RhoA inhibitor in global clinical development. The company has planned to start a PK/PD basket study by Q2 2019, regarding solid malignancies and hematological using PTX-100, targeting cancers with RhoA and Ras mutations.
Financial Position: During the quarter ended 31 March 2019, Prescient received the tax refund of A$939,423 from an Australian Government Research and Development. This contributed to the company's cash reserves of A$4.68 million as at the end of the quarter, including the receipt of A$1.77 million before costs from the Tranche 1 of placement.
Stock Performance: Listed under the healthcare industry, PTX is currently trading at A$0.039 (as at 2:40 PM AEST, 2 July 2019). The market capitalisation of the company stands at $15.38 million with 394.26 million shares outstanding on ASX.
---
Disclaimer
This website is a service of Kalkine Media Pty. Ltd. A.C.N. 629 651 672. The website has been prepared for informational purposes only and is not intended to be used as a complete source of information on any particular company. The above article is sponsored but NOT a solicitation or recommendation to buy, sell or hold the stock of the company (or companies) under discussion. We are neither licensed nor qualified to provide investment advice through this platform.