Clinical stage oncology company Prescient Therapeutics Limited (ASX: PTX) is in the process of developing a breakthrough to traditional therapies by its novel drug candidates that have shown great promise in the treatment of a range of cancers that have become resistant to front line chemotherapy.
In the multi-billion cancer market, PTX addresses specific mutations causing cancers. Prescient Therapeutics believes in personalised medicine approach based on the fact that tumour may widely vary from individual to individual. The product pipeline of this Melbourne-based biotech player includes two lead drug candidates, PTX-100 and PTX-200, backed by renowned institutions of United States, Yale University and the Moffitt Cancer Center, to undertake clinical trials.
PTX-200
The main areas of study under PTX-200 involve ovarian cancer, breast cancer and Acute Myeloid Leukemia (AML). PTX-200 is positioned as a novel PH domain inhibitor that incorporates a novel mechanism of action to inhibit an important tumour survival pathway known as AKT.
It is worth noting that AKT not only plays a critical role in the development of several solid and hematologic cancers, it also confers resistance to many front line therapies. To inhibit the association of this pathway with the survival and proliferation of tumour cells in many cancers, Prescient's lead drug candidate PTX-200 focuses on binding to the PH domain, unlike direct kinase inhibitor.
Akt Pathway (Source: Company Presentation)
Prescient Therapeutics Limited is investigating this highly promising molecule under three ongoing clinical trials that include:
PTX-200 in Breast Cancer- The study concerns one of the most locally advanced breast cancer-HER2, which remains underserved in the industry, thereby outlining a great opportunity in the market which could grow to significant $10.6 billion by 2025.
The study successfully completed Phase 1b of the trial, showing encouraging efficacy and durability signals with twice the expected response rate.

PTX-200 Phase 1B results in Breast Cancer (Source: Company Presentation)
Now, the compound is being examined under Phase 2 of the study at New York's Montefiore Cancer Center and H. Lee Moffitt Cancer Center in Florida; readout expected in Q4 2019.
PTX-200 in Acute Myeloid Leukemia (AML)- The inhibitor functions as a targeted therapy under this study that address the "phenotype, not the genotype" in AML mutations. PTX-200 synergizes with cytarabine in AML cells complementing a "backbone" of standard chemotherapy.
The company reported success in Phase 1 trial conducted under the Principal Investigator Jeffrey E Lancet, MD, at Moffitt Cancer Center. At this stage, PTX-200 was used as a monotherapy in advanced hematologic malignancies, mainly AML, that resulted in:
1 CR, 2 PRs in r/r AML; 1 response in refractory CMML
Overall 53% SD in a highly pre-treated population with advanced disease
PTX-200 reduced p-Akt in AML patient blasts
Currently, the study is in phase 1b/2, investigating PTX-200 as a new therapy for relapsed and refractory Acute Myeloid Leukemia. The drug has also received significant support from the government as US FDA has granted it an Orphan Drug Designation.
PTX-200 in Ovarian Cancer- Prescient Therapeutics views a significant need for a new drug to treat platinum-resistant ovarian cancer, caused by the high contribution of Phosphorylated Akt (pAKT).
Presently under Phase 1b, the company is testing PTX-200 in combination with the existing standard of care, carboplatin, in patients with platinum-resistant ovarian cancer at Moffitt Cancer Center under the leadership of Principal Investigator Robert Wenham, M.D. It reportedly involves up to 12 patients with an additional 18 in the expansion cohort, expected to complete the trial by Q4 2019.
Interestingly, PTX-200 has already overcome cisplatin resistance and has proven synergizes with cisplatin in pre-clinical studies, as reported by Prescient Therapeutics Limited.
PTX-100:
Prescient's PTX-100 initially concerns the treatment of solid tumours, mostly gastrointestinal cancers. The compound is placed as a first in class inhibitor that has the potential to block an enzyme called geranylgeranyl transferase (GGT), responsible for cancer growth through the Ras pathway.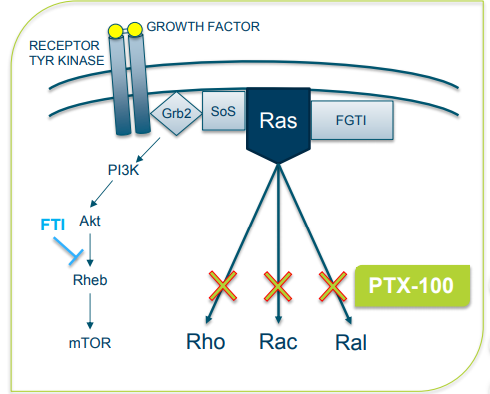 Ras Pathway (Source: Company Presentation)
As per the company's information, Ras is mutated in 30% of all human cancers and 90% in certain cancers that leads to a staggering 3 million new cancers diagnosed worldwide each year with Ras mutations. It was reportedly observed that mutant Ras tumours are often unresponsive to current treatments because of which patients with Ras mutant cancers are still significantly underserved, reflecting a lack of suitable targeted therapies.
By disrupting the Ras pathway, PTX-100 inhibits the activation of Rac, Rho, and Ral circuits in cancer cells, leading to apoptosis (normal death of cells occurring as a part of a cell's development and growth) of cancer cells. The company successfully completed Phase 1 of the trial in solid tumours under which PTX-100 resulted in well tolerated, large therapeutic index treatment with patients achieving stable disease in advanced solid tumour. The company informed that PTX-100 recently discovered to also inhibit a novel cancer-causing pathway FBXL2 important in PTEN defective cancers.
Last Week, Prescient Therapeutics announced the commencement of its Phase 1b trial of PTX-100, incorporating an innovate 'basket' approach to pursue a transformative opportunity in Ras and Rho mutant cancers. As per the company's information, the study would be conducted under the leadership of internationally renowned oncologist, Professor H. Miles Prince, at the Epworth Hospital in Melbourne.
This basket study of hematological and solid malignancies targets to identify the optimal dose and treatment schedule of PTX-100 on multiple cancers with a view to addressing specific mutations, rather than tumour origin. With readout expected in Q2 2020, the study outlines the company's belief in PTX-100 to be the only RhoA inhibitor in the clinical development worldwide.
Going forward, PTX intends to again enter the clinic with PTX-100. It ultimately aims to develop a p27 cancer biomarker as a prospective companion diagnostic that will have the ability to recognise subjects most probable to respond to PTX-100.
Stock Performance: PTX last traded at $0.039 on 11 July 2019, with a daily trading volume of 1,143,394 shares.
The market capitalisation of the company sits at $15.38 million with 394.26 million shares outstanding.
To know more about the Prescient Therapeutics Ltd. And for the investor registration, please
click here.