Parkway Minerals is gaining momentum on stock exchange, impressing the investors with its acquisition driven growth strategy with the takeover of Consolidated Potash Corporation Ltd (CPC).
ASX-listed Parkway Minerals NL (ASX: PWN) is a fertiliser developer that controls vast quantities of raw materials close to emerging and mature markets. The company recently inked an agreement to acquire an unlisted Australian public company Consolidated Potash, which owns two potash projects, highly complementary to Parkway Minerals portfolio, and a brine processing technology aMES™ through subsidiary Activated Water Technologies.
The acquisition update pushed Parkway Minerals' stock in the green zone. PWN has surged up 20.00% in a past 5 days to $0.007 as at 21 August 2019, with the last three months performance flagging a growth of 50.00% in the stock price. With continued strong investor sentiments, the stock skyrocketed by 16.7% by the close of market trading today.
Parkway controls strategically located resources capable of supplying two of the three most critical macro-fertilisers – phosphorous and potassium. The future of fertiliser industry is dependent on population growth. As per the company, with the increase in global population, the proportion of arable land per person is expected to decline, which implies more food will have to be produced from smaller areas. Thus, improvements in food production and the food supply chain as a whole are imperative if malnutrition is to be reduced and quality of life maintained worldwide. Fertilisers represent one of the most cost-effective means of achieving this.
In line with its focus on fertiliser feed, Parkway Minerals holds two fertiliser projects in Western Australia:
Lake Seabrook
Dandaragan Trough
Also, Parkway holds 31% (44.3 million shares) of ASX-listed Davenport Resources (ASX: DAV), which is enjoying considerable success in developing potash resources in Germany. Besides, it also owns 6.47 million shares in Lithium Australia (ASX: LIT).
Let's have a hawk-eye over the projects and technology portfolio of this Australian materials sector player, Parkway.
Lake Seabrook: Parkway's 100%-owned, Lake Seabrook Potash Brine Project is a salt lake located about 450km northeast of Perth in the region of Yilgarn, Western Australia. The project overlies the basement of greenstone rocks of Archaen age, and consists of five exploration licenses with the salt lake.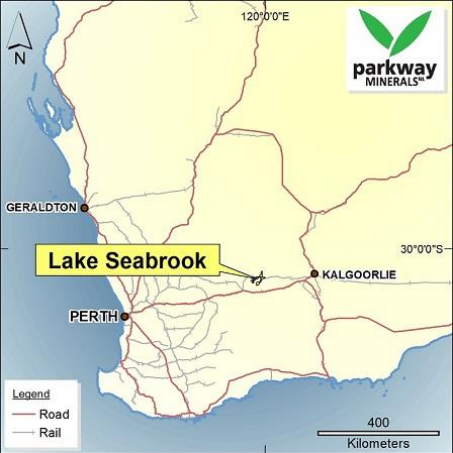 Lake Seabrook Location (Source: Company Announcement)
During the quarter ended 30 June 2019, Parkway reported encouraging brine assays of more than 4,000mg/L potassium from the surface brine samples collected from shallow pits dug on the surface of the lake.
The company plans to target paleochannels within a body of the lake that are likely to have high concentrations of potassium mineralisation. This exploration model of the company is almost similar to other salt lake potash explorers within Western Australia.
Should the Parkway's exploration efforts be successful at Lake Seabrook, the project possess a likely potential to reduce costs to any future operation due to a significant infrastructure base including its proximity to the Perth-Kalgoorlie rail line.
Dandaragan Trough Project: PWN-owned, Dandaragan Trough Project is located close to the coast of Western Australia and ~150 kilometres north of Perth, the capital of Western Australia. The Dandaragan Trough hosts one of the largest known greensand deposits worldwide and is situated within the vicinity of well-developed infrastructure networks.
The first project evaluated within Dandaragan Trough is Dinner Hill, followed by Dambadgee identified in 2017-18. Significantly, Dandaragan Trough's greensand deposits contain abundant phosphate and potassium, as well as rich sediments of glauconite, which is a green mineral commonly containing varying amounts of potash, aluminium, iron and magnesium.
Dandaragan Trough Location (Source: Company Announcement)
Parkway holds major land holding in this globally recognised greensand deposit, with exploration licenses and applications covering an area of 2,00km2. Although greensand is an unconventional source of fertiliser products, appropriate processing technology has the potential to unlock vast resources. This technology is called K-Max® process that is 100% owned by Parkway Minerals.
PWN's intellectual property ownership of the K-Max® process unlocks the valuable elements that exist within the vast glauconite deposits of the Dandaragan Trough. Parkway's patented K-Max® process uses hot sulphuric acid to leach glauconite at atmospheric pressure, extracting potassium and other elements to make a range of products, including sulphate of potash (SOP) high magnesium SOP, (KMS), phosphoric acid, aluminium sulphate (alum), iron oxide as well as other mica-like minerals, such as phlogopite.
SOP is a premium product that enjoys a significant and increasing margin over the more commonly traded potassium chloride (MOP); and demand for SOP is increasing. Meanwhile, phosphate can be recovered from the same greensand deposits by more conventional means.
Dandaragan Trough has access to fertiliser blending operations and the established agricultural industries of the nearby Wheatbelt region. Parkway believes that Dandaragan Trough enjoys fundamental cost advantages to delivery into the local and Asian markets.
Davenport Resources: Parkway owns 44.3 million shares or 31% interest in Davenport Resources, which has purchased potash mining licences in Central Germany.
Davenport owns two exploration licences and three mining licences in the South Harz region of central Germany, which is considered as a well-established area for the production of potash. Parkway's shareholding in Davenport potentially provides an opportunity for the company to reach out to European market more efficiently than it would have achieved from its Western Australian projects alone.
More conventional in nature, the German resources comprise buried evaporite deposits (that is, various salts containing high concentrations of potassium). Parkway informed that more than 500 million tonnes of potash ore were extracted from the South Harz region in the 22-year period between 1970 and 1992, producing more than 100 million tonnes of potash fertiliser.
Davenport Resources got listed on the Australian Securities Exchange in January 2017 as a metals and mining sector player. The stock of DAV is trading at $0.050, up 8.696%, by the close of market trading on 21 August 2019.
Business Strategies of Parkway: So far, Parkway has built a strong team of experts, specialising in fertilisers development, and continues to evaluate for synergistic opportunities through mergers and acquisitions in order to strengthen the value of its existing assets portfolio. Parkway remains focused on fertiliser projects that meet the criteria of large-scale, in regions of the world dependent on importing fertiliser products with existing and robust export infrastructure and low sovereign risk.
As its next move, Parkway plans to complete a further surface sampling on the remaining parts of project area at Lake Seabrook, besides taking up discussions with third parties on project arrangements.
Also Read: Parkway Minerals Quarterly Results for the period ended 30 June 2019
---
Disclaimer
This website is a service of Kalkine Media Pty. Ltd. A.C.N. 629 651 672. The website has been prepared for informational purposes only and is not intended to be used as a complete source of information on any particular company. The above article is sponsored but NOT a solicitation or recommendation to buy, sell or hold the stock of the company (or companies) under discussion. We are neither licensed nor qualified to provide investment advice through this platform.
There is no investor left unperturbed with the ongoing trade conflicts between US-China and the devastating bushfire in Australia.
Are you wondering if the year 2020 might not have taken the right start? Dividend stocks could be the answer to that question.
As interest rates in Australia are already at record low levels, find out which dividend stocks are viewed as the most attractive investment opportunity in the current scenario in our report.
CLICK HERE FOR YOUR FREE REPORT!