OpenDNA Limited (ASX: OPN) is an Australia-based information technology company providing fully integrated eCommerce, digital marketing and customer acquisition services for propelling and enhancing online sales for its clients.
The OpenDNA Group is specifically focused on helping companies with Australia and China-integrated sales strategies with the help of its OpenDNA hyper-personalization Artificial Intelligence (AI) System, which combines Neural Networks and Natural Language Processing to build detailed user psychographic and behavioral maps. Based on the inputs, the technology is utilised to generate hyper-relevant suggestions to the individual across verticals.
Let's look at the company's Product Suite-
The company's core AI and Machine Learning platform is Daishu, an eCommerce-specific recommendations engine which is utilizing industry-standard techniques to engage and convert users. The platform creates a long-term view of the clients and their buying preferences, helping the company to improve conversion rate by pro-active user engagement along with recommending retention strategies.
Mimoto, is also an AI-based platform providing deep personal and relationship analytics based on instant messenger conversations (From WhatsApp to Slack), helping clients and users to analyze their conversational data, derive effective insights on digital personas and their online relationship dynamics.
Synapse is an easy-to-use dashboard that offers actionable insights into customers, diving into what makes them tick, from the most preferred interests across a large user population, to individual preferences and Personality Attributes. The key insights and performance indicators most relevant to the business needs can be utilized by the enterprise.
RooLife eCommerce platform is the company's latest addition to its product suite and targeted at simplifying the sale of Australian Products into China. Daishu is currently deployed in support of RooLife's China-centric eCommerce Network. Utilizing a uniquely streamlined business model, RooLife is enabling Chinese consumers access the Australian products being offered by new and well-established enterprises.
OpenDNA is particularly helping these businesses to access the Chinese market with Brand Protection in a hassle-free cost-effective manner with no capital funds required. The company also provides market tested & product-specific advice to these enterprises.
OpenDNA's Ideology
In an era of Internet of Things, OpenDNA acknowledges that businesses are forced to examine Big Data, and due to the amount of content available, it becomes difficult to develop ways to promote products and services to the right target at the most opportune time. Since customers began ignoring broadcasted content due to the feeling of being stereotyped and part of a generalization, the generic promotions being conducted by the businesses could no longer cut through the saturation.
Thus, according to OpenDNA, it has become increasingly imperative to cater to the individual customer and take note of their interests to think ahead about discovering and generating the content they will appreciate. OpenDNA believes that enterprises must target to empower individuals by listening, learning and only then promoting their business, to reclaim the value and legitimacy they add to the market.
In this regard, OpenDNA is playing a crucial role in unlocking the relationship between the businesses and the shoppers, allowing them both to become masters of their experiences, discover valuable content along the way, thereby making every engagement a mutually rewarding one.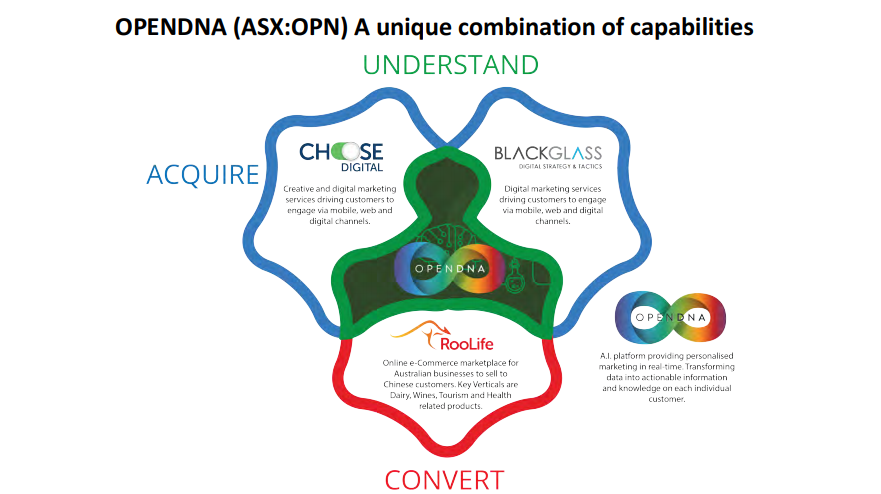 Source: Investor Update
A Transformation Year: 2018-2019 (FY19)
The 2018-19 year was quite transformational for the OpenDNA Group as the company continued to commercialise applications for its AI system and Machine Learning platform, while expanding revenue and its customer base.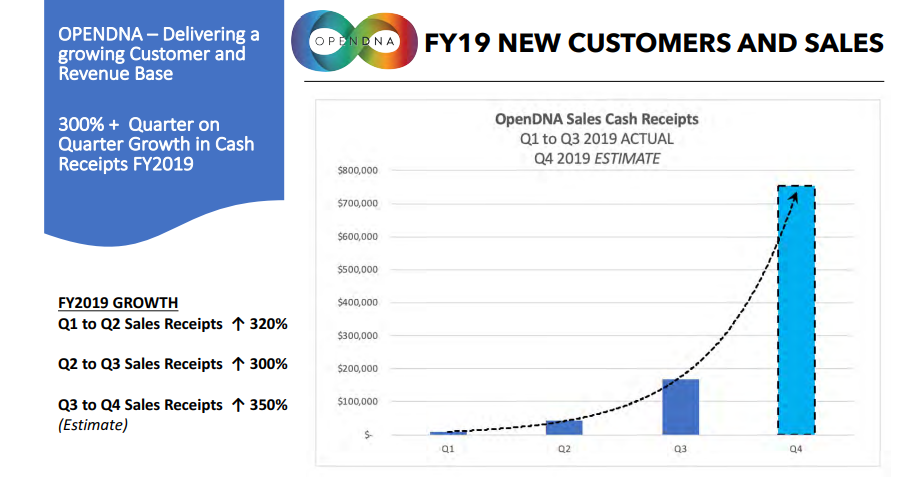 Source: Investor Update
During the year, the company completed the acquisition of RooLife Limited, CHOOSE Digital Pty Ltd in December 2018 and most recently, in April 2019, Blackglass Pty Ltd while also incorporated OpenDNA's AI system into the products and services provided by these companies.
Through personalised, real-time, targeted marketing via the Roolife online e-Commerce marketplace, OpenDNA is now assisting Australian businesses to sell directly to Chinese consumers, along with access to Mandarin-language, with payment processing via the WeChat and Alipay mobile payments platforms in AUD or CNY, optimising the Company's position with foreign exchange transactions.
In the last six months of FY19, OpenDNA signed agreements with several pharma and skincare product providers to sell well- known and widely distributed products from Australian manufacturers into China, where they are expected to have a strong market appeal through the RooLife platform.
OpenDNA provides full support for brands to sell their products in China including licencing, marketing, logistics, payment collection, processing along with the valuable intelligent insights into customer buying behaviour. In May 2019, the company also appointed high-tech agency QEdge as the dedicated distributor in China for the sale and distribution of its AI and Machine Learning technology for e-Commerce applications.
Recent Updates
In August 2019, OpenDNA partnered with Perth Airport Pty Ltd to enhance Perth Airport's service and retail offering to Chinese travelers in Australia and China.
Very recently on 16 September, the company announced to have established a partnership with Western Australian tourist destination, Lobster Shack for the provision of marketing and Chinese mobile payment processing to service the Chinese tourism market.
On the same day, OpenDNA also informed to reached an agreement to acquire Quality Brands International Direct (QBID), the China market entry and digital marketing company.
Way Ahead
Going forth in the financial year 2019-20 (FY20), OpenDNA aims to develop and grow its customer base across multiple industry verticals and also-
Expand high-quality customer base for its digital services in Australia as well as China.
Assist Australian businesses and brands to successfully enter the China market.
Develop strategic sales partnerships in key verticals including Tourism & Airports, Diagou and Student channels and Online and Retail sales.
Chinese Market Opportunity
China has a rapidly growing eCommerce market where 76% of people use their smartphones to make online purchases while China's online shoppers are expected to increase to over 1 billion in 2019 from 587 million in 2018. OpenDNA is specifically looking at high-demand market segments like tourism, Vitamins, Minerals, Supplements, Skincare, Health & Wellbeing as well as AI. Moreover, China has also been identified by PwC and McKinsey Global Institute as having the most to gain from AI technologies as it is expected to assist the country to enhance its productivity levels. The sector has strong government support in China.
Stock Performance
OpenDNA Group has a market capitalization of around AUD 9.04 million with ~ 258.26 million shares outstanding. On 23 September 2019, the OPN stock price settled the day's trading at AUD 0.035, with approximately 27,406 shares traded.
---
Disclaimer
This website is a service of Kalkine Media Pty. Ltd. A.C.N. 629 651 672. The website has been prepared for informational purposes only and is not intended to be used as a complete source of information on any particular company. The above article is sponsored but NOT a solicitation or recommendation to buy, sell or hold the stock of the company (or companies) under discussion. We are neither licensed nor qualified to provide investment advice through this platform.