Australian preclinical stage and publicly listed drug development company, Nyrada Inc. (ASX: NYR) is marking good progress towards developing novel small molecule drugs targeted at treating neurological, cardiovascular and inflammatory diseases, with significant commercial and therapeutic potential catering to the substantial unmet clinical needs.
The company's drug development programs receive ongoing support from Nyrada's high calibre Board of Directors and Scientific Advisory Board, which includes highly connected industry and research experts in Australia, Europe, Japan, and the US.
ALSO READ: Recently Listed Nyrada is Improving Lives and Providing Hope Through Innovation in Drug Development
Significant Progress on Lead Programs
Neuroprotection Program- Nyrada has shown in a preclinical pharmacokinetic study that its lead candidate compounds can cross the blood-brain-barrier (BBB) in the intact uninjured animal brain. Notably, therapeutic concentrations of both NYX-242 and NYX-1010 can be detected in the healthy animal brain at 30 minutes following a single intravenous dose (4.2 mg/kg, n=3 animals per timepoint, per arm).
Leads for two series of compounds with separate and distinct cellular targets has shown in preclinical study to effectively block calcium ion build-up in cells, a key driver of secondary brain injury. Moreover, levels above the anticipated therapeutic threshold have been achieved in the uninjured animal brain, with no observed adverse effects.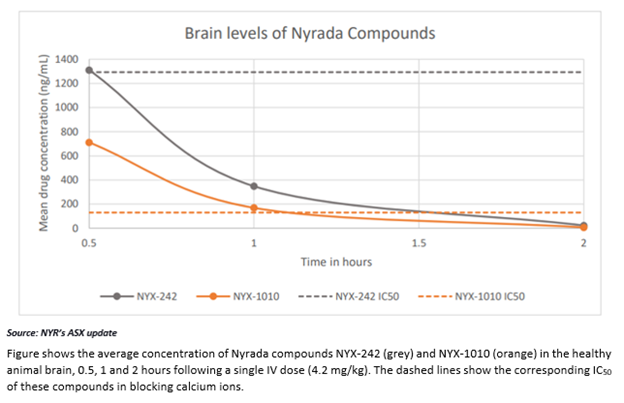 Cardiovascular Program- A scientific peer-reviewed paper in the international journal, Bioorganic and Medicinal Chemistry published during the recent quarter validated that Nyrada's small molecules inhibit the PCSK9 production and lowers the level of blood cholesterol.
Nyrada Well Positioned Amidst COVID-19 scenario
In the face of Covid-19, Nyrada continues its drug-centric efforts concerning underlying processes involved in neurodegenerative disorders and cardiovascular diseases, with the vision to be a high growth pharmaceutical company. While its operations and supply chains currently remain unaffected by the COVID-19 situation, Nyrada is taking precautionary steps to help quarantine its business from any global fall-out.
Given the backdrop, let us now look at the strong leadership that is steering Nyrada in the right direction.
Management Team
James Bonnar, Chief Executive Officer
Mr Bonnar joined Nyrada two years back with over twenty years of global experience in the Life Sciences industry, which includes operations management, regulatory affairs and chemistry. Before joining Nyrada, he served at Neuren where he oversaw clinical drug development in the fields of traumatic brain injury and neurodevelopmental disorders. In addition, he has also worked in diabetes research, drug formulation development and GMP manufacturing.
Cameron Jones, Chief Financial Officer
Mr Jones was appointed as Nyrada's Chief Financial Officer in April 2020. He also acts as Company Secretary and CFO for many listed as well as venture capital life science players. Currently serving as the Managing Director of Bio101, his area of expertise includes financial/management reporting, cashflow management, taxation incorporating R&D Tax Incentive, company valuations, Company Secretarial, budgeting and forecasting.
Board of Directors
John Moore, Non-Executive Chairman
A graduate of Rutgers University in the US, Mr Moore serves as Chairman of Trialogics, which is a business in clinical trial informatics. Mr Moore also serves as a Director at Scientific Industries that is involved in the production of laboratory instruments for the life sciences industry. Besides, during his tenure as Acorn Energy CEO (2006-2015), Mr Moore oversaw the $11 million CoaLogix business transaction.
Graham Kelly, Founder and Non- Executive Director
Dr Graham Kelly is a scientist with over fifty years of drug development experience in the biotechnology space. He is the founder of the three other operational publicly listed drug development companies; Novogen Limited (now Kazia Therapeutics) and Marshall Edwards Inc. Dr Kelly is also the Founder, CEO and Executive Chairman of Noxopharm Limited, the largest shareholder in Nyrada, Inc.
Christopher Cox, Non-Executive Director
Mr Cox has remained the partner at the New-York based Cadwalader, Wickersham & Taft LLP since 2012, before which he was the partner at another NY based firm Cahill Gordon & Reindel LLP. Mr Cox, between February 2016 to March 2019, also served as Chief Corporate Development Officer and Executive Vice President of The Medicines Company. He is also the CEO of the private investment holding company, Symphony Capital Holdings, LLC.
Ruediger Weseloh, Non-Executive Director
Dr Weseloh has almost 13 years of Business Development experience in the German Merck KGaA in Darmstadt. He has led pharmaceutical division related to more than 50 transactions across the value chain in the drug development fields such as Rheumatology, Oncology, Neurodegenerative diseases, and Fertility. He also has 5 years' experience as a Biotech/Pharma Equity Analyst and 3 years at the Gottingen based Max-Planck-Institute for Experimental Medicine.
Marcus Frampton, Non-Executive Director
Mr Frampton is the Chief Investment Officer at Alaska Permanent Fund Corporation (APFC), where he manages the investment team and lead all investment centric divisions concerning APFC's investment portfolio within the Board of Trustees. He has also held positions at Lehman Brothers (Investment Banking Analyst & Associate), PCG Capital Partners (private equity investing) and LPL Financial (executive of a private equity-backed portfolio company). At Scientific Industries, Inc., Mr Frampton is also one of the Board of Directors and a shareholder.
Peter Marks, Non-Executive Director
Mr Marks currently serves at Alterity Therapeutics Limited as the Director, besides managing the role of Non-Executive Director at Fluence Corporation Ltd (ASX: FLC) and Noxopharm Limited (ASX: NOX). He holds over 30 years of experience in investment banking, corporate advisory, and advisory roles to the Board.
Scientific Advisory Board
ALSO READ: Nyrada Developing New Therapies for Cardiovascular Disease and Neurological Disorders
Operating under the direction of board and management of international caliber with an extensive track record in founding and realizing the value of biotech companies, Nyrada appears to be well positioned to move cholesterol lowering and brain injury neuroprotectant programs into the clinic in near term.
NYR stock last traded at $0.165 on 26 May 2020.