Australia-headquartered gold exploration and development company, Middle Island Resources Limited (ASX: MDI) is becoming one popular name in gold space with its focus on exploration activities in Western Australia and West Africa. The company's primary purpose is to recommission its 100% owned 600,000tpa Sandstone gold processing facility in Western Australia as early as possible. MDI has been demonstrating good potential in terms of its gold profile enhancement, considering various exploration and production scenarios centred on its flagship, Sandstone, gold project, which has significant additional exploration upside.
Looking at the key strengths, MDI formulated a comprehensive strategy post the acquisition of the Sandstone Gold Project (completed in July 2016), and this strategy encompasses the following three key components: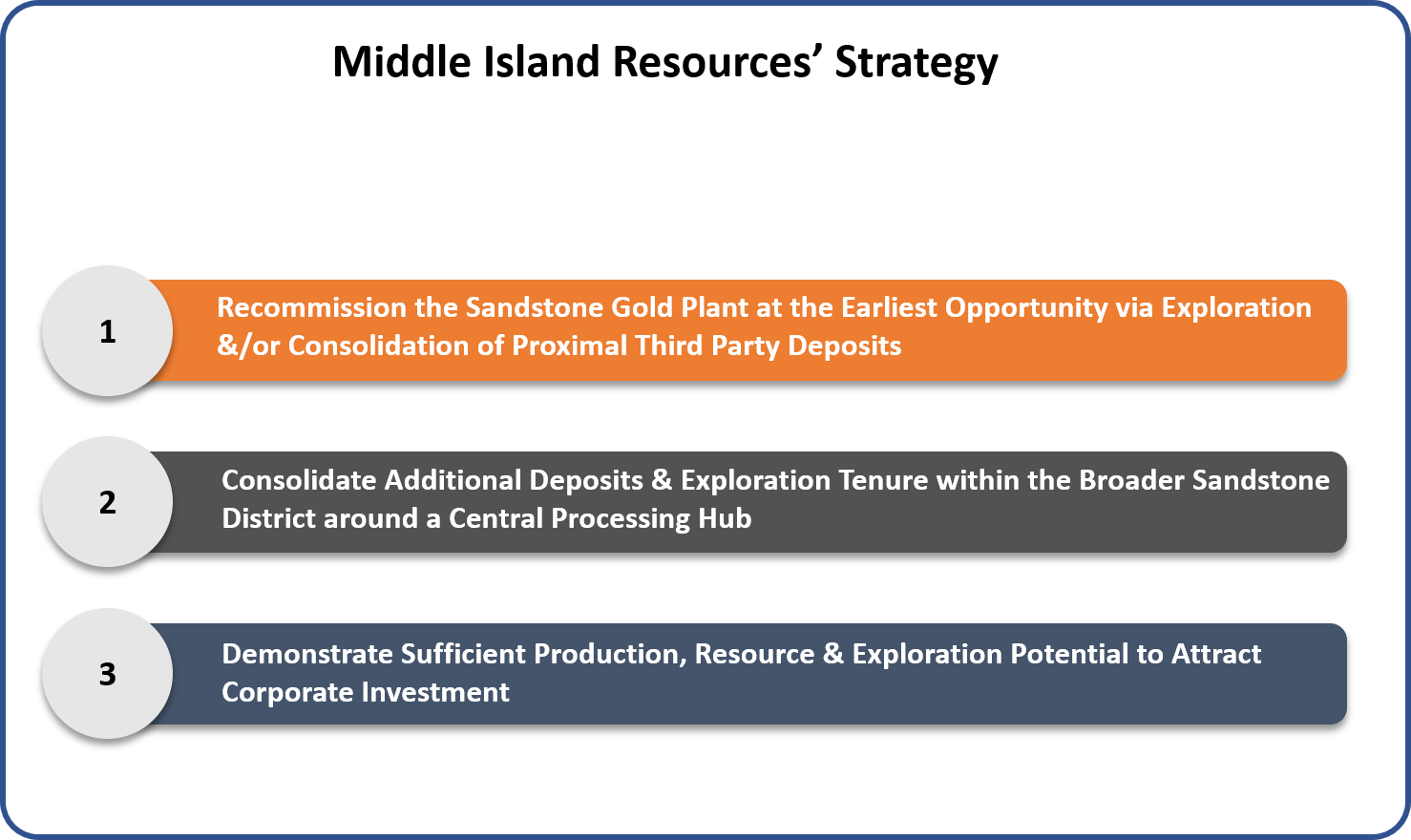 Each component of the above strategy is mapped with certain aspects that the company is emphasising in order to build a sustainable production profile for a long-term future and significant shareholder return.
In terms of enhancing the longevity of the project, MDI has already determined the underground potential of its substantial Two Mile Hill tonalite deeps deposit within the Sandstone gold project which, by virtue of ore sorting, may now well prove compatible with the existing processing plant capacity. In a second underground opportunity, the company is also focussing on high grade mineralisation comprising the Two Mile Hill Banded Iron Formation (BIF) deposit adjacent to the tonalite.
MDI's Takeover Offer for Alto Metals Limited
Progressing further with the initial component of its strategy, the company proposed an all scrip off?market takeover offer for Alto Metals Ltd (ASX: AME) in March 2019. Before delving into the details of the above takeover move, let us know more about Alto Metals Ltd or AME.
Alto Metals is a gold exploration company in Australia whose principle asset is the Sandstone gold project, covering around 80 per cent of the Archaean Sandstone greenstone belt that surrounds and lies immediately adjacent to MDI's tenure. Furthermore, Alto's mineral resources are positioned within 30 kilometres of MDI's Sandstone gold processing plant and its resources are situated close to former haul roads that can be easily re-permitted. As per Alto's recent corporate presentation, its current Independent Indicated and Inferred Mineral Resource Estimate (JORC 2012) comprises 5.4Mt @ 1.7g/t gold for 290,000 ounces.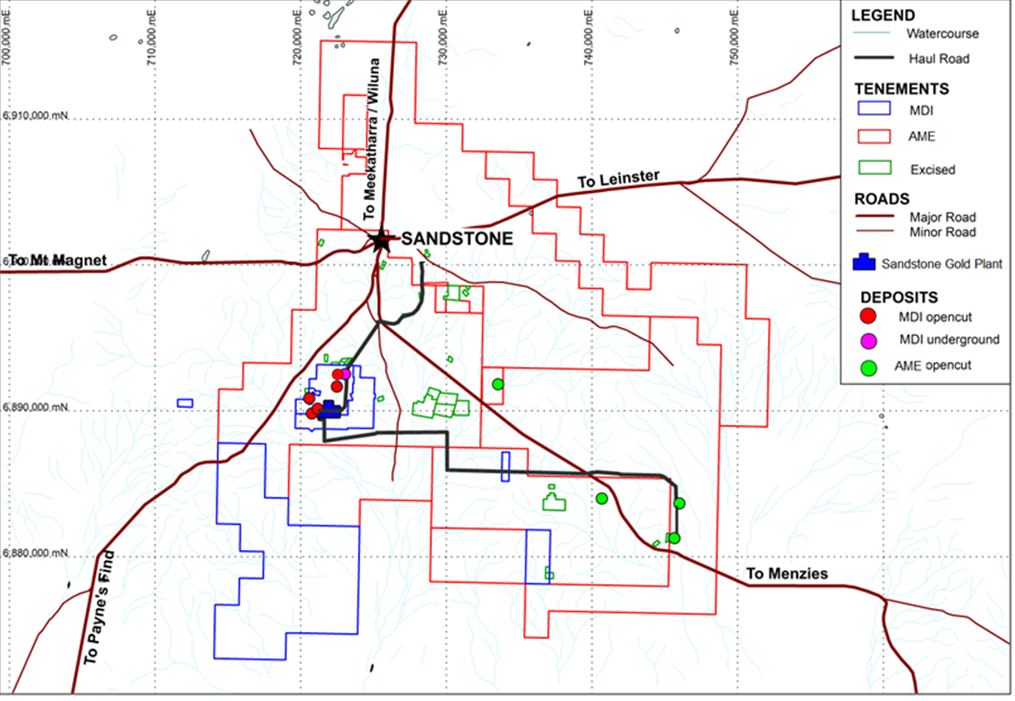 Middle Island and Alto Tenure and Deposits
Details of MDI's Takeover Offer
Under the Offer (initial offer), Middle Island announced its intention to acquire 100 per cent of the issued voting shares in Alto Metals Ltd by offering 5 MDI ordinary shares for every 1 AME share, valuing Alto Metals at $9.4 million. In June 2019, Middle Island increased the offer to 6 MDI shares for every 1 AME share, representing a substantial further premium for AME shareholders. The increase in the offer signifies a strategic approach that MDI is willing to undertake in order to leave no stone unturned in order to fulfil its longer-term objectives.
The below figure demonstrates some additional details of MDI's takeover offer for Alto Metals: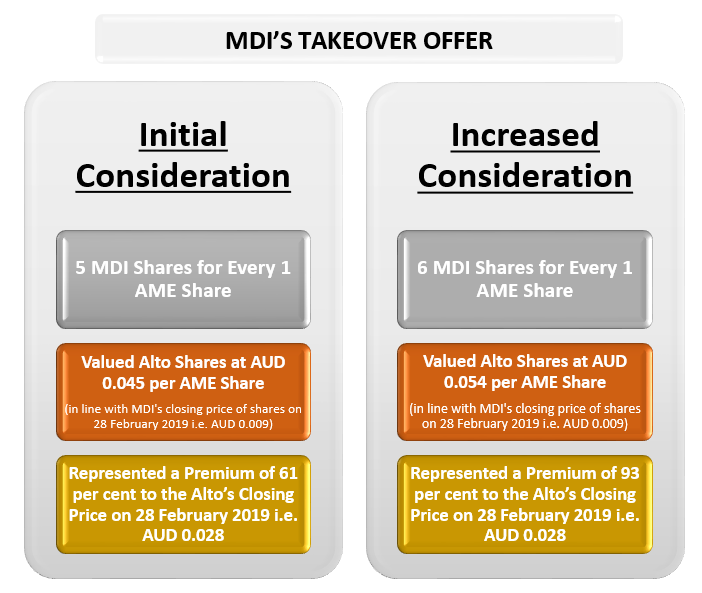 In its latest Supplementary Bidder's Statement, MDI mentioned that it has extended the offer period for the takeover to 30 September 2019, against the initial closing date of 29 May 2019.
Why MDI's Offer is Compelling for Alto Shareholders?
Acquisition of Alto shares by Middle Island will offer Alto access to MDI's processing plant, providing AME with a realistic short-term, proximal & cost-effective processing solution for its gold resources that are not otherwise accessible to it.
Image: Sandstone Processing Plant
The Sandstone processing plant is MDI's fully permitted 600,000tpa CIP plant with an operating licence, which is currently on care and maintenance. Alto is likely to gain a significant advantage from the takeover offer in the following ways:
Source: Information Collated from MDI Announcements
Alto has witnessed several positive developments in its business since the announcement of the takeover offer, including:
Beginning of an aggressive exploration program of ~10,000m of RC drilling to examine the depth and strike extensions at Indomitable Camp, Havilah Vanguard Camp and Lord Nelson, representing three of the four Alto deposits identified by Middle Island as potential mill feed for the Sandstone processing plant;
Placement of Shortfall Shares valued at ~$2 million and an additional commitment of $600,000 by Alto's Chairman to fund working capital, exploration and drilling activities; and
A $150,000 Exploration Incentive Scheme (EIS) grant, equivalent to that also provided to Middle Island.
Anticipated Benefits of Takeover Offer to Middle Island
If the takeover is successful, MDI will integrate AME's assets with its Sandstone gold project and will immediately commence an updated feasibility study, incorporating AME's Mineral Resources, to confirm the economics of recommissioning the processing plant on the basis of combined Mineral Resources.
MDI boasts a robust portfolio of assets which includes a significant exploration target, a processing plant, and several quantified underground and open pit gold deposits, along with substantial exploration potential. With the proposed acquisition of Alto shares, AME's deposits are likely to offer critical mass and initial mill feed to assist in recommissioning of the processing plant as quickly as possible.
Commenting on the value proposition for the combined entity, Managing Director of MDI, Rick Yeates said that quite apart from the substantial offer premium and further premium anticipated on the back of a consolidation, the combined MDI and AME gold assets provide a significant growth opportunity for existing and future shareholders of the collective group, through an anticipated mill recommissioning decision with a low capital intensity. The additional potential is to substantially expand this production profile through MDI's Two Mile Hill underground deposits, consolidate a whole greenstone belt, presenting substantial resource and exploration potential, and access multiple other identified deposits within a 100 kilometre radius.
The above aspects with other pillars of the group's comprehensive strategy and a push towards regional consolidation opportunities and / or alternative transactions put forth an interesting case for this aspiring gold developer that aims to establish an effective and enhanced production profile through approaches not really explored by many other players in the space.
Stock Performance: On 28 August 2019, MDI stock was priced at AUD 0.008. The stock has performed tremendously well in the past, generating an enormous return of 100 per cent on a YTD basis.
---
Disclaimer
This website is a service of Kalkine Media Pty. Ltd. A.C.N. 629 651 672. The website has been prepared for informational purposes only and is not intended to be used as a complete source of information on any particular company. The above article is sponsored but NOT a solicitation or recommendation to buy, sell or hold the stock of the company (or companies) under discussion. We are neither licensed nor qualified to provide investment advice through this platform.