Middle Island Resources Limited (ASX: MDI) is a gold project developer headquartered in Australia, whose primary aim is to recommission its wholly-owned Sandstone gold processing facility at the earliest opportunity. Middle Island focuses solely on gold, with its directors strongly believing that the price of gold will continue to increase over the medium and longer term.
Over 1 million ounces of gold has been produced in the Sandstone area since 1890s, variously from surface, open pit and underground operations. In July 2016, the company acquired the Sandstone Gold Project, Middle Island's flagship project, from the Receivers of Black Oak for a total consideration of AUD 2.5 million.
Middle Island has reported significant progress so far at its Sandstone Project in Western Australia. Taking this into consideration, let us look at the key attributes of the Sandstone project below:
Key Attributes of Sandstone Project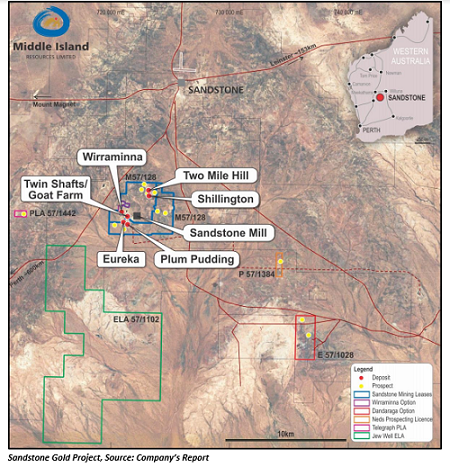 Location of Sandstone Project
The Sandstone Gold Project is located ~400 km to the northwest of Kalgoorlie, 11 kilometres to the south of Sandstone township and on a sealed highway between the mining towns of Mt Magnet and Leinster in the East Murchison mineral field. The company holds 100 per cent interest in mineral tenure comprising ~191 sq km.
Mineral Resources at Sandstone Project
The Indicated and Inferred Mineral Resources at the Sandstone Project comprise an aggregate of 12.7 million tonnes at 1.4 gram per tonne Au for 537,000 ounces of gold. Also, an Exploration Target of 24-34 million tonnes at 1.1-1.4 gram per tonne Au has been estimated at the project, representing an additional 900,000 ounces to 1.5 million ounces of contained gold.
The Sandstone project contains four defined open pit deposits aggregating 125,300oz including Two Mile Hill, Shillington, Shillington North & Wirraminna; seven priority exploration targets and nineteen untested weights of evidence (WoE) targets. There are at least eleven further stranded gold deposits within 100 km of the project, with the majority being published Mineral Resources and remainder being quantified.
In the June 2019 quarter, the company completed a geochemical aircore drilling program at the project to investigate 11 WoE targets in the southern area of the project. The targets delivered three cohesive gold anomalies, within 2.5 kilometres of the Sandstone processing plant. The company will soon commence RC drilling on a further three advanced targets, including the Davis prospect.
Middle Island's Strategy - Sandstone Gold Project
Post the acquisition of Sandstone Gold Project, the company formulated a comprehensive strategy encompassing the following components:
Recommission the Sandstone project at the earliest opportunity via consolidation of proximal third-party deposits and/or exploration of its own tenure.
Consolidate additional deposits and exploration tenure within the broader Sandstone district around a central processing hub.
Exhibit sufficient resource, production & exploration potential to attract major or mid-tier corporate investment.
Let us discuss the three components of Middle Island's strategy in detail below:
This component involves extension and enhancement of the company's existing production profile via a combination of:-
Resource definition and exploration to ensure a sustainable and robust operation, and
Consolidation of proximal third-party deposits.
In accordance with the first component of its strategy, the company achieved considerable success in 2018 in extending the proposed production schedule via Two Mile Hill tonalite deeps and Two Mile Hill BIF underground deposits. The company has been conducting infill and extension drilling programmes, and verification to gradually improve Mineral Resources and upgrade the prior Mineral Resource categories in compliance with JORC 2012 Edition.
Middle Island has identified exploration targets at the two deposits that are discussed below:
Two Mile Hill Tonalite Deeps
Located 4 km to the north of Sandstone processing plant, the Two Mile Hill tonalite deposit incorporates a tonalite (granite) plug or stock that at surface measures 250 metres long, 90 metres wide and persists to at least 700 metres depth. An exploration target of 24-34Mt at 1.1-1.4g/t (900K-1.5Moz) gold has been estimated for the TMH tonalite deeps deposit, extending from the base of the quantified open pit deposit at 140m depth, to the deepest drilling at 700m depth. The target includes the following diamond core intersections:
3m at 1.38g/t
7m at 1.52g/t
4m at 1.62g/t
3m at 1.04g/t
0m at 2.30g/t
3m at 1.14g/t
Metallurgical testwork conducted so far has demonstrated that, at a relatively coarse grind size of ~125um, gravity gold recoveries of more than 58 per cent can be expected prior to leaching. The testwork found that within just two hours subsequent to gravity gold recovery, around 90 per cent leach extraction was achieved, with overall gold recoveries ranging from 93 per cent to 97 per cent. Mineralogical testwork indicates that ~99.6 per cent of the gold is associated with sub-horizontal sheeted quartz veining, with tonalite-only composites averaging 0.15g/t Au and quartz vein composite samples averaging 34.8g/t Au. This recognition led to ore sorting trials, primarily using an optical (colour) sensor to distinguish the well-mineralised quartz veins from the poorly mineralised tonalite host. The results of this work demonstrated that up to 93% of the gold could be recovered in 36% of the mass, at a +10mm/-30mm crush size. This represents a significant ore feed upgrade that significantly reduces unit process operating costs, haulage costs, tailings disposal requirements and water usage. Of even greater significance, this outcome potentially brings the deposit scale into compatibility with the existing 600,000tpa milling capacity.
Middle Island is planning to commence diamond drilling of three priority gravity targets identified from 3D inversion modelling in Q4 2019. These targets represent potential mineralised intrusives, proximal to the Two Mile Hill tonalite. Western Australia's Government has also confirmed a drilling grant of $150k, endorsing the three targets as high-value exploration opportunities.
Two Mile Hill BIF
A series of mineralised banded iron formation (BIF) units, intruded by the Two Mile Hill tonalite at depth, also represent significant underground targets. High-grade gold is hosted by BIF units immediately adjacent to the tonalite, associated with selective pyrite replacement of magnetite horizons. The targets includes the following true width drill intercepts:
22m at 24g/t
8m at 56g/t
5m at 27g/t
5m at 22g/t
While only one ore position, in the upper BIF unit along the western margin of the tonalite, has been quantified due to the requirement for costly diamond drilling from surface, individual intersections of this style have been encountered around the tonalite contacts, within both the upper and middle BIF units, suggesting that other significant ore positions will ultimately be defined. The lower BIF unit is interpreted from geophysical evidence and remains undrilled to date, but is reasonably anticipated to afford similar potential.
By definition, these significant tonalite and BIF underground targets would be developed following completion of planned open pit mining of the Two Mile Hill deposit, therefore enhancing the back-end of the envisaged production profile.
Focussing on the enhancement of the front-end of the proposed production schedule, the company is planning to undertake RC and aircore drilling of advanced and greenfields exploration targets in the remainder of 2019. These targets all lie on the Company's permitted tenure, within 3km of the mill, representing possible, readily accessible, new gold deposits. The targets were initially identified by a weights of evidence study, lying beneath an extensive blanket of transported sheetwash cover, with high tenor saprolite gold anomalies subsequently confirmed via auger and aircore geochemical drilling of the residual/transported interface.

The second component of the sequential strategy involves consolidation of deposits throughout the entire region and establishment of the Sandstone Plant as a central processing hub. Middle Island has identified eleven gold deposits within a 100-kilometre radius of the Sandstone processing plant and is vigorously pursuing consolidation opportunities.
Sandstone Processing Plant
The Sandstone project contains two fully permitted Mining Leases whereon Middle Island's 600,000tpa CIL gold processing plant is located. The processing plant was placed on care and maintenance in September 2010, and a recognised process engineering firm has estimated refurbishment and upgrade costs at $10.3 million (including owner's costs and contingency) in late 2016. It will take around 4 to 6 months to refurbish the mill & infrastructure.
The company holds an operating license for the Sandstone processing plant, which is the only plant within a 150km radius. The plant is supported by fuel tanks, workshops, laboratory & mine offices, contract diesel-generated power plant, a substantial inventory of equipment & spares, and permitted tailings facility & bore field. A fully equipped camp (accommodating 100 persons) sits on freehold title in Sandstone township. Sandstone also has a well-maintained airport that can service FIFO operations.
Once a broader, regional consolidation is achieved, the company has the potential to offer considerable scale in terms of both operational longevity and prospective exploration tenure via further consolidation, making it an attractive investment proposition for a major or mid-tier gold producer.
Entirely consistent with the initial component of its strategy, Middle Island has made an all-scrip takeover offer to Alto Metals Limited's (ASX: AME) shareholders, comprising 6 MDI Shares for every Alto ordinary share. Alto's Mineral Resources are all located within 30km of Middle Island's processing plant, on or immediately adjacent to former haul roads that could be readily re-permitted, offering the potential to economically mine, haul to and process the Alto deposits. The MDI directors strongly believe that the combined assets offer a substantial growth opportunity for the shareholders of both companies.
It can be inferred that Middle Island's wholly-owned Sandstone Gold Project has considerable additional exploration upside. Supported by an experienced exploration & project development team, the company is actively progressing its overarching strategy.
Stock Performance
MDI shares last traded on 15th Aug 2019 at AUD 0.007 (as at AEST: 2:29 PM, 16 Aug 2019). The stock has delivered a return of 75 per cent on a YTD basis and 75 per cent in the last three months, but still remains considerably undervalued on an enterprise value per resource ounce basis, offering investors an unambiguous opportunity to share Middle Island's vision and capitalise on the rapidly up-trending Australian gold market.
---
Disclaimer
This website is a service of Kalkine Media Pty. Ltd. A.C.N. 629 651 672. The website has been prepared for informational purposes only and is not intended to be used as a complete source of information on any particular company. The above article is sponsored but NOT a solicitation or recommendation to buy, sell or hold the stock of the company (or companies) under discussion. We are neither licensed nor qualified to provide investment advice through this platform.