For quite some time now, the exploration company, King River Resources Limited (ASX: KRR) has put a lot of emphasis on the development of its Speewah Specialty Metals (SSM) Project. A Prefeasibility Study (PFS) at the SSM project is presently underway and has already produced pleasing initial results, encouraging the Board to focus on developing the best commercialisation strategy for the progression of the project.
June Quarterly Cash Flow: On 3rd July 2019, the company unveiled its quarterly cash flow report, informing investors that during the 2019 June quarter, it has spent around $547k on the exploration and evaluation activities, taking the total year-to-date expenditure to $3,207k. When compared to the March quarter, wherein the company spent $323k on the exploration and evaluation, the expenditure during the June quarter increased substantially by around 69.3%. This validates that the company continues to expand its focus on the exploration and evaluation initiatives.
The company further intends to spend $864k in exploration operations in the next quarter; $300k on drilling/exploration programs, $350k on Scoping/Prefeasibility work and $214k on Tenement and other expenses. It also expects R&D incentive rebate of $115k over next quarter.
During the June quarter, the company spent $162k on administrative and corporate costs, which is slightly higher than $141k spent in the previous quarter. Due to the administrative and corporate expenses and expenditures related to exploration and evaluation activities, the net cash outflow for operating activities for the period was $708k.
In addition, the company also spent $7,000 to acquire property, plant and equipment, making it the only expense done by the company under its investing activities. As at 30th June 2019, King River Resources had cash and cash equivalents of $2,967k.
SSM Update: From its SSM project, the company is currently seeking ways to identify the optimal process route to produce high-grade, high-value commodities like vanadium pentoxide, iron oxide, titanium dioxide and other high-value specialty commodities, such as high purity alumina.
In order to find out the best process route to produce these commodities, the company is investigating both 'vat leach of lump material' and 'agitated tank leach of concentrates using sulphuric acid' and as per the scoping level CapEx and OpEx costings, it has been observed that the agitated tank concentrate leach option is the preferred process route to produce vanadium pentoxide, iron oxide and titanium dioxide products.
In the recently released update, the company announced that it has commenced a 31-hole (for 1,600m) Reverse Circulation (RC) drill programme on an existing Mining Lease (M80/267) and has been sending samples to the assay laboratory for evaluation purposes.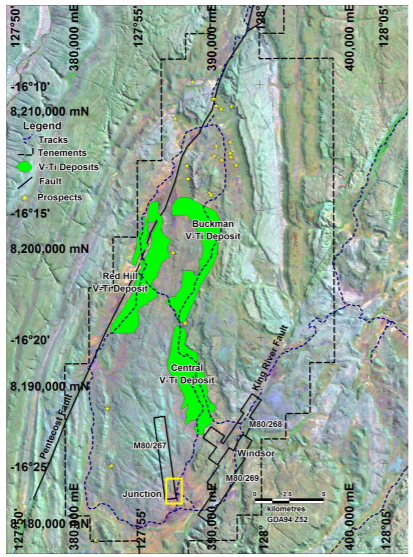 Location of the Junction Prospect (yellow box) and Mining Leases at Speewah (Source: Company Reports)
Further, the company is planning to include Alumina (Al2O3) and Magnesia (MgO) in its database. For this, it has engaged independent professionals to report the values. The addition of these values will enable these potential future revenue streams to be included in the prefeasibility studies.
The information released from the Prefeasibility Study will be used to find the appropriate partner/partners interested in jointly funding a Definitive Feasibility Study (DFS) and after completing the DFS, the study partner/partners will jointly share ownership of all the technical knowledge surrounding the project, having earned an option to acquire a majority direct equity in the SSM project by providing future funding.
The metallurgical refining testwork at SSM Project has produced encouraging HPA precipitation test results (HPA assaying 99.99% Al2O3) and excellent initial precipitation efficiencies of iron oxide and titanium dioxide products, increasing the significance of project from the exploration perspective.
Update on Mt Remarkable Project : After completing the drilling program at its Mt Remarkable project in 2018, the company recently recommenced the reconnaissance mapping and sampling on both E80/5007 and the newly granted E80/5133 tenement to locate more mineralised vein structures.
Additional exploration licence number E80/5133 includes prospective quartz vein structures within the Whitewater Volcanics and surrounds the Mt Remarkable discovery tenement number E80/5007, as shown in the image below.
Map demonstrating newly granted tenement E80/5133 and existing Mt Remarkable tenement E80/5007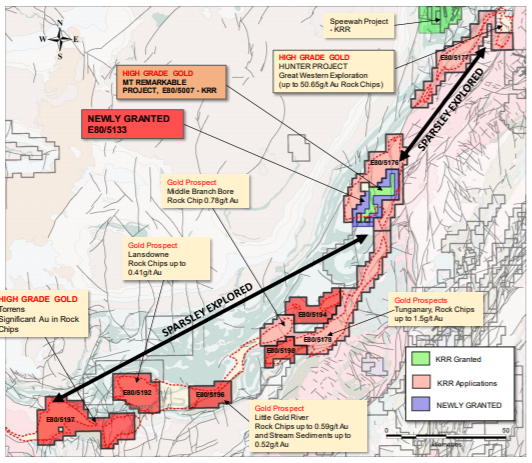 (Source: Company Reports)
King River Resources Limited conducted an in-depth review of the 2018 exploration and drilling programmes at the Mt Remarkable Project, with an aim to better understand the nature and controls on the epithermal style of gold mineralisation.
Exploration during 2018 produced significant results, which included several high-grade reverse circulation drill intersections within the Trudi Main Zone, extensions to the main Trudi structure, and identification of two new mineralised veins, increasing the value of the project from the perspective of exploration.
From Trudi Vein Main Zone, various high-grade gold intersections with visible gold were returned and along with that a new high-grade gold zone, at the eastern end of the Trudi Grid drilling was discovered which demonstrated the potential for further discovery.
Notable downhole results include:
4m @ 113.29g/t Au including 1m @ 346g/t Au in KMRC78
6m @ 60g/t Au including 2.8m @ 108g/t Au in KMDD01
4m @ 39.78g/t Au including 1m @ 82.7g/t Au in KMRC75
4m @ 36.77g/t Au from 7m including 1m @ 70.9g/t Au in KMRC127
3m @ 34.8g/t Au including 1m @ 50.5g/t Au in KMRC0077
5m @ 9.03g/t Au from 8m including 1m @ 28.10g/t Au in KMRC126
3m @ 22.31g/t Au, including 1m @ 65.9g/t Au in KMRC59
3m @ 41.75g/t Au including 1m @ 81.5g/t Au in KMRC72
3m @ 38.7g/t Au including 2m @ 52.35g/t Au in KMRC73
3m @ 29.53g/t Au including 1m @ 87.3g/t Au in KMRC129
4m @ 19.88g/t Au including 1m @ 69.30g/t Au in KMRC194
Significantly, a new high-grade gold zone (best result of 4m @ 19.88g/t Au including 1m @ 69.30g/t Au – KMRC194) was discovered in late 2018 at the eastern most edge of the Trudi grid drilling, where visible gold was noted from panning of the drill piles.
The company has scheduled RC drilling at Mt Remarkable in the September quarter.
Stock Performance: At market close on 3rd July 2019, the company's stock was trading at a price of $0.028, up 3.704% during intraday trade, with a market capitalisation of circa $33.44 million.
---
Disclaimer
This website is a service of Kalkine Media Pty. Ltd. A.C.N. 629 651 672. The website has been prepared for informational purposes only and is not intended to be used as a complete source of information on any particular company. The above article is sponsored but NOT a solicitation or recommendation to buy, sell or hold the stock of the company (or companies) under discussion. We are neither licensed nor qualified to provide investment advice through this platform.