Source: OneSideProFoto, Shutterstock
Summary

Latitude Financial shares to list on Tuesday with a valuation of A$2.6 billion.
Post listing, the company's existing owners, KKR, Varde Partners and Deutsche Bank, will remain its main investors with a 68 per cent stake.
Ahead of IPO, Latitude has secured A$479 million from strategic, institutional and retail investors.
Credit cards and instalment payments company Latitude Financial Group is set to list its equity shares on the Australian Securities Exchange (ASX) after raising A$200 million through initial public offer (IPO). The shares of the non-banker lender will make stock market debut on Tuesday with a market capitalization of A$2.6 billion.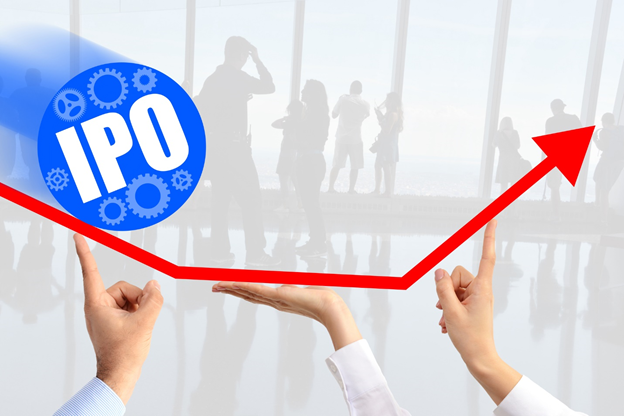 Initial Public Offering, Image Source: © Adrian825 | Megapixl.com
After two failed attempts in the last three years, Australia's largest non-bank lender Latitude Financial will finally list its equity shares on the ASX on 20 April. Latitude shares are expected to start trading at around 12:00 pm AEST. The IPO values the company at A$2.6 billion, following the issue of 1 million fully paid ordinary shares at an offer price of A$2.6 apiece.
Last week, five companies had made stock market debut on ASX, which includes uranium exploration company 92 Energy Limited (ASX: 92E), Gold exploration company Iceni Gold Limited (ASX: ICL), fintech firm Propell Holdings Limited (ASX: PHL) bioenergy firm Delorean (ASX: DEL) and biotech Island Pharmaceuticals Limited (ASX: ILA).
KKR, Deutsche Bank, Varde to offload stake via IPO
Statistics and money, Image Source: © Ela9 | Megapixl.com
As per the offer document, Latitude's existing owners, KKR, Värde Partners and Deutsche Bank, had offered to sell one billion shares to investors at A$2.60 each. Post listing, KKR, Värde Partners and Deutsche Bank (via their holding company KVDS) will hold 66.4% shares in Latitude, subject to requisite approval. The IPO comprised of approximately A$860 million of free float at the issue price of A$2.60 each.
The IPO of the consumer finance company had opened on 14 April 2021 and closed on 16 April 2021. The shares were offered to institutional investors, broker firm and employees only. The shares were not offered to general public.
Latitude secures A$479 million ahead of IPO
Ahead of IPO, Latitude had secured A$479 million of commitments from strategic, institutional and retail investors. The Australian non-bank consumer finance company had sold 10 per cent stake, comprising a 9.95% upfront investment and the remaining 0.05% stake, to Japan's Shinsei Bank for A$300 million. The small 0.05% portion of Shinsei's planned stake purchase is subject to Foreign Investment Review Board (FIRB) approval. The Tokyo-based bank will acquire the strategic stake from the company's owners KKR, Varde Partners and Deutsche Bank.
Last year, Shinsei Bank had acquired New Zealand's top non-bank provider UDC Finance from Australia and New Zealand Banking Group (ANZ).
About Latitude
Latitude is Australia's leading Buy Now Pay Later (BNPL) company headquartered in Melbourne. The business was acquired by a consortium of investors led by Deutsche Bank, KKR, and Värde Partners from GE Capital in 2015. The non-banker lender has 2.77 million customer accounts and over 3,400 merchant partners, including Apple, Harvey Norman, The Good Guys, JB Hi‑Fi, Samsung and Luxury Escapes. Latitude has over 10,600 outlets and its products also distributed by a network of over 5,800 accredited brokers in Australia and the Kiwibank's branch network in New Zealand.
Read: How is Australia's growing BNPL sector faring?
Few prominent BNPL players in Australia include Afterpay (ASX:APT), Zip Co (ASX:Z1P), Openpay (ASX:OPY) and Humm (ASX:HUM).