Highlights






VRX has updated about developments at its four silica sand projects based in Western Australia


The company updated the Mineral Resource Estimate and Ore Reserve Statement of Arrowsmith North in November 2022


VRX has also been shortlisted in Stage 1 of the WA Investment Attraction Fund, and application for Stage 2 is now filed




                              
Australia based VRX Silica Ltd (ASX: VRX) -- having four silica sand projects in Western Australia -- recently released its Half Year Report for the period ended 31 December 2022. The company is focused on exploration and development of silica sand at its four high grade and low impurity projects in the Tier-1 mining region of Western Australia. VRX Silica states that it has multi-decade scale contiguous deposits on the leases granted to it.
It is further claimed that these secure tenure mining leases come with a combined >1.1 billion Tonne Mineral Resource of 99.6% to 99.9% SiO2 high grade silica sand. Below are the major highlights of the company mentioned in its Half Year Report.
Critical Minerals Publication
In December last year, the company announced the inclusion of two of its silica sand projects in the Australian Critical Minerals Prospectus (2022). The Prospectus was launched by Minister
Farrell, the Minister for Trade and Tourism, and it included VRX's Arrowsmith North and Muchea projects. VRX has stated that this would enable Austrade, which publishes the Prospectus, to promote the company's products to foreign investors and buyers.
Projects
Arrowsmith North
In November last year, an update to the Mineral Resource Estimate and Ore Reserve Statement was announced by VRX. The updated estimates are a result of company's "significant metallurgical testwork". This testwork has enabled evaluation of the Resource to help establish the premium products -- including foundry sand and glassmaking sand -- that the company can produce. Samples were sent to foreign based foundry and glassmaking companies for evaluation and for eventual discussions on offtake.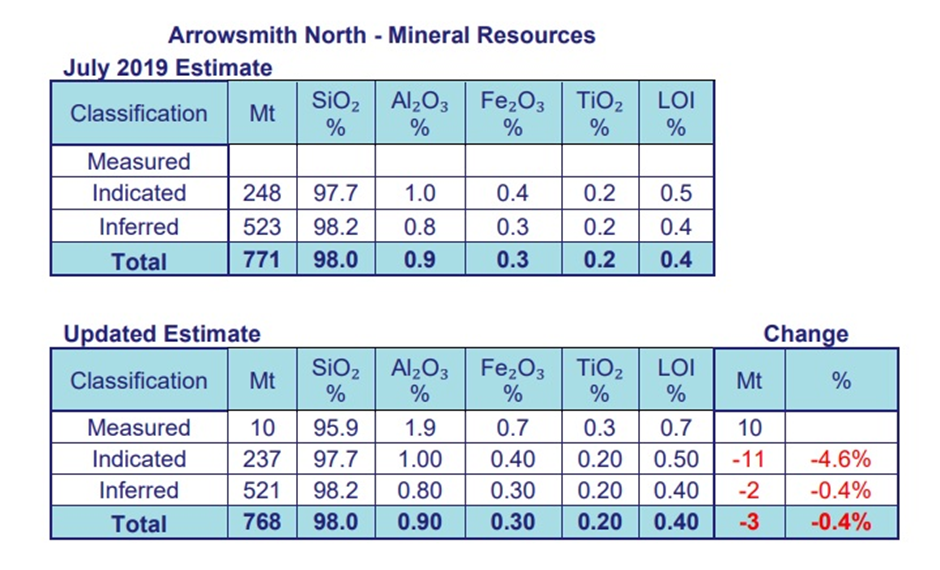 Image source: VRX ASX announcement dated 13 March 2023
Image source: VRX ASX announcement dated 13 March 2023
VRX states that with the creation of JORC compliant Proved Ore Reserve, there is now high mining confidence. Proactive marketing efforts would be made for best financial outcomes. VRX has also said that all pre-production works at the site are complete, together with production of bulk material of final products. Besides, engineering design of the planned processing plant is also nearing completion. The company is now in the final stages of getting regulatory approvals to begin construction.
Arrowsmith Central
The other under-development project, Arrowsmith Central of VRX, has moved to the next stage of approval process with the Environmental Protection Authority (EPA). The Environmental Scoping Document (ESD), filed in June 2022, is under assessment. In September 2022, the company had announced completion of two test holes for production water bores.
Muchea
VRX says that development at this project would follow development at company's Arrowsmith North project. Offtake enquiries have been received by VRX from Asian markets for Muchea silica sand, which it says can be used in premium ultra-clear glass production, most likely for the solar panel industry. Springtime flora and vegetation studies are done at the project in compliance with the relevant EPA's Environmental Factor Guideline. VRX says that work so far suggests that the selected priority area (450Ha) neither has Priority Species of flora nor thickets of paperback.
In October last year, an Aboriginal Heritage Work Area Clearance Survey was done. It followed the Aboriginal Ethnographic and Archaeological heritage survey in 2017. VRX says that no archaeological heritage or ethnographic heritage sites were identified.
Boyatup
At this project, a first pass metallurgical testwork program is being undertaken following the drill samples from an earlier program. This would help determine the potential products from the in-situ sand resource.
Separately, VRX has informed that in August 2022, the company's Stage 1 preliminary application (under the WA Investment Attraction Fund initiative) was shortlisted, and the detailed application for Stage 2 was filed in October. Successful applicants under the initiative would be eligible for grants and other incentives.
The company's ASX-listed shares, under ticker VRX, traded at AU$0.105 as of writing on 16 March 2023.