Highlights

QX Resources reported busy last quarter with the commencement of maiden drilling focused on lithium at Turner River.
Based on visual observations, the RC drilling campaign at Turner River intersected pegmatites and potential lithium-rich micas.
QXR also reported presence of substantial pegmatites in drill chips and drill pads, extending beyond the earlier sampled area of high-grade lithium rock chip results.
The company is gearing up to recommence the RC drill program for 10 more holes targeting neighbouring extensions of potential mineralisation.
QX Resources (ASX:QXR) made serious strides to advance its Pilbara hard rock lithium projects in Western Australia during the December 2022 quarter.
In its recently published quarterly report, the company highlighted the commencement of maiden drilling at its 100%-owned Turner River hard rock lithium project. During the campaign, the company reported pegmatites and potential lithium rich micas, based on visual observations. The company expects to obtain assays from the first phase during next month.
Moreover, the company highlighted its commitment towards ramping up exploration at its gold projects amid the strong gold price performance.
Maiden RC drilling at Turner River
The company's four hard-rock lithium projects - Turner River (E45/6042 & E45/6065), Split Rock (E46/1367), Yule River (E45/6159) and Western Shaw (E45/4960 & E45/6107) – have a strategic location as they sit close to some of the major lithium assets in the region.
The last quarter marked the start of maiden reserve circulation (RC) drilling at Turner River, located 15 km to the southeast of the Wodgina lithium mine, owned by ASX-listed player Mineral Resources.
The campaign was designed to find either lithium mica and spodumene-bearing pegmatites or a new type of big tonnage hard rock lithium deposit that might be hosted near the top of a sizable granite body rich in lithium micas.
Under the campaign, 12 holes (1166m) have been completed over an area of 400m x 300m in four drill "fences" with encouraging results:

Data source: QXR quarterly update
The company anticipates assays from this initial drilling in mid-February 2023.
QXR plans to RC drill 10 more holes with Turner River drilling campaign recommencement on the cards to target nearby extensions of potential mineralisation.
High-grade lithium from rock chip sampling
The company also discussed rock chip sampling results from the campaign undertaken at the project in the last quarter.
Lepidolite samples delivered values of up to 4.90% Li2O. The area under cover of the previously reported lepidolite at the Carbonate Hill potential at Turner River in the northeastern part of tenement E45/6042 was extended by additional assay results from rock chip samples that returned 1.6% & 1.1% Li2O.
Pegmatites have been detected in other areas at Turner River, planned to be drilled in future drilling campaigns.
Here's what the leadership team has to say about the quarterly developments: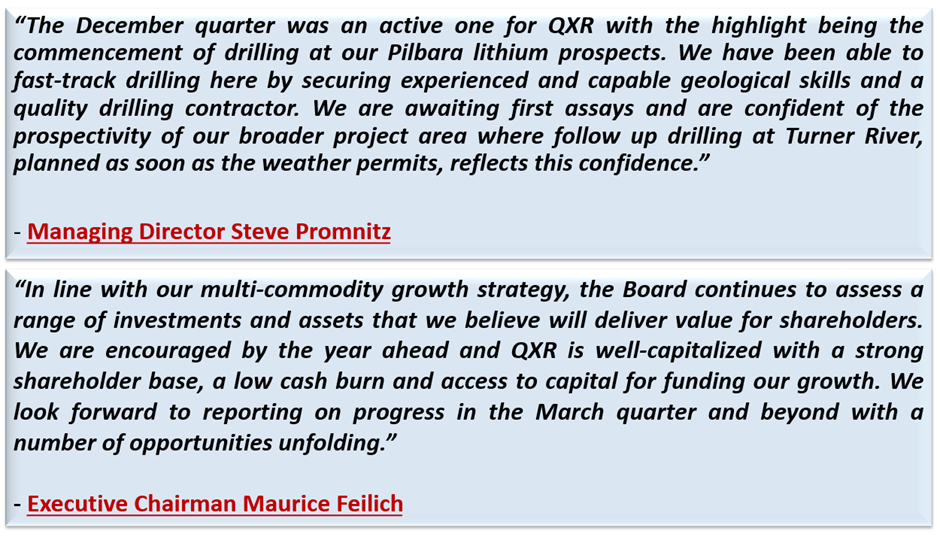 QXR has two gold-focused assets in the Drummond Basin, which is known for a long history of ongoing mining activities with a gold endowment of over 6.5moz.
Financial stance
During the quarter, the company made two announcements regarding fundraising.
In October 2022, the company raised AU$537,500 through the exercise of 17.5 million options at AU$0.025 per share and 5 million options at AU$0.02 per share.
In December 2022, the company exercised 15 million options at the same price to raise AU$300,000.
QXR ended the quarter with cash of AU$3.4 million and liquid investments of nearly AU$0.31 million. The company suggests that it holds sufficient funds to pursue its exploration endeavours over the next six months.
QXR shares were trading at AU$ 0.049 midday on 31 December 2023.