Highlights


Fiducian Group Limited (ASX:FID) has turned the corner around a challenging time with strong support from its senior management and staff.
During 1HFY22, FID delivered robust performance and declared an interim fully franked dividend of 14.80 cents per share.
The acquisition of People's Choice Credit Union offers various benefits to FID, adding AU$1.1 billion in Funds under Advice.
Diversified financial service provider Fiducian Group Ltd (ASX:FID) offers an array of services, including financial planning, Investment funds management, Superannuation, Investment Platform administration and Information technology solutions.
FID has shown resilience against unforeseen and adverse shocks that originated due to the COVID-19 pandemic and managed to continue its growth.
Let us look at the how FID is placed currently.
ALSO READ: Fiducian India Fund operates in burgeoning Indian Mutual Fund space
FID's Platform Administration Business
FID offers a market competitive platform for Investments, Superannuation and SMA administration with own licences. The advanced leading-edge technology solutions help financial advisers through various vital utility features.
Moreover, FID's IT system "FasTrack" offers cost efficiencies through automating client administration backed by 20 year track record.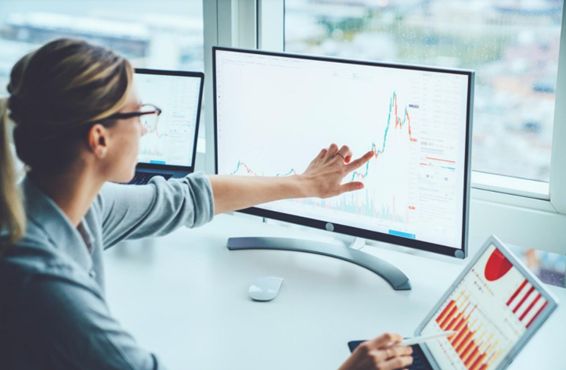 Source: FID Presentation 26/05/22
FID's Funds Management Business
FID offers a highly effective, Manage the Manager System with increased diversification and below-average risks to deliver steady above-average returns. Under the system, assets are held directly through mandates, and managers can be replaced without the need to liquidate holdings.
For around 20 years, the four Fiducian diversified funds ranked in the top decile to quartile in 64 out of 64 readings against up to 177 fund managers on the Morningstar survey.
FID states that the PDS Fund Fees align with industry peer groups.
Moreover, clients are provided with additional benefits of accessing various managers whose fees are paid by Fiducian through the relevant Fiducian Fund.
FID's Funds under Management stood at AU$4.1 billion as at 30 April 2022.
RELATED ARTICLE: Fiducian Group (ASX:FID) on growth path, reports robust half yearly results
FID's Financial Planning business
FID's Financial Planning business is the enabler of steady flows to Fiducian Funds and Platform, with 82 planners in 43 offices across Australia. FID's financial planners focus on providing results aligned with the best interest of the clients.
The Company expects its financial planning business to grow through acquisitions of client books, organic referrals and recruitment of new franchisees to the network.
FID's Fintech solutions
FID boasts of proven and time-tested Fintech capabilities that underpin its successful business model. The Company has recently expanded its programming team and developed a new system, which offers opportunities for commercialisation.
FID offers an automated solution to advisers for investment execution and client registry through its market-leading Platform Administration System, Fastrack. This platform was developed by FID in-house since 2012 with its own Intellectual Property and no legacy system issues. Fastrack offers feature-rich functionalities along with full scalabilities.
Source: FID Presentation 26/05/22
ALSO READ: Fiducian Group (ASX:FID) delivers strong performance in FY21
FORCe, FID's adviser-driven financial planning software, offers efficiency through automated compliance monitoring, modelling, CRM, and advice document generation. This system can be fully integrated with Fastrack.
Besides this, 'Fiducian Online' Client reporting helps in client account and transaction reporting through a fully functional client reporting website.
Resilient half-year performance
During the half-year ended 31 December 2021, FID's Funds Under Management, Advice and Administration (FUMAA) came in 23% higher as compared to the corresponding 2020 period.
FID's half-year performance reflected the resilience of its business and has enabled the Company to boost its financial returns and further solidify the balance sheet.
Source: Copyright © 2022 Kalkine Media®, Data Source: FID Update, 14 February 2022
FID also decided to pay an interim dividend (fully franked) of 14.80 cents per share, indicating a growth of 20% over the previous corresponding period.
Impressively, FID has delivered a double-digit EPS growth (based on UNPAT) across 17 out of 22 years since listing. Moreover, FID has outperformed All Ords by 916% (including dividend) since June 2012.
ALSO READ: Fiducian Group (ASX:FID) shares hit a record high after upbeat FY21 results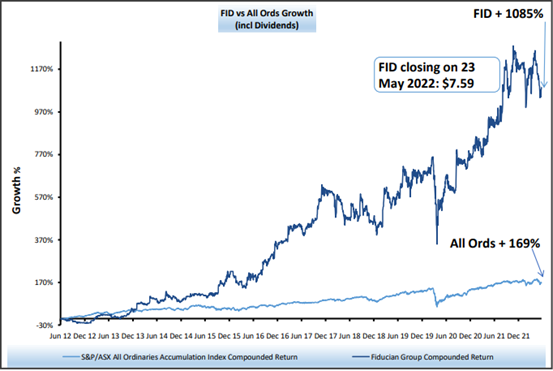 Source: FID Presentation 26/05/22
FID in its presentation highlighted that AU$1,000 invested in FID on 1 July 2012 provided a fully franked dividend of AU$152.58 during H1 FY22.
Growth opportunities through recent acquisition
FID recently acquired the Financial Planning Business of People's Choice Credit Union, which is expected to deliver multiple growth drivers for FID.
The acquisition has added AU$1.1 billion in Funds under Advice from around 5,000 clients, presently delivering more than AU$8 million in recurring revenue.
Source: FID Presentation 26/05/22
FID believes that it has the expertise and experience to ensure that the acquisition turns out to be a success for everyone, including the clients. The Company's management continues to pursue numerous acquisition opportunities and will zero-in on any possible transactions only if it is beneficial for FID and its clients.
READ MORE: Strategic acquisition: Fiducian Group (ASX:FID) snaps up AU$1.1B financial planning business
Market opportunities for FID's growth
The management foresees potential growth through Fiducian and 3rd party planners as the Company looks to capture market share from the disintegration of large wealth businesses. FID further looks to attract IFAs and breakaway firms from larger dealer groups while providing IFA targeted products, white labels and badges. FID also believes that there is an opportunity for growth through the expansion of SMA offerings and SaaS.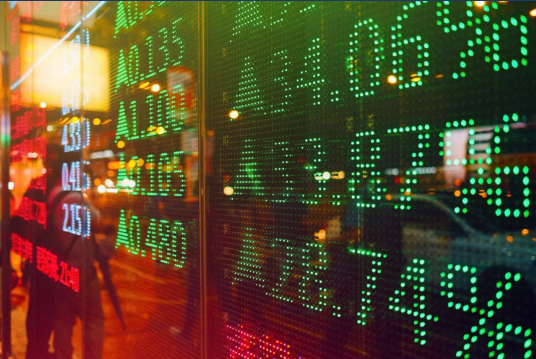 Source: FID Presentation 26/05/22
Additional market opportunities for growth:
Distribution of MTM process to Universities, Charities and Family Offices
Expand distribution of Fiducian Funds in New Zealand through established platforms
Leverage of Funds Passport regime for distribution in Japan, South Korea and Thailand
Distribution to wholesale non-advised clients
All in all, FID looks to continue with the acquisition of client books that deliver possible high synergy advantages. FID also looks to steer the recruitment of new planners to the dealer group eyeing cultural alignment and mutual growth opportunities.