Summary

Hydrogen Economy is a vital concept for contemporary energy companies, as zero emissions hydrogen is deemed to be the future of transportation fuels.
Logical consolidation of Real Energy and Strata-X Energy portfolios that forms Pure Energy is likely to offer a lucrative platform to create a meaningful gas operator.
Merger of Strata-X Energy and Real Energy into Pure Energy has the goal to create the next ASX energy growth stock.
"It is an exciting time to be building a new company", says Chairman of Strata-X Energy, Ron Prefontaine.
Australian east coast focused gas company, Real Energy Corporation Limited (ASX:RLE) has entered into a binding Scheme Implementation Agreement (SIA) with Brisbane-based Strata-X Energy (ASX:SXA). RLE has interests in the country's most prolific onshore producing petroleum basin, Cooper Basin, besides Surat Basin in Queensland.
Both companies plan to pursue a nil premium merger wherein Real Energy shareholders will get a Strata-X Energy share in exchange for 3 RLE shares. Moreover, the merger represents a compelling opportunity- formation of Pure Energy, a material gas business with significant holdings in both Surat and Cooper basins, Queensland.

Pure Energy- More Than A Merge
A merger of equals creates a very high potential and diversified gas portfolio.
Pure Energy will hold 100% of Project Venus and leverage from significant upside potential that this exciting project offers. Besides this, the merged entity's broader asset portfolio in Australia and Botswana presents further upside. Moreover, significant cost savings to the merged entity are likely with the removal of duplicate administrative functions and listing costs.
Pure Energy will have 11.8 TCF of prospective gas resource in three 100% owned projects. Over the next 12 months, Pure Energy plans to use innovative well completion and non-frack reservoir enhancement methods designed to verify commercial gas flows. Real Energy believes that any one of these opportunities can be a "Company maker"-
100% CSG Walloon Surat Basin – 694 BCF Project Venus that offers relatively low risk, Connor-1 re-entry/flow test is planned. Work on Connor 1 re-entry is expected to commence in August 2020.
100% Cooper Basin basin-centered gas – 8.8 TCF/ 770 BCF 3C Windorah Gas Project, CT enhancements/flow test is planned
100% CSG Botswana – 2.4 TCF Serowe CSG Project. Fully carried on $7 million de-risk program; 51% retained on the completion
These gas projects have several things in common, besides having ready gas markets. For instance, drilled wells affirm the presence of gas resources (including third party certifications), primary technical risk is to find completion methods to prove commercial gas flows, and proving commercial gas flows is the precursor to predictable reserves increases and substantial company growth.
Pure Energy Vision- Fast Track A Hydrogen Economy
Pure Energy's vision is low emissions hydrogen transition to renewables. This translates into the fact that it aims to lower emissions initially via substitution of methane for coal and diesel. To do so, Pure Energy plans to advance hydrogen production from CSG wastewater and its 11.8 TCF of uncommitted methane gas resource.
So much so, it is examining the feasibility of building a methane to hydrogen plant in Gladstone. In the future, one goal is to convert methane to hydrogen and value add graphite products using a hybrid methane pyrolysis method.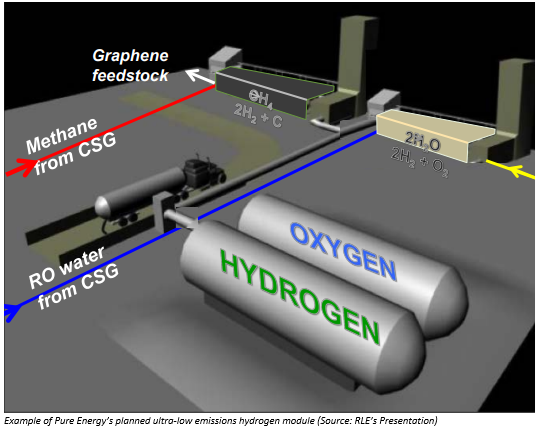 Coming to the merger goal-to create the next ASX energy growth stock. With huge resources in the three gas projects and finding the keys to unlock those resources, this goal seems fairly achievable.
Merger Advantages
Pure Energy Management has a history of creating and building growth companies with a successful history of ~ $ 5 billion takeovers. Below are the various advantages of the merger that is taking the best elements of both companies and having a strong portfolio of Projects-
Scheme Implementation Agreement Details
Agreed by both boards, the SIA requires shareholder approval from both Real Energy and Strata-X Energy. To facilitate the same, Real Energy is likely to call a meeting for proposal consideration and approval of the SIA. Approval will also be sought to change the merged company's name to "Pure Energy Corporation Limited".
Post shareholder approval, few other conditions will be required to be met. These comprise- court approval, ensuring no adverse material adverse effects in relation to either Real Energy or Strata-X Energy, Strata-X Energy delisting its shares from the TSX.V, ensuring no superior offer for Real Energy or takeover offer for Strata-X Energy, satisfaction of regulatory approvals and no legal constraints on completion.
The SIA comprises of customary exclusivity provisions inclusive of no shop and no talk, notification obligation and matching right, subject to Real Energy directors' fiduciary obligations (where apt). It further details conditions under which Real Energy or Strata-X Energy will be required to pay a break fee of $ 100k.
Note: A reasonable offer, Real Energy's Board unanimously recommend that Company shareholders vote in favour of the Proposal.
Management View on Merger
MD of Real Energy, Scott Brown believes that combined interest of 100% in Project Venus and broader portfolios boost the possibility of Pure Energy to become a "meaningful gas operator" in the east coast of Australia. "We have lots of optionality to deliver value", he further states.
Chairman of Strata-X Energy, Ron Prefontaine resonates to Mr Brown, stating that Pure Energy will have a meaningful Queensland-focused gas operated business, a great position in the Botswana CSG fairway coupled with exciting hydrogen initiatives. He further opines that the transaction plays to Strata X Energy's strengths of being a low-cost and high-impact on-shore exploration and appraisal operator- an extremely attractive opportunity for Real Energy as well as Strata-X Energy shareholders.
Stock Details
Pre-merger, Real Energy has more than 353 million shares while Strata-X Energy has over 112 million shares. Upon merger, Pure Energy will have ~233 million ASX listed shares (1 Strata-X Energy share for 3 Real Energy shares) and no TSX listing. Of this, MD Scott Brown and Chairman Ron Prefontaine are likely to own ~11.5%.
On 15 July 2020, RLE traded upward by 10% to $0.022.
(Note: All currency in AUD unless specified otherwise)