Highlights






Chimeric's CHM 1101 (CLTX CAR T) is undergoing clinical trial at one of the largest cancer facilities in the US


An exclusive license agreement for CHM 0201 was signed by the company in November last year


CHM 0201 is undergoing Phase 1B trial in combination with Vactosertib


New appointments have boosted the company's management and Board




                              
Australia's clinical-stage cell therapy company Chimeric Therapeutics (ASX: CHM) is working on the discovery and development of cellular therapies for treatment of cancer, with focus on commercialisation of promising therapies. The recently released first-half report reflects the key advances made by the company in clinical trials and research activities.
Besides progress made with respect to its therapies that include CHM 1101 (CLTX CAR T) and CHM 0201 (CORE NK PLATFORM), Chimeric also brought new prominent faces in its team.
CHM 1101 (CLTX CAR T) enters 4th dose cohort in glioblastoma study
In December last year, Chimeric successfully completed the third cohort dosing in the dose escalation study. During the third dose, patients received a dose of 240 X 106 cells involving dual routes of administration (intratumoral and intraventricular), and a January 2023 company update highlighted that no patient dosed experienced dose-limiting toxicities. Read more.
The therapy has already entered the fourth dose cohort with the dosing of first patient in March.
The trial is ongoing at City of Hope in the US. The facility -- from which Chimeric has licensed the exclusive global rights to IP covering chlorotoxin CAR-T cells -- is one of the biggest research and treatment organisations for cancer in the country.
The Phase 1A study aims to enrol as many as 18-36 patients with MMP2+ recurrent or progressive recurrent or progressive glioblastoma across four dose levels. The study evaluates the safety and maximum tolerated dose of the cellular therapy with respect to patients suffering from recurrent or progressive glioblastoma.
Notably, in August last year, the Japan Patent Office issued a patent that covered applications of chimeric antigen receptor technology using chlorotoxin, including the company's CHM 1101 (clinical stage) and CHM 1301 (pre-clinical stage).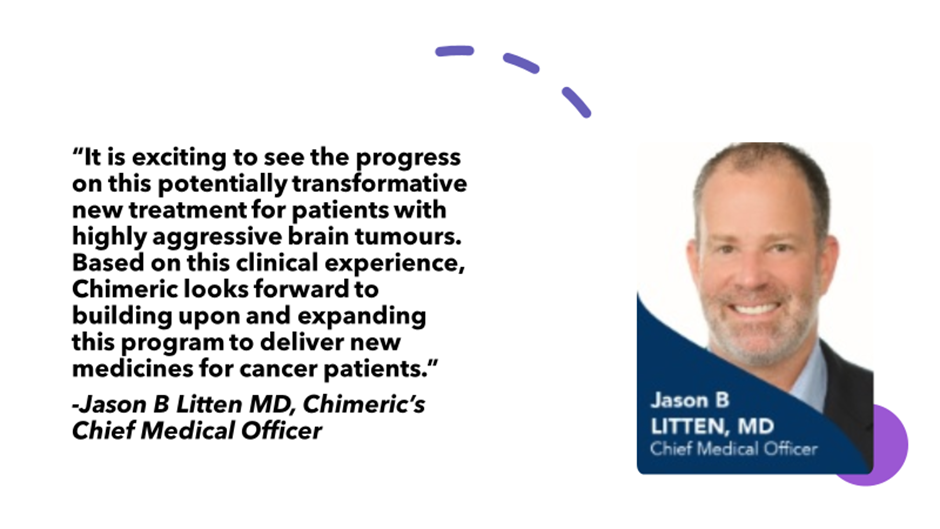 Data source: CHM's ASX release (Fourth Dose Cohort Initiated in CHM 1101 Phase 1 Trial) dated 2 March 2023
CHM 0201 (CORE NK PLATFORM) study in advanced colorectal and blood cancers
The first half of FY23 saw an exclusive licence agreement for CHM 0201 (CORE-NK platform) between the company and Case Western Reserve University (CWRU). This followed Chimeric's signing (in December 2021) of the option agreement for the technology. Chimeric's exclusive global rights to the platform cover oncology, with advancement of multiple product candidates in Dr Wald's laboratory (Sponsored Research Agreement). Separately, the company has also gained exclusive global rights to the platform for immune disorders and viral infectious diseases.
A Phase 1A trial of CHM 0201 was undertaken at the University Hospitals Seidman Cancer Centre (Ohio). The results, published last year in March, exhibited safety with no Graft versus host disease, NK cell persistence (at least 28 days), and positive early activity signals.
Chimeric also has a sponsored research agreement with CWRU, which advances the company's NK cell therapy portfolio.
In January 2023, Chimeric announced dosing of the first patient in the CHM 0201 (CORE NK) + Vactosertib clinical trial. Here, the Phase 1B study is aiming to provide treatment for locally advanced/ metastatic colorectal cancer or relapsed/ refractory blood cancers.
Strengthened team with new appointments
In July last year, the company appointed Dr Jason B Litten as the Chief Medical Officer. Dr Litten has previously worked on numerous CAR T and NK cell drug candidates. He comes with clinical understanding of cellular therapies. Previously at Artiva Biotherapeutics, he oversaw development of multiple allogeneic Natural Killer cellular therapies. He has also worked with Juno Therapeutics for autologous solid tumour CAR T and TCRs therapy programs.
Ms. Cassandra Harrison joined Chimeric Therapeutics as the Vice President (Clinical Operations and Data Management) in July last year. This was followed by Dr Stephanie H. Astrow joining as Chimeric's Vice President (Translational Sciences) in September.
As at 31 December 2022, the group had cash reserves of AU$3,626,088. During February this year, the company received AU$3.06 million in R&D tax incentive.
ASX-listed CHM shares traded at AU$0.061 as of writing on 17 March 2023.