Highlights

Alchemy Resources has unveiled extensive interpreted pegmatites under alluvial cover at the Hickory prospect.
The latest development follows detailed ground gravity surveying at the prospect at the Karonie Project.
The gravity survey has generated multiple new targets, doubling the existing footprint.
The company has outlined major exploration plans for the Hickory, Mesquite and Pecan prospects.
Alchemy Resources (ASX:ALY) recently published encouraging results from detailed ground gravity surveys at its Hickory prospect at the Karonie Project.
The results have successfully mapped out extensive interpreted pegmatites under alluvial cover and suggest extensions to the north of the existing mapped pegmatite locations.

Hickory gravity survey generates multiple new pegmatite targets
The high-resolution ground gravity survey was conducted in December 2022 with custom data processing by Perth-based consultancy NewGen Geo, to analyse variations in the earth's gravity field that arise due to differences in rock density. Lower density pegmatites intruded into higher density metamorphosed mafics at Hickory are likely to be recorded as a gravity low response.
For interpreting the northern extensions and outlining new targets for follow up work, the gravity data as well as known pegmatite locations from drilling and mapping were used. Multiple previously unknown pegmatite targets have been generated.
Now, the ASX-listed company is planning to expand the gravity survey mapping the prospective structures under cover for an area of 5.4km x 1.6km towards the Pecan prospect. It will extend to the west and east of the current mapped pegmatites.
Alchemy plans expanded gravity survey
As per the processed gravity data, the pegmatites intercepted in the 2022 Hickory drilling continue striking north towards the favourable structures. Further, the potential for pegmatites within the favourable north-east trending structures will be assessed in the survey. Structural weaknesses play a significant part in the formation of Lithium-Caesium-Tantalum ("LCT") pegmatite systems.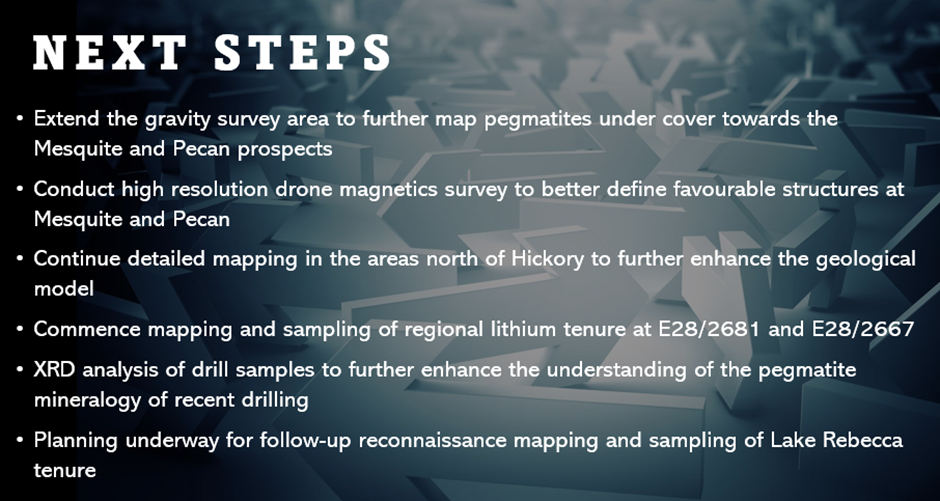 Data Source: ALY ASX Update

ALY shares were trading at AU$0.017 midday on 7 February 2023.