Highlights

Cryptocurrencies' total market cap is now under US$1.3 trillion, with major tokens extending losses
LUNA token of Terra ecosystem is set to undergo a change, and it might soon be launched
Only a handful of tokens among the top 100 assets have given positive returns so far this year
The cryptocurrency world is full of uncertainties. Will a new crypto launch be a massive success? One of the newly launched cryptocurrencies, ApeCoin jumped to immediate success in March 2022. Will older popular cryptos like Dogecoin and Ether recover lost ground? Will the overall cryptoverse, led by Bitcoin (BTC), bounce back? Will June bring back optimism?
Questions can be many. In the entire month of May so far, cryptoassets have only extended losses. Hereunder are a few crypto assets to watch closely in June.
1. Bitcoin (BTC)
Bitcoin is to the cryptoverse what the heart is to a human body. It has the largest market cap, and the BTC price per token is also the highest.
Interestingly, although BTC has traded mostly in the red in May, its market dominance has shot up. At the time of writing, Bitcoin's share in the aggregate market cap was over 45%. CoinMarketCap's website tracks over 19,600 cryptoassets, and Bitcoin's dominance seems very real. In price terms, BTC started May at nearly US$38,000, but dropped below US$30,000 on May 11. The price has hovered near this figure ever since.
If a bullish wave hits cryptoverse, Bitcoin can arguably be the first asset to manifest it. This is why BTC makes for a must-watch crypto next month.
Also read: BTC and S&P 500 Index correlation over past 5 years
2. Terra (LUNA)
The fall of Terra ecosystem in May was a subject of most crypto discussions. TerraUSD stablecoin lost the peg to USD, almost at the same when BTC plunged below US$30,000. The former event may have led to the latter.
LUNA is an asset linked to TerraUSD. LUNA's price went from almost US$80 on May 1 to under US$1 in the wake of TerraUSD decline. Now, the Terra project has announced the launch of a new token. It will be a new Cosmos Chain, with a new LUNA token. The older version has been named LUNA Classic. As of writing, LUNA Classic's 24-hour trading volume was over US$250 million.
LUNA Classic's ultra-low price per token is something to keep an eye out for in June.
3. UNUS SED LEO (LEO)
LEO crypto is not as popular as the above two. It is yet to make it to the list of top ten assets by market cap. But LEO's ride in 2022 has been very different as compared to that of most other assets.
LEO is a part of the wider iFinex ecosystem. It is said to be native to Bitfinex, a crypto exchange. LEO holders can save costs when trading on the exchange. The price of this token was under US$4 on January 1, 2022. As of writing, LEO was trading at nearly US$4.9. This positive year-to-date (YTD) performance of LEO is in contrast to the wider cryptoverse.
With a market cap of over US$4.5 billion, LEO is in the top 20 cryptos list, for now.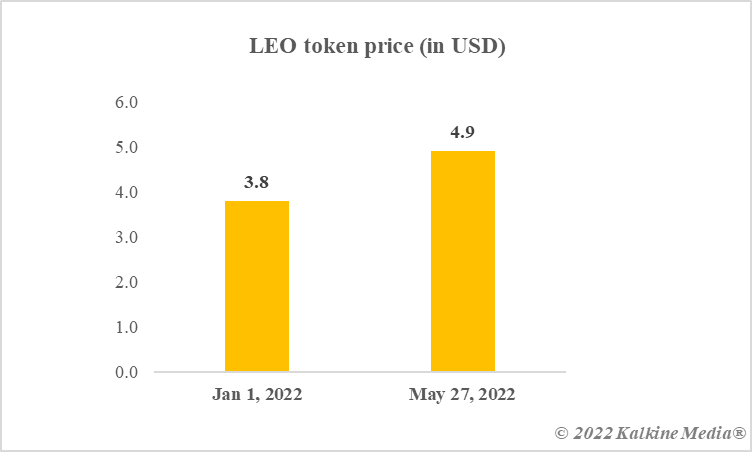 Data provided by CoinMarketCap.com
Also read: What's the buzz about Bone ShibaSwap (BONE) crypto?
Bottom line
Bitcoin, Terra, and LEO are likely to be watched closely by crypto enthusiasts in June. BTC's rise or further fall might impact all other tokens. Meanwhile, a new LUNA token is in the offing, and LEO's YTD returns have defied the dull phase.
Risk Disclosure: Trading in cryptocurrencies involves high risks including the risk of losing some, or all, of your investment amount, and may not be suitable for all investors. Prices of cryptocurrencies are extremely volatile and may be affected by external factors such as financial, regulatory, or political events. The laws that apply to crypto products (and how a particular crypto product is regulated) may change. Before deciding to trade in financial instrument or cryptocurrencies you should be fully informed of the risks and costs associated with trading in the financial markets, carefully consider your investment objectives, level of experience, and risk appetite, and seek professional advice where needed. Kalkine Media cannot and does not represent or guarantee that any of the information/data available here is accurate, reliable, current, complete or appropriate for your needs. Kalkine Media will not accept liability for any loss or damage as a result of your trading or your reliance on the information shared on this website.