Highlights

NFTs of famous celebs never fail to create a buzz in the crypto market
A web 3.0 streetwear project Ikusa NFT has also launched assets, which are trading on OpenSea
However, new NFT launches are finding it tough to replicate the success of artists like Beeple
Non-fungible tokens (NFTs) never fail to make a splash – especially when they are associated with famous celebrities like Madonna, Coco Gauff or Snoop Dogg. Even Keanu Reeves was lately in news for his support for NFT artists.
While the NFTs of Madonna and Gauff are almost done and dusted, new participants are making their way in this space. Hereunder are two trending developments, which seem to be adding more glam and glitz to the NFT space.
Gwyneth Paltrow and NFT
On her Twitter account, actress Gwyneth Paltrow has been endorsing the NFT collection of the World of Women (WoW) project. In March this year, the academy award recipient posted about giving away "allow list spots", which was to celebrate WoW's new collection called WoW Galaxy.
Paltrow's Twitter account's profile picture is also an NFT from the WoW collection. Her past tweets on cryptos and NFTs suggest she is a supporter of the digital assets revolution which is underway.
It was also reported earlier this year that Gwyneth Paltrow was one of the celebrities, besides Justin Bieber and Ashton Kutcher, to pick stake in a crypto-focused startup MoonPay.
Ikusa NFT
Ikusa describes itself as a streetwear brand, with Web 3.0 as its area of focus. Its NFTs are listed on OpenSea.
Ikusa claims that the designs which underlie these NFTs cannot be duplicated. OpenSea suggests that there are 1,700 assets of Ikusa NFT, with the floor price of 0.075 ETH tokens, as of writing. The project talks about an imaginary tunnel, which connects Web 2.0 with Web 3.0.
The streetwear line is based on Japanese aesthetics and animation.
Famous NFTs
Even though the number of participants is increasing, a few names still dominate the NFT world. Beeple is arguably the most famous, with another NFT artist Pak also making waves. Even Madonna has joined hands with artist Beeple for the release of her NFTs.
CryptoPunk, and BAYC too are the big names in the NFT world. Gwyneth Paltrow is also said to have joined the BAYC NFT project earlier this year in some capacity. Separately, some NFT marketplaces like SuperRare and Rarible have their independent cryptos, also called native tokens.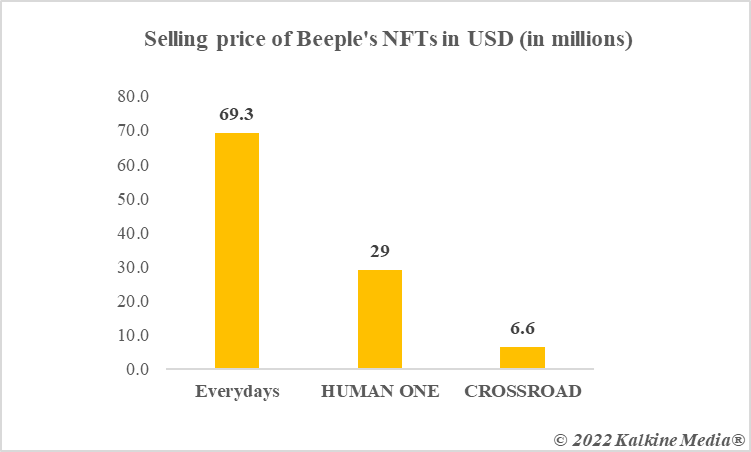 Bottom line
Gwyneth Paltrow could be trending in the NFT world because the actress has an NFT as her profile pic and she tweeted about a giveaway of a WoW Galaxy asset. She is a regular newsmaker in the world of cryptos and NFTs. Ikusa NFTs are talking about fashion in a Web 3.0 setting, which might be drawing the attention of enthusiasts who want to see a decentralised internet.
Risk Disclosure: Trading in cryptocurrencies involves high risks including the risk of losing some, or all, of your investment amount, and may not be suitable for all investors. Prices of cryptocurrencies are extremely volatile and may be affected by external factors such as financial, regulatory, or political events. The laws that apply to crypto products (and how a particular crypto product is regulated) may change. Before deciding to trade in financial instrument or cryptocurrencies you should be fully informed of the risks and costs associated with trading in the financial markets, carefully consider your investment objectives, level of experience, and risk appetite, and seek professional advice where needed. Kalkine Media cannot and does not represent or guarantee that any of the information/data available here is accurate, reliable, current, complete or appropriate for your needs. Kalkine Media will not accept liability for any loss or damage as a result of your trading or your reliance on the information shared on this website.