Highlights

Numerai hedge fund's Numeraire crypto is already listed on Binance and Coinbase
The native NMR token is rising at the moment both in terms of the trading volume and price
With respect to market cap, the NMR crypto is one of the top 200 cryptocurrencies
Can the price of a cryptoasset rise without any reason? Cryptocurrencies are pretty notorious for being too much volatile. However, behind every rise or fall, especially when it is steep, people are keen to know the reason.
TerraUSD, a stablecoin, lost its peg to the US dollar and fell below US$1 after the algorithm that maintained its linkage to the LUNA token collapsed. Bitcoin's price experienced short-term troubles Thursday after Tesla announced it had sold a major portion of its BTC holding. But as of writing, one cryptoasset, Numeraire or the NMR token is rising sharply for apparently no reason.
Let us explore the Numerai ecosystem.
Numerai hedge fund
Can there be any "last hedge fund"? Numerai claims to be one, and it is inviting data scientists to contribute to the vision. Numerai is essentially a hedge fund, but at the heart of all operations, lies decentralisation, the project claims. It describes itself as a data science tournament, where users can submit their predictions about the stock market.
In the document uploaded by Numerai to explain its detailed operations, it is stated that the hedge fund does not trade cryptocurrency. Users of Numerai use data that pertains to the global stock market. No cryptocurrency predictions, it is said, are undertaken.
NMR token
Numerai uses NMR as the utility token. Participants in tournaments conducted by the Numerai hedge fund must stake the NMR token to indicate the "quality of their model". The model refers to the machine learning model that users must build to predict the stock market.
Numeraire crypto is listed on most major exchanges, including Binance, Coinbase, and Crypto.com.
NMR crypto price
NMR crypto is gaining at the moment, with an over 1,000% jump in its 24-hour trading volume. The price is also up almost 50% over the past one day. As of writing, the price per token is approximately US$21, compared to nearly US$15 almost one week back.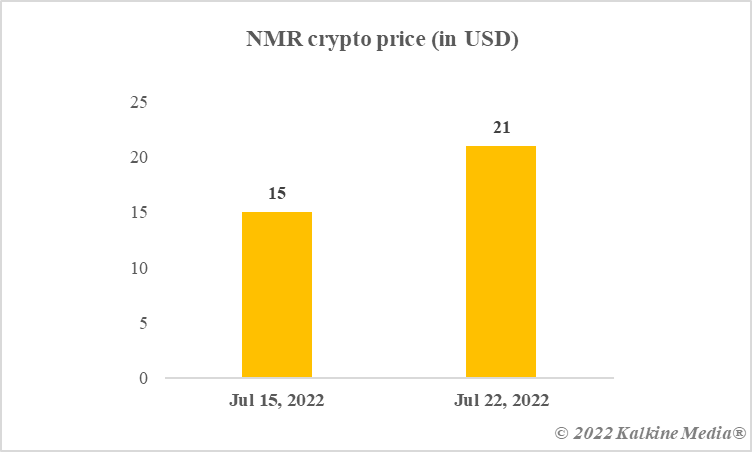 Data provided by CoinMarketCap.com
Also read: Square Enix and Enjin's partnership on NFTs to boost cryptoverse?
Reason behind the rise
There seems no solid backing behind the present rally in the NMR token. Neither there is any new announcement by the Numerai hedge fund, nor NMR crypto is being listed on a new exchange. One reason could be better returns that Numerai claims to provide to its users, but a sudden 50% jump in the price cannot be attributed to this.
Bottom line
This could be an instance when a cryptocurrency is rising for no major reason like a new announcement on operations or listing. This calls for due diligence on the part of crypto enthusiasts, especially at a time when headlines are dominated by the news of the SEC investigating a crypto insider trading case in the US.
Risk Disclosure: Trading in cryptocurrencies involves high risks including the risk of losing some, or all, of your investment amount, and may not be suitable for all investors. Prices of cryptocurrencies are extremely volatile and may be affected by external factors such as financial, regulatory, or political events. The laws that apply to crypto products (and how a particular crypto product is regulated) may change. Before deciding to trade in financial instrument or cryptocurrencies you should be fully informed of the risks and costs associated with trading in the financial markets, carefully consider your investment objectives, level of experience, and risk appetite, and seek professional advice where needed. Kalkine Media cannot and does not represent or guarantee that any of the information/data available here is accurate, reliable, current, complete or appropriate for your needs. Kalkine Media will not accept liability for any loss or damage as a result of your trading or your reliance on the information shared on this website.