Highlights

This year, despite big names like Madonna and Top Gun franchise, NFTs have remained subdued
Cryptoassets have also lost value in 2022, and the same sentiment seems to be shaping the NFT verse
Beeple and CryptoPunk are among the names that dominate the list of most expensive NFTs sold so far
Are non-fungible tokens (NFTs) competing well against their close cousin cryptocurrencies? A few analysts even suggest that NFT assets are paving their own path. The past big-ticket transactions in the space, including that of some assets of Beeple and CryptoPunk, back this theory.
However, the ongoing year has not only wreaked havoc on cryptocurrencies, even NFTs are under pressure. Today, let us turn back the clock to look at how a few of the most popular NFT launches of this year have performed. Could they repeat the success of Beeple and CryptoPunk? Hereunder are three of the most popular NFT launches of 2022.
1. Top Gun: Maverick NFTs
The film starring Tom Cruise drew critical acclaim and also proved to be a resounding box office success. Cruise mesmerised the audiences across the globe as Pete "Maverick" Mitchell in this action flick, which was a sequel to Top Gun (1986).
The release of the film received a boost when linked digital assets were announced. RECUR, an NFT marketplace with minting and transacting features, dropped a limited series of collectibles for Top Gun fans. These collectibles are digital assets featuring helmets used in Top Gun films. The original drop was meant for those who attended a special screening of the film on 24 May 2022.
Tickets could be exchanged for Top Gun collectibles, which could then be preserved by the winner or re-sold on marketplaces like OpenSea. RECUR passholders were eligible for additional perks.
Cut to August 2022, OpenSea has these NFTs listed on its platform. As of writing, their floor price is mentioned as 0.01 ETH tokens. Only 139 owners exist for over 23,000 assets in the collection, which reflects the craze for the Top Gun: Maverick NFT collection is not high.
2. Nickelodeon NFTs
Nickelodeon's digital assets created a lot of buzz in the NFT world this year. RECUR is supporting the minting of these assets. "Nostalgic" characters of series like Rugrats are available in the collection. Further, these collectibles can be traded for "slime". 10 of such slimes can further be traded for what is named as Mashups, a combination of characters.
Nickelodeon NFTs are listed on a separate marketplace, which shows the floor price as US$90, as of writing. The ask price is as high as US$999,999.99, but recent sales show a subdued movement. An asset, Husie #13, has recently sold for US$800, and another, Arnold Shortman #46, for US$333.33. By this measure, Nickelodeon NFTs have fared better than Top Gun: Maverick NFTs.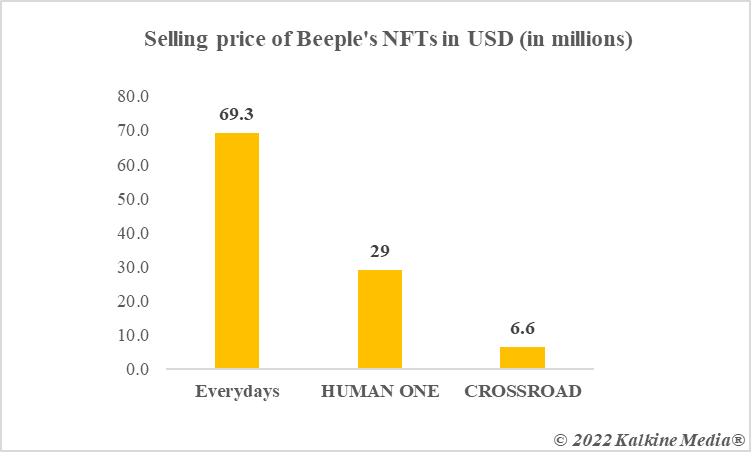 3. Madonna NFTs
From actors like Bill Murray to sportspersons like Coco Gauff, this year saw many famous people entering the NFT world.
Popstar Madonna arguably drew the most attention when she announced the release of her NFT collection. Madonna partnered with artist Beeple, known for his expensive works like Everydays and HUMAN ONE, to launch NFTs on SuperRare. The collection, titled Mother of Creation, had animated videos that also drew criticism for nudity.
According to SuperRare, the last sale price of one of the NFTs was 66.5 ETH tokens, while that of another was 72.05 ETH. This makes Madonna NFTs the most successful among the three, although Madonna's collection has lesser number of assets as compared to the above two.
Past NFT sales
The reason why one can say that 2022 has been dull for NFTs, despite the entry of many popular names, is the prices at which digital collectibles have been sold in the past. Artists like Beeple and Pak have seen their assets being purchased for millions of dollars in auctions. A few of the assets from CryptoPunk and BAYC collections have also had similar success.
Bottom line
As of writing, Bitcoin and Ethereum have both lost more than half their value since the onset of this year. The latest news is Michael Saylor's exit from MicroStrategy's CEO role. He guided the company towards acquiring Bitcoin, but the recent financial results reflect severe losses from these acquisitions. NFTs seem to be reeling from similar sentiments this year despite names like Madonna and Nickelodeon.
Also read: Is Bitcoin to blame for Saylor quitting MicroStrategy's CEO office?
Risk Disclosure: Trading in cryptocurrencies involves high risks including the risk of losing some, or all, of your investment amount, and may not be suitable for all investors. Prices of cryptocurrencies are extremely volatile and may be affected by external factors such as financial, regulatory, or political events. The laws that apply to crypto products (and how a particular crypto product is regulated) may change. Before deciding to trade in financial instrument or cryptocurrencies you should be fully informed of the risks and costs associated with trading in the financial markets, carefully consider your investment objectives, level of experience, and risk appetite, and seek professional advice where needed. Kalkine Media cannot and does not represent or guarantee that any of the information/data available here is accurate, reliable, current, complete or appropriate for your needs. Kalkine Media will not accept liability for any loss or damage as a result of your trading or your reliance on the information shared on this website.