Spread of COVID-19 is growing on a global scale and the impact of this infectious disease is expected to be more prolonged. Globally, governments including Australia's government have imposed travel bans and implemented stricter measures like social distancing, in addition to rolling out hygiene guidelines and advising people to stay at home, as part of their efforts to stop the virus spread.
As on 24 April 2020, Australia has a total of 6,661 confirmed cases of COVID-19, with total death count of 75.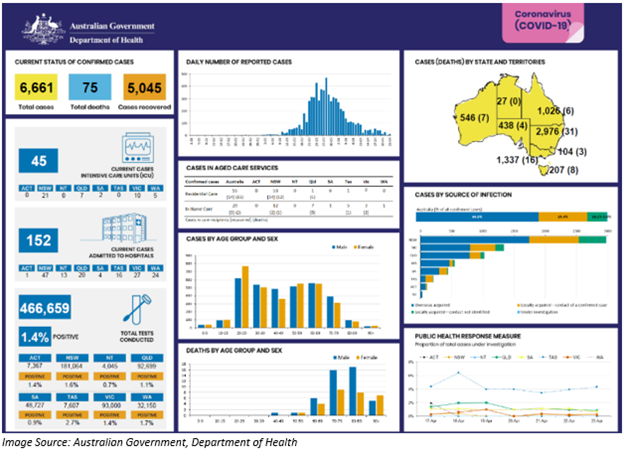 Must Read: Coronavirus: The Grey Or Black Swan?
Australian Technology Companies amid COVID-19
At the time, when coronavirus pandemic has hit almost every sector, investors who had parked their funds in growth stocks are also worried regarding its impact on the growth rate of several of these highly valued stocks, which are now nearing their lower level.
However, given the current scenario, there are few segments that seem to be doing pretty well such as IT. There has been a fundamental change in the criticality of software amidst the coronavirus pandemic. As most of us are in a lockdown state, software is enabling businesses to run their operations from remote location and helping employees to stay connected while meeting their work commitments. As a result, demand for software and other technologies that facilitate employees as well as employers to work from remote locations is growing. For example, an increasing number of people are using software like Zoom for videoconferencing or online classes.
Cloud computing in the present scenario is playing a significant role, as majority of the businesses now depend on the subscription-based model to access technology.
In this situation, majority of people are working from home, with number of activities going online, including shopping, gaming, payment, training and education. Even the Government is making use of technology to track the coronavirus cases with the help of new applications.
Interesting Read: Battle Against Novel Coronavirus Goes High-Tech
On a year-to-date basis, as of 23 April 2020, S&P/ASX 200 Information Technology (Sector) has delivered a negative return of 17.17%, while the benchmark index S&P/ASX 200 has generated a negative return of 20.97%, highlighting that the Information Technology sector surpassed the benchmark index during this time frame.
However, even in the IT sector, there are small technology companies that are in the growing stage and are thus, experiencing challenges, as in the present scenario, they are not able to get any capital assistance from angel investors or via private placements. Also, some of these small companies and high-growth tech players are not eligible for government stimulus packages like the JobKeeper payment.
$130 Billion JobKeeper Payment Program
Government is making every effort to support households & businesses as well as addressing the significant economic impact of the coronavirus. Though it is quite difficult to predict the full economic impact at present, the Government recently reported that the outlook has worsened since the initial Economic Response announced on 12 March 2020.
As several businesses are severely impacted by the COVID-19 outbreak and unable to retain their employees, the Australian government declared a $130 billion JobKeeper payment program to help keep Aussies in job and support the affected companies.
Roughly 6 million employees would be receiving a fortnightly amount of $1,500 (before tax) from their employers. Through this payment, the eligible employers would be able to stay connected with their staff and would support the businesses once the crisis gets over.
The objective of the JobKeeper Payment is to support the businesses to retain jobs, keeping Australians in work as well as companies in business to support a stronger economic recovery once the COVID-19 crisis is over. However, it is a temporary scheme announced by the Government for those companies that are severely impacted during the coronavirus crisis. The payment of $1500 would be paid till 27 September 2020.
Eligibility criteria for availing JobKeeper Payment
Employers, as well as not-for-profits, would be eligible for the subsidy if at the time of applying the below-mention conditions are met.
The aggregate turnover of the business is less than $1 billion. Also, in case, the turnover has dropped or is expected to decline by 30% or more than that;
The business has an annual turnover of $1 billion or above (for income tax reasons), with estimated decline of 50% or more;
The business is not subject to the Major Bank Levy.
For those who are self-employed would be eligible for the JobKeeper Payment in case they fulfil the relevant criterion and are not a permanent worker of another employer.
Emerging Tech Players Need Rescue Packages Too
Government has no doubt taken a major step towards bringing back the economy on track by introducing stimulus packages and JobKeeper payment for those companies that fulfil the mentioned conditions. However, there are various companies in the IT sector whose turnover is less than $20 million. These companies are small start-ups that are in the expansion phase and require additional funding, as during this period, many angel investors have stepped back to fund these companies.
In many cases, small financial technology and other It sector players have taken measures to reduce their cost involving staff termination.
The technology sector has a brighter future in the coming decade. In the present scenario, many businesses rely on the technology sector, so that their employees can operate from a remote location, thus acting as the backbone to most of the businesses. However, it seems they have been left out of the government support packages.
According to few market specialists, the eligibility criteria in the JobKeeper payment program need to be re-reviewed to make few adjustments in order to fit in companies like smaller fintech players and other early stage players in the IT sector.