In this article, we discuss three investment management businesses on ASX. Due to market volatility, the funds under management of the investment management businesses are hitting lower levels, primarily due to market movements.
Let us see how these companies are stacking up amid COVID-19.
Pendal Group Limited (ASX:PDL)
Pendal Group has released half year results for the period ended 31 March 2020. PDL has declared 10% franked interim dividend of 15 cents per share to the shareholders in records on 22 May 2020 payable on 1 July 2020.
Its statutory net profit after tax for the period was $54.8 million, down by 21% over the pcp. A sharp fall in profits was due to mark to market losses on seed investments due to market fall in March.
However, the Company's cash NPAT increased 2% to $86.6 million as against $84.5 million in the pcp. Its operating revenue was flat at $243 million and cash EPS increased by 1% to 26.8 cents per share as against 26.6 cents per share in the pcp.
It was said that the 2H20 funds under management are materially lower than average funds under management in 1H20. PDL continues to invest in operational capabilities.
The Company is committed to long term growth initiatives, which includes ESG and Responsible Investing. It is actively positioning for challenges to construct portfolios that could capitalise on the arising opportunities in the environment.
In April, the Group reported the quarterly update for the period ended 31 March 2020. Its funds under management closed at $86 billion, indicating a fall of 15.2% compared to the end of previous quarter.
Despite markets falling between 24.9% to 21.4% during the quarter, the Group's assets only fell around 15% - indicating the benefits of diversification across products and markets.
Pendal CEO, Emilio Gonzalez noted that markets reacted severely to the COVID-19 pandemic during the quarter. As a result, the client sentiment, fund flows, and currencies were deteriorated due to the uncertainty of the extent and duration of the pandemic, which has impacted businesses, global economy and markets.
Pendal's diversified business had resulted in varied impacts across its markets, funds and currencies. Due to currency movements, the funds under management of the business were impacted favourably by $4.2 billion.
Most of the fall in the funds under management was due to market movements. During the quarter, the Group experienced net outflows of $3.9 billion, of which $1.3 billion redemption was related to Westpac superannuation platform consolidation.
Mostly the outflows were in cash and fixed income products by the institutional clients, which undertook portfolio rebalancing. It was said that fund flows in the wholesale channel were steady.
Pendal's defensive strategies have performed well during the period. Its business resilience is augmented due to diversified product base which includes multi-asset, growth, value, defensive and fixed income funds. The group has a debt free balance sheet.
On 11 May 2020, PDL was trading at $6.15, up by 6.95% (at AEST 2:47 PM).
Perpetual Limited (ASX:PPT)
Perpetual has recently presented at Macquarie Australia Conference. It said, the business is diversified and well supported by balance sheet strength, brand & client relationships.
Its diversified business model provided some protection from recent market volatility. The asset manager said that unlike 'pure play' asset managers, approximately 40% of total revenues are not directly linked to investment markets.
The Company's non-market linked revenue drivers include real asset values, new clients, credit system growth, debt markets and investment flows into real assets from domestic and global fund managers.
Perpetual Investments and Perpetual Private market revenues were impacted by the steep COVID-19 related market declines in March. However, it has seen some of these declines reverse as markets rebounded in April.
In April, the Company provided third quarter and business update. At the end of March 2020, the total base capital requirement for the business was $169 million, and the Company has $305 million in available liquid funds. Due to COVID-19, the Company has identified further opportunities to cut costs and now expects expense growth of 2.5-3.5% in FY20.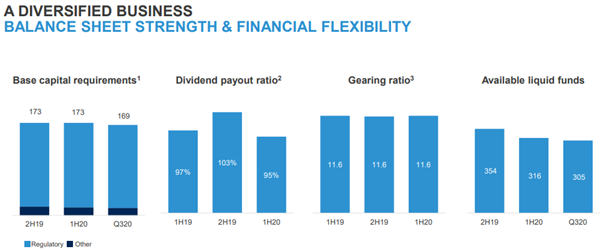 Source: Company's report
At the end of March 2020, Funds under management of Perpetual Investments were $21.4 billion, 19% lower than the previous quarter end. The asset management business experienced net outflows of $0.8 billion and most of the lower assets under management were due to market movements.
In January, the company had announced the acquisition of Trillium Asset Management and is on track to complete by 30 June 2020. PPT is working to launch the Australian domiciled funds.
Funds under advice of Perpetual Private were lower by $2 billion to $13.2 billion by the end of quarter. Average funds under advice for the quarter were $14.9 billion. The private business has started to see benefits cross referral from the recently acquired Priority Life business.
Perpetual Corporate Trust had a Funds Under Administration of $782.9 billion compared to $772.2 billion at the end of December 2019. Its debt market services won several new securitisation deals, and managed fund services continued to benefit from the growth in real asset investments.
On 11 May 2020, PPT was trading at $30.26, up by 0.332% (at AEST 3:02 PM).
VGI Partners Limited (ASX:VGI)
In April, the Company convened its 2020 Annual General Meeting. It was also the first AGM of VGI since listing on ASX last year. Robert Luciano, Executive Chairman of VGI, said the company achieved several milestones last year, including the listing on ASX.
Management had chosen IPO to available only to the VGI fund investors, which had invested in the funds for over a decade. The company raised $300 million for VGI Partner Global Investments and $550 million for VGI Partner Asian Investments.
VGI continued to deploy capital into whole business, including investments, operations, finance and investor relations. Its funds under management grew $3.1 billion largely due to IPOs of listed investment companies.
In 2019, the management fee rose to $32 million due to growth in funds under management, and the Company realised performance fee of $37 million. VGI made normalised net profit after tax of $33 million and declared fully franked dividends worth 34.9 cents per share.
Since COVID-19 has become mainstream, the staff has been working remotely across locations. Mr Luciano noted that this crisis is different to the past ones he has experienced.
Due to the volatility, VGI has bought into business that it wanted to buy, while short positions and cash weightings have been increased over the past months.
On 11 May 2020, VGI was trading at $9.9, up by 1.227% (at AEST 3:10 PM).