'Safe-haven' is a term used for blue chip companies because these are steady stocks and investment for gaining profits in the long-term can be done through them. As the world is undergoing a severe turmoil induced by COVID-19 presently, the perspective towards blue chip stocks remain considerably positive.
It is believed that as the market will revive from the economic downturn, the blue-chip companies will be the first one to restore its trading position. Blue chip companies are fundamentally strong as they have a good history of financial, dividend distribution, long term income recurring projects and faith of shareholders.
Interesting Read: Are ASX Blue Chips Safe Harbour Stocks- SHL, TWE, WES
Let us have a look at 5 stocks: BHP, RIO, MQG, ANZ, CSL
BHP Group Limited (ASX:BHP)
Founded in 1851, BHP Group Limited is into extraction and processing of minerals, and oil & gas. The Company produces some of the main commodities, such as iron ore along with many more. Its other significant interests lie in gas, oil, and energy coal. With headquarters in Melbourne, Australia, BHP's products are sold across the world. Sales and marketing of BHP are led through the United States and Singapore.
BHP mentions that it aims to deliver exceptional performance on a continuous basis in the competitive and dynamic world. Further, the Company intends to be the best operator in the sector by delivering consistent financial returns and social value.
BHP declared fully franked interim dividend of US 65 cents for 6 months period ending 31 December 2019. Dividend payment of USD 3.3 billion as shareholder returns was made on 24 March 2020. This was an increase of 18 per cent from previous corresponding period of USD 55 cents. Since 2016, the total returns to shareholders in terms of share buy-backs and dividends was USD 33 billion.
BHP had a strong Return on Capital Employed of 19 per cent in 1H FY 2020. The Company intends to enhance its ROCE at every asset.
Also, in third quarter results for the period ended 31 March 2020, the Company provided a short-term economic outlook. During the third quarter period, from Western Australia Iron Ore and Caval Ridge, record production was attained, and record ore was stacked at Spence. At Escondida, a record average concentrator throughput was achieved.
On 22 May 2020, BHP last traded at AUD34.32, down by 0.551% from its last close.
Rio Tinto Limited (ASX:RIO)
A metals & mining company, Rio Tinto produces materials which are vital for the progress of human beings. The Company's business includes a portfolio of assets which aims to create strong cash flows.
Regarding the situation wrought by COVID-19, RIO mentioned that it is evaluating all opportunities for its operations to adjust with the changing market conditions. During the unprecedented time, Rio Tinto continues to maintain its associations with governments, suppliers, customers, and shareholders. Rio Tinto continues to be a resilient organisation while maintaining a strong balance sheet as reflected through its financial performance.
In the last 4 years (2016-19), the EBITDA margin stood at 43 per cent and ROCE at 18 per cent. RIO made a capital investment of USD18 billion, paid USD23 billion of taxes and royalties, and USD36 billion as buy backs and dividends.
All assets of the Company are operational as indicated in 1Q FY 2020 results for the period closed 31 March this year. Iron ore production was 73 mt (100% basis), an increase of 5 per cent on yoy basis. Bauxite production increased by 8 per cent on pcp basis, to 13.8 mt. The Company also paid USD3.7 billion as dividend to its shareholders in April.
Guidance: With capital expenditure of USD5.5 billion in FY 2019, RIO anticipates it to lie in the range of USD 5 - 6 billion in FY 2020 (although the earlier guidance was of USD7 billion).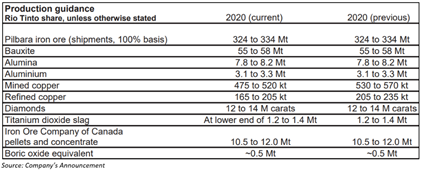 On 22 May 2020, RIO last traded at AUD91.33, down by 1.996% from its previous close.
Macquarie Bank Limited (ASX:MQG)
International financial services group, Macquarie Bank functions in the space of wealth management, asset management, leasing and asset financing, commodity trading, retail and business banking, market access, and many more. MQG presently operates through 31 markets and was founded in 1969.
As a response to COVID-19 situation, more than 98 per cent of MQG's workforce is working remotely. The Bank has more than 100 million daily users of essential services. As at 31 March 2020, Macquarie had total assets of AUD 255.8 billion.
Net profit for FY 2020 for the period ending 31 March this year was AUD 2,731 million, reflecting a dip of 8 per cent on FY 2019. Net profit contribution from annuity-style activities and markets-facing activities were 63 and 37 per cent, respectively. Annuity-style activities includes Macquarie Asset Management (MAM), and Banking and Financial Services (BFS). Markets-facing activities include Macquarie Capital (MacCap). Commodities and Global Markets (CGM) is included in both the activities. The contribution of these bifurcations in the total net profit is as follows.
Annuity-style activities – MAM contributes 40 per cent, BFS and CGM shares in the total net profit is 14 per cent and 9 per cent, respectively.
Markets-facing activities – Contribution of CGM and MacCap in net profit accounts to 23 per cent and 14 per cent, respectively.
Assets under management (AUM) were AUD 606.9 billion at 31 March 2020 as compared to AUD 551.3 billion at 31 March 2019. This rise in AUM was driven through acquisition by MAM, FX movements, and other factors.
On 22 May 2020, MQG last traded at AUD102.62, down by 1.289% from its last close.
Australia and New Zealand Banking Group Limited (ASX:ANZ)
Financial services provider, Australia and New Zealand Banking Group Limited is amongst the top four banks in Australia and one of the largest banking groups in New Zealand. ANZ is headquartered in Melbourne, Australia.
On 30 April, in its 6-month result ending 31 March this year, ANZ mentioned that it had entered the COVID-19 induced situation with a solid position - operationally, financially, and culturally. The bank's CFO, Michelle Jablko stated that there were three key pillars that protected its balance sheet, namely funding, capital, and liquidity. He further mentioned that after four years of balance sheet decisions and conservative portfolio, it has a credit reserves of AUD 1.7 billion.
ANZ had deferred the decision on its interim dividend distribution due to the uncertainty in depth of economic impact. On outlook front, ANZ continues to focus on execution discipline, strategic clarity, and prudent risk settings. Bank provided its priorities as follows.
Investing for the long term
Dynamic pricing of risk
A prudent approach to risk and capital
Operational agility
Focus on liquidity
Staying close to customers
Continued focus on productivity
To be prepared for future amid COVID-19, the bank adopted following initiatives.
Provided AUD 4 billion lending (pre-approved) to 35,000 small businesses in Australia having existing transactional accounts.
For future opportunities, ANZ is fast-tracking digital investments and analysing customer behaviour.
The bank provided AUD 16 billion as extra lending to its institutional customers having long-term investment-grade.
On 22 May 2020, ANZ last traded at AUD15.23, down by 1.04% from its previous close.
CSL Limited (ASX: CSL)
Health care provider, CSL Limited develops, manufactures, and markets the diagnostic and pharmaceutical products. CSL was founded in 1916 and currently distributes its products in over 70 nations. The Company product portfolio includes medicines to treat haemophilia and immune deficiencies, and vaccines to prevent influenza.
The Company has two prime businesses, namely CSL Behring and Seqirus which are into business of biotherapeutics and influenza virus, respectively.
On 7 May 2020, CSL updated the market that it had priced a new private placement of USD 750 million. The placement has an average life of 11.5 years and a weighted average interest rate of 2.68 per cent. CSL stated that the proceeds raised from the new debt would be utilised for general corporate reasons. The debt issue had been planned to close in late May. CSL mentioned that it would strengthen the Company's current debt maturity profile.
The placement comprises of 4 maturities (as indicated in the table below).
CSL possess a strong capital position with an estimate of around AUD1.1 billion of available liquidity. Also, the profit guidance for FY 2020 is reaffirmed, which is to lie in between AUD2,110 million to AUD2,170 million. The Company is taking several initiatives to mitigate the risk arising from plasma collections.
On 22 May 2020, CSL last traded at AUD290.93, down by 2.363% from its last close.