Index
"We will not be going back to the "old normal". The pandemic has already changed the way we live our lives."- WHO Director-General Tedros Adhanom Ghebreyesus.
There is comfort in the fact that contemporary companies are rising to the challenge in extraordinary ways to address business and humanitarian needs during the ongoing testing times. As companies prepare to compete in the 'new normal', who will emerge stronger? While time answers this question, interestingly, a number of companies from all across the world have gone from strength to strength and exceeded market expectations amid COVID 19.
Healthcare companies have global attention as they thrive on generating the elixir-in-need in the form of a vaccine and technology companies have shone owing to accelerated trend towards digitalisation and work-from-home policies, whereas retailers have propelled as they constantly work to meet basic consumer demands.
Let us cast an eye over companies in various countries and sectors that continue to be market darlings in the dismal year of businesses-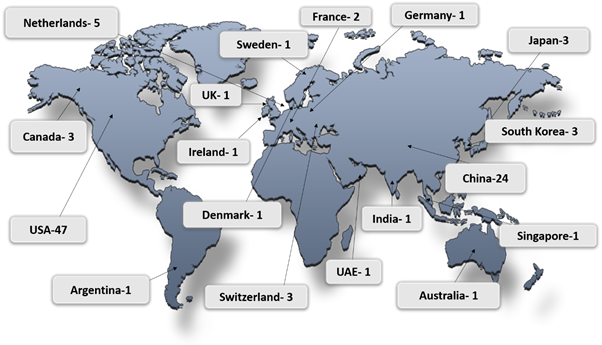 No of Companies that have thrived during COVID-19 based on geography
E-commerce Business
The pandemic is truly transforming e-commerce businesses as time-saving traits and efficiency of this sector are here to stay. Stay-at-home orders will eventually be lifted, but millions of consumers are creating and reinforcing new online buying behaviors and habits as social distancing may sustain a long time, at least until a vaccine is available.
Consequently, consumers are motivated more than ever to stay home and shop online, that creates the ideal market conditions to accelerate, test, and launch new experience-driven mobile apps and sites. As for companies, the pandemic has brought along a hoard of business opportunities. So much so, e-commerce king Amazon's Jeff Bezos recently set a new record as the world's richest person, with a net worth above USD 171 billion.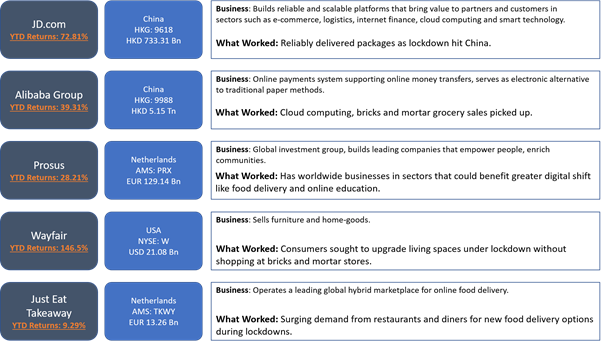 Technology Sector
The pandemic rescue sector, technology is at disposal with its service to salvage and help people manage their work from home and attend official meetings or video conferences via virtual tools like Zoom or Microsoft Teams. Moreover, as social distancing continues to be one of the strictest pandemic norms, students have been learning via e-learning platforms, consumers order essential items online, and entertainment source is online streaming apps like Netflix and Amazon Prime.
Quite literally, technology has a hold across various sectors, be it media, health, retail or education, offering numerous services like video chat services, automation of devices and cloud computing, and have precisely kept the desolated economies humming in a way that would have been impossible in the past.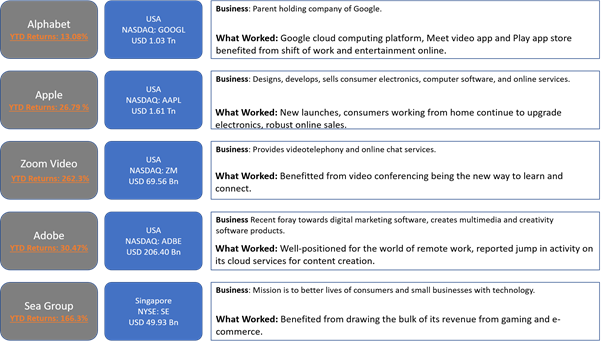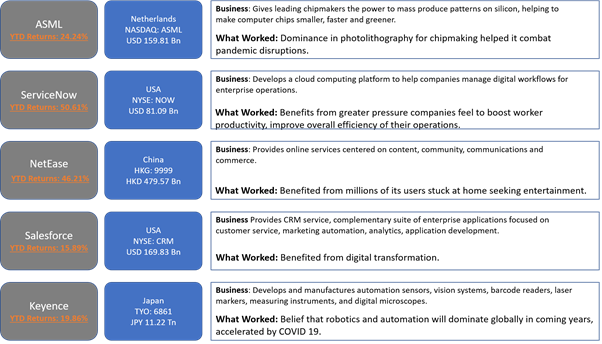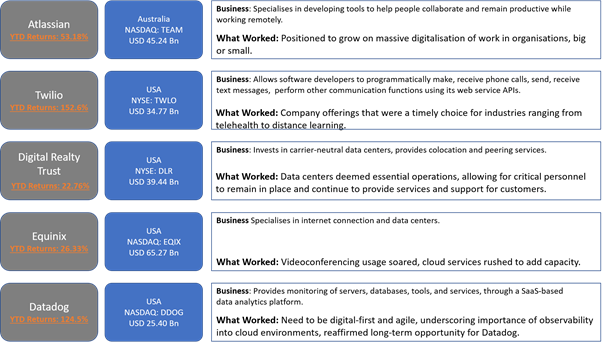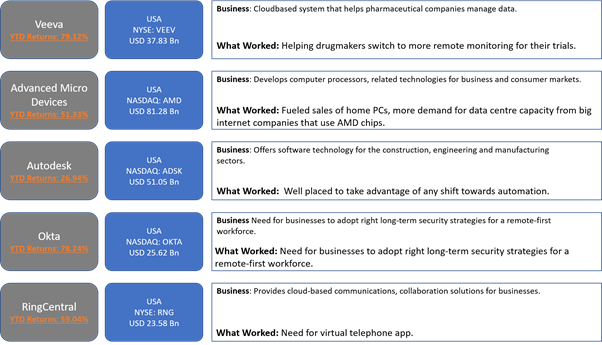 Healthcare Sector
As the old maxim suggests, health is wealth! Has medical science of today's contemporary world been given the hardest test in medical history? Or better put- our medical scientists, researchers and doctors have been given a chance to use their abilities and capacities to their maximum potential.
With the spread of novel coronavirus being rightly deemed a major public health threat for affected countries, the health industry has been on its toes, fully supportive of efforts that will ensure that medical science community responds quickly to challenges that this pandemic represents. For instance, Gilead Sciences stole the show when its Remdesivir was deemed the only branded drug approved for treating infected patients.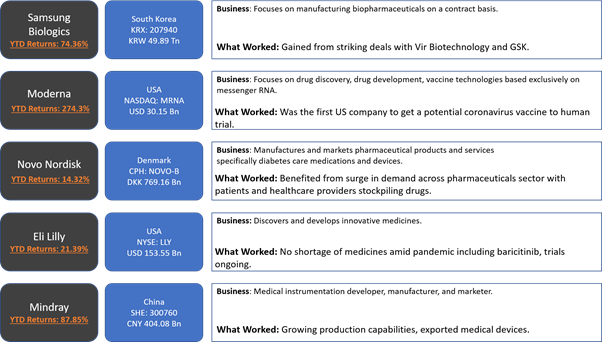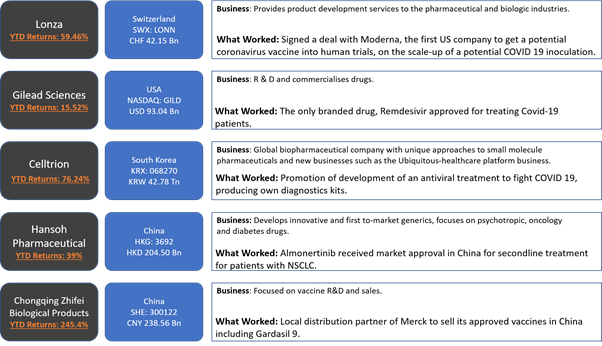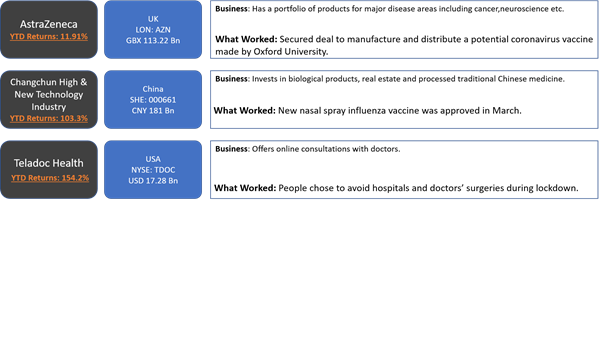 Retail Sector
The global response to COVID 19 has fundamentally changed the reality for retailers believing that it is time to face the fact that change is the only constant and adapting to it is the key to sustain and survive. The huge rise in digital commerce, consumers shopping with greater awareness of the environment, health and cost, preferring locally sourced products, changes in income and leisure time, influence in attitudes and behaviors- all are important metrics for retailers.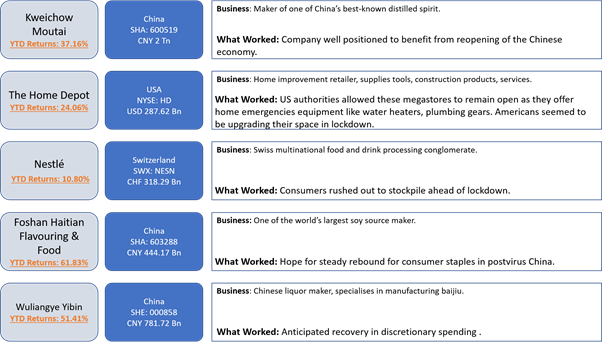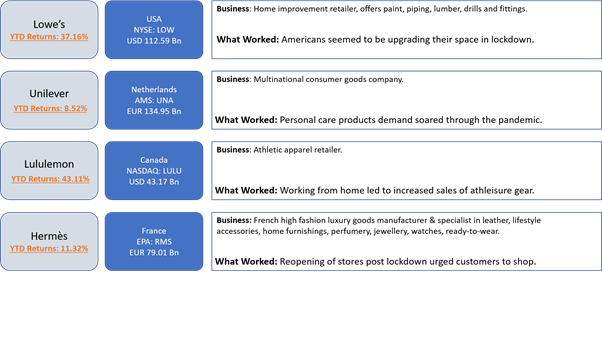 Financial Sector
COVID-19 could be one of the most serious challenges faced by the financial services industry in decades. For instance, impact on banking could be severe with fall in demand, lower incomes, production shutdowns, exacerbated by staff shortages, inadequate digital maturity and pressure on the existing infrastructure.
However, strategic response across immediate, short and medium-term by adopting suitable digital technology enablers and innovations underpinned by agile delivery models holds the key for the financial sector to sail through.
Gold Mining Companies
Gold has been on a strong footing since the onset of the year 2020. Even before the pandemic fear engulfed the world, gold was witnessing a strong buying interest from global ETFs and central banks. Post the COVID-19 pandemic, the rush to gold buying further accelerated. The central banks' money printing has also worked in favour of gold and current trading near life highs at USD 1933.75 (as on 28 July 2020). Gold stocks have outperformed the market and continue to flourish.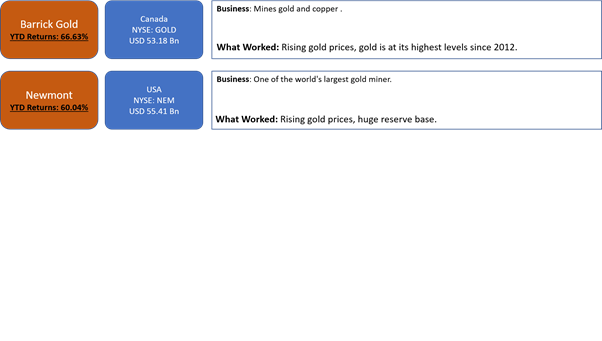 Miscellaneous Businesses
COVID-19 has also seen various other sectors experiencing structural changes in their favour such as telecom- data consumption has gone up due to work-from-home cases, electrical vehicles sales have seen traction, many strategic logistics companies have benefited from the uptick in online sales, etc.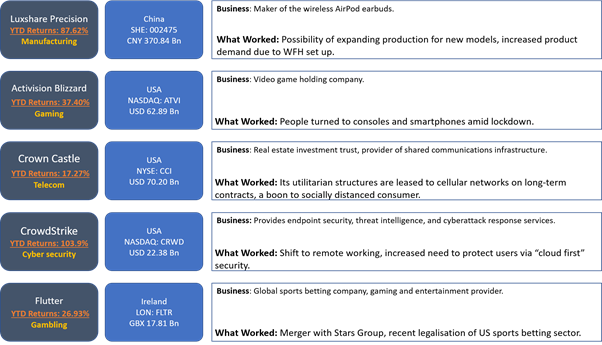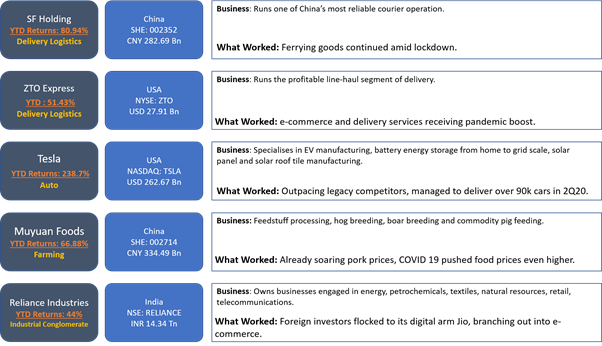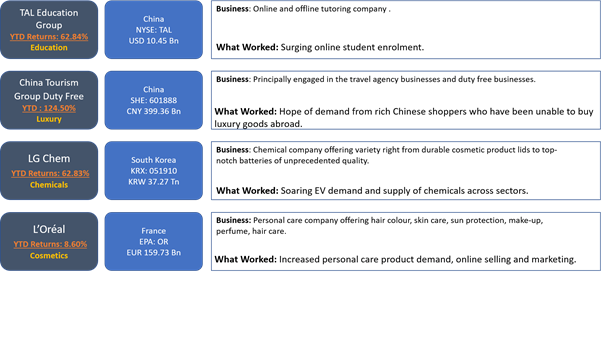 This pandemic has brought the focus back on the underlying businesses model that is structurally sound, supported by good balance sheet and management to execute the plan. The first half has been a mixed bag for businesses; some have been dealt with severe blow while for some businesses this has been a silver lining. Eyes are all set on vaccine development, so that the world can get back to its usual means or is this the new normal?