Falling oil prices, a stalling fuel demand in the domestic market and a narrowed profit margin of shuttered refineries explains the current operating scenario of oil and gas companies in Australia.
Amid such austere market situation coupled with other political parties preferring renewable energy, announcement of Keith Pitt, Minister for Resources, Water and Northern Australia, comes as a market shocker. In an event organized by Queensland Resources Council, Mr. Pitt has pressed for more investment in the Australian oil and gas sector.
The announcement is completely aligned with the government's priority for strengthening the energy sector and accordingly meeting economic goals, domestic energy supply and reducing greenhouse emissions.
Let's study in detail how the oil industry is faring with respect to supply & demand, politics & policies.
The Supply-demand Gap
Australia has been experiencing a continuous decline in domestic production of oil, making Australia largely dependent on imported oil, thus questioning the oil security of the nation.
Australia currently imports ~ 90% of its refined fuel demand and has a severe oil storage issue. According Australian government, at the end of February, the country had eighty one days' oil supplies, including twenty five days of stocks in overseas ports and in transfer to the counytry.
This actually puts Australia in a very vulnerable position for meeting domestic fuel demand, in case the effect of the Pandemic intensifies, and the domestic reserves get used up.
To address this issue, on March 10, the Australian government bought $94 million worth crude oil to boost the national fuel reserve, leveraging the low oil prices. The US deal also got access to store in the US Strategic Petroleum Reserve (SPR) for an initial period of 10 years. This measure ensured Australia meets its 90 day stockpiling commitment to IEA.
However, the measure alone doesn't solve the problem of meeting domestic demand as the reserved fuel located at the US will take weeks to reach Australia if need arises.
To further solidify its domestic fuel reserve, the federal government announced a fuel security package on 1st May which includes the US deal of establishing oil reserve for domestic fuel security. In the package, the government also emphasized on creating local storage options by collaborating with the private sector and considering a temporary change to fuel standards.
New Oil fields, Exploration expenditure and Investments
With 90% oil being imported, the discovery of oil in the Dorado field has changed the oil production landscape in Australia. According to Wood Mackenzie, an oil and gas consultancy firm, the Dorado 2C contingent oil resource has 171,000,000 barrels of oil, just behind Wanaea resources and the Barrow Islan. Post the discovery, several companies have taken acreage in off-shore projects in Western Australia with more activities being witnessed in other blocks.
Santos Ltd (ASX:STO) along with its JV partner Carnarvon Petroleum Limited (ASX:CVN) is operating a project called Dorado oil & gas JV development offshore WA. They are currently entering the FEED Phase and are awarding pre-Front End Engineering Design (pre-FEED) contracts to three leading contractors for Floating Production Storage and off-take (FPSO) vessel and well-head platform (WHP) work advancement. The contract allows the Dorado JV project to be on schedule.

In 2018, Santos announced to acquire 100% of Quadrant. It included 70-80% interest in the Phoenix project
Carnarvon held 20-30% interest in the four associated permits comprising the Phoenix project, including the Dorado, Roc and Phoenix South discoveries
In July 2019, Woodside Petroleum Limited (ASX: WPL) started producing at its $1.9 billion Greater Enfield oil project. The company is expected to produce 60,000 bpd at full capacity
Woodside has a 60% stake in the Greater Enfield project while the remaining 40% is owned by Mitsui E&P Australia Pty Ltd, a subsidiary of Japanese trading house Mitsui & Co
Exploration expenditure and Investments
According to Australian Taxation Office, exploration expenditure means expenditure on exploration or prospecting. According to the latest statistics from Australian Bureau of Statistics:
Total petroleum exploration expenditure rose 11.0% to $40.8 million from $410.1 million in the December quarter 2019.
Exploration expenditure incurred on production leases increased by 37.6% to hit $30.7million with exploration expenditure on all other areas recording a 2.3% increased to reach $6.7 million
Queensland recorded the highest contribution towards exploration expenditure, up by 21.5%. However, Northern Territory becomes the largest contributor to the rise in expenditure, increase by 63.6%, based on seasonally adjusted estimate
Petroleum Exploration Seasonally adjusted and trend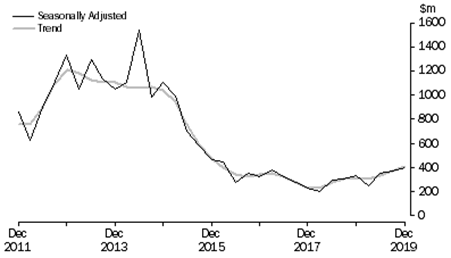 Source: ABS
In a recent event, Mr. Pitt called for more investments in the oil and gas sector. In alignment with government's objective to boost the oil and gas sector, the government had already invested $8.4 million in the Beetaloo basin in the Northern Territory to develop more gas and potentially oil. The project is set to boost the local economy by bringing employment and business opportunities in the north.
Regulation and politics
The Government of WA has been regulating the O&G industry since the early parts of 1900s, when the first onshore/offshore drilling started in Australia. The bill that regulates the offshore petroleum activities is called the Offshore Petroleum and Greenhouse Gas Storage Act 2006 (Cth),and it is are applicable to both conventional and unconventional petroleum development.
All exploration and production of oil in Australia is undertaken by the private sector
The Australian Government and Preference for Renewables by oppositions
In Australia, there is an ongoing debate over green recovery which includes green energy investments. The Australian Greens (The Greens), a federation of Green state political parties in Australia, launched an 'Invest to Recover' plan that intends to push the economy through green investments, growing new industries and create new jobs in the private and public sectors. Independent Warringah MP Zali Steggall is set to present her Climate Change Bill to parliament. The bill will establish a net zero emissions target.
These green recovery themes and climate change legislation are completely aligned with the Paris climate act. Australia is a signee of the Paris climate act which requires acting steadily to limit global warming to less than two degrees Celsius.
However, there is a disconnect here as the government is focused on creating fuel security and is promoting oil and gas investments in Australia, which will aggravate CO2 emissions. The government is trying to offset the CO2 emissions by urging oil exploration companies such as CVN and WPL to invest in carbon reduction projects. The government is also redefining a $2 billion climate fund which includes supporting technologies for carbon capture and storage, thus elating the fossil fuel industry groups and demoralizing the green groups as it weakens renewable energy projects.
Disclaimer: All the currencies mentioned are in AUD unless specified