Diversified Australian firm, BPH Energy Limited (ASX: BPH) is advancing well in the biotechnology space backed by unparalleled growth-driven business strategy and sound management team.
BPH holds investments in multiple sectors, including biotechnology (Molecular Discovery Systems and Cortical), resources (Advent Energy Ltd) and medical cannabis (Patagonia Genetics Pty Ltd).
Commercialising a portfolio of biomedical technologies sprouting from combined research by renowned universities, hospitals and medical colleges across the country, the company is flourishing with its strategic investments in Cortical Dynamics Limited and Molecular Discovery Systems. The company owns 4.56 per cent share in Cortical, with a right to increase the share to up to ~14 per cent.
Cortical Dynamics – A Stand-Out Star in Med-Tech Space
Cortical's Brain anaesthesia Response Monitoring System known as "BARM" uses an algorithm based on physiological principles, in comparisons to the empirical principles used by the current global market leading depth of anaesthesia monitors to analyse an individual's brain waves through EEG and provides two indices:
CCS: Measure of hypnosis (unconsciousness)
CI: measure of analgesia (pain)
BARM calibrates anaesthetic monitoring specifically to the individual patient rather than using a statistical average which its major global competitors BIS & E-Entropy do. BARM also monitors a wider range of drugs than BIS and E-Entropy.
Cortical after recently having their manufacturing facility in Scoresby, Victoria audited by South Korean auditors are pleased to announce that their distributor, Globaluck, who are the exclusive distributor of Cortical's BARM in South Korea, received their KGMP certificate of approval for BARM (Class II Medical Device) from the Korea Good Manufacturing Practice (KGMP) on the 25th September 2019. Cortical's BARM has TGA approval and CE.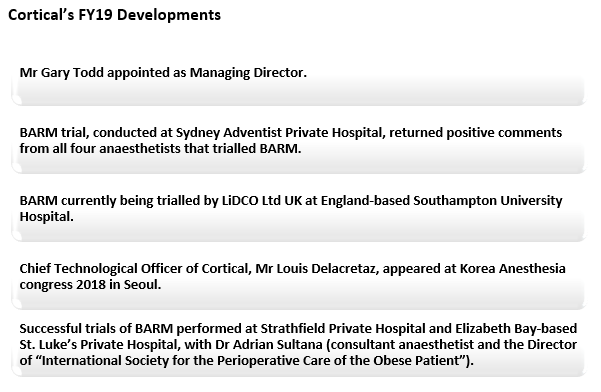 BARM - A Paradigm-Busting Technology
It has been reported that one in one thousand (1/1,000) patients a year have been reported to 'wake-up' during operations and such occurrences are regarded as catastrophic events which can have both serious physical and psychological ramifications for patients.
Too much anaesthesia administered to a patient could result in post-operative complications, extended stays in hospital, Personal distress and discomfort for patients ranging from slow recovery to severe conditions including PTSD.
Around 37 to 46 per cent of surgical patients suffer from postoperative delirium, which could rise to 87 per cent contingent on procedure and age. Postoperative delirium costs around $US 164 billion per annum to the US Healthcare System.
BARM addresses this significant unmet need, aiding anaesthetists in administering optimal dosages of anaesthesia to patients.

What makes BARM stands out?
Cortical's BARM system provides a significant competitive advantage in the medical technology space.
There are many EEG based monitors available in the market, but they come with the following well-documented limitations:
Incompetence to measure several hypnotic agents.
Inability to gauge awareness in totally paralysed patients where muscle relaxants are employed, that usually happens in around 50 per cent of all operations.
Inept scrutinizing of analgesic effects.
BARM's distinctive advantages to the current global market leading depth of anaesthesia monitors of E-Entropy from GE and BIS from Medtronic can be viewed in the comparison table below.
Vibrant Market Opportunity Ahead for Cortical
Currently, the demand for EEG devices among healthcare providers is rising substantially. The global brain monitoring market spawned about $US 3.8 billion in 2017 and is likely to flourish further to reach $US 1.6 billion by next year. Moreover, the pain monitoring market is predicted to grow to over $US 8 billion.
With about 312 million anaesthesia-based major surgical procedures conducted every year worldwide, there are exciting market opportunities ahead for Cortical.
Moreover, there are substantial market opportunities for Cortical in Europe alone in the Total Intravenous Anaesthesia (TIVA) market. Within Western Europe there are approximately 29 million major surgery cases annually with anaesthesia, of which:
55% (circa 16 million) are anaesthesia using a combination of intravenous agents such as propofol for induction and volatile gases for maintenance.
20% (circa 6 million) are Total Intravenous Anaesthesia (TIVA). When an anaesthetist is using TCI (Total Controlled Infusion)/TIVA on their patients, it is highly recommended that they use a depth of anaesthesia monitoring device.
This creates a sizeable market opportunity for Cortical in Europe of between $US 120 million to $US 330 million.
In a nutshell, there are abundant market opportunities for Cortical, that would enable the company to expand its footprint across Australia, New Zealand, Europe, Asia, UK and the USA. Cortical's unparalleled business strategy for success in the brain monitoring market is likely to illuminate BPH Energy's growth prospects further.
BPH is currently trading at AUD 0.0010 (at 2:32 PM AEST on 22nd November 2019).
(Source of information provided by the client: BPH Energy with excerpts from Cortical Dynamics).
---
Disclaimer
This website is a service of Kalkine Media Pty. Ltd. A.C.N. 629 651 672. The website has been prepared for informational purposes only and is not intended to be used as a complete source of information on any particular company. The above article is sponsored but NOT a solicitation or recommendation to buy, sell or hold the stock of the company (or companies) under discussion. We are neither licensed nor qualified to provide investment advice through this platform.